The Bermuda Women's Volleyball Team have advanced to the second round of the World Cup Qualifiers after winning the Gold Medal in the ECVA Group A FIVB World Cup Qualification tournament being held in St. Maarten.
The North, Central America and Caribbean Volleyball Confederation [NORCECA] website said "Bermuda, sensing a gold medal and a trip to the second round of the World Cup Qualifiers, defeated St. Maarten with a score of 21-25; 25-13; 25-16; 25-18.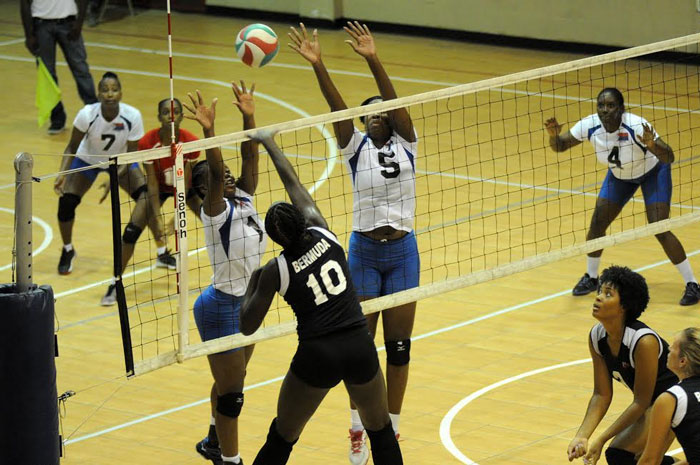 "Young outside hitter Khianda Pearman-Watson [#10] literally rose above her opponents to lead Bermuda in scoring and defense. She scored twenty points. Her team mates rallied around her to provide her with excellent support.
"Though St. Maarten had the advantage of strong home support they seemed unable to convert the good start to victory. Team Captain Mills [#4] tried rallying her team but it was stymied by a blanket like defense laid down by Bermuda.
"Despite this, there were pockets of brilliance that showed St. Maarten was capable of winning the game. The lead scorer for St. Maarten was Carlijin Van Bergen [#9] with nine [9] points.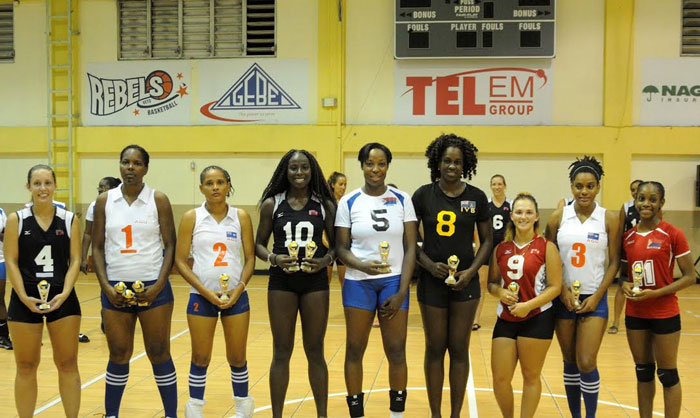 "Bermuda's captain Alison Settle – Smith [4] and Coach Elisabeth Rae were rather elated at the team's performance and the thought of advancing to the second round. She was not worried over losing the first set as her team has went on to win several matches from such a position.
"St. Maarten's coach and captain were disappointed at the lost but extended congratulations to team Bermuda. Coach Dimitri Beauperthny was of the view his team had no energy to counter the efforts of Bermuda.
"Their team was a good mixture of youth and experience and they played a very smart game. Captain Mills declare how proud she was of her team and the fact they are advancing to the second round of the World Cup Qualifiers."
Award – Country – Awardees
Most Valuable Player – Bermuda – Khianda Pearman-Watson
Best Scorer – Anguilla – Ludiane Leveret Richardson
Best Outside hitter – Anguilla – Ludiane Leveret
Best Outside hitter – Bermuda – Khianda Pearman-Watson
Best Middle Blocker – British Virgin Islands [IVB] – Dainyah Mason
Best Middle hitter – St. Maarten – Keishan Huggins
Best Server – Bermuda – Allison Settle Smith
Best Diggers – Bermuda – Amber Lopes
Best Setter – Anguilla – Connie Liburd
Best Receiver – Anguilla – Ludiane Leveret Richardson
Best Opposite hitter – Anguilla – Rikiesha Leveret
Best Libero – St. Maarten – Tivona Trotman

Read More About