Bermuda's Paralympic Team is getting set to compete in Rio, with Yushae DeSilva-Andrade ready to compete in the Boccia Individual BC2 event, marking Bermuda's first appearance in the sport of Boccia at the Paralympic Games.
Bermuda will be fielding a 2-strong team at the Paralympic Games next month in Rio, with sprinter Jessica Lewis also set to represent the island.
Ms DeSilva-Andrade [on right] with Jessica Lewis at the Paralympic Petal presentation last year: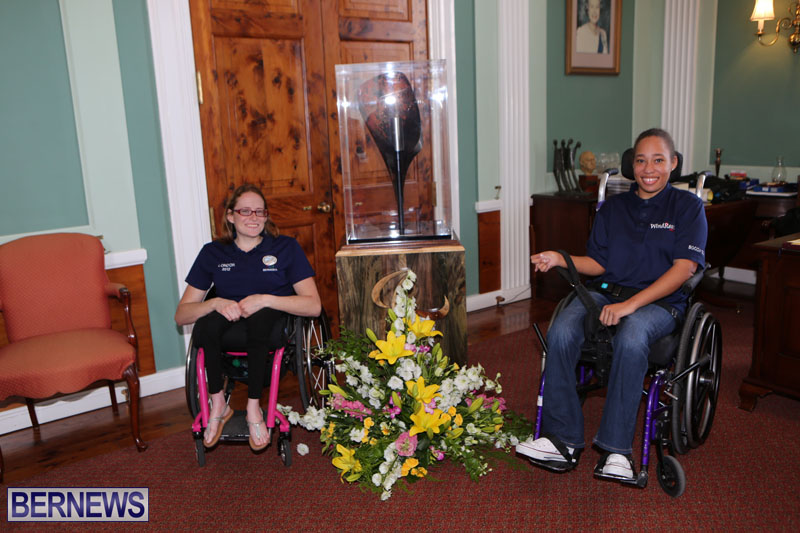 When asked how it feels to be representing Bermuda on the international stage, Ms. Desilva-Andrade told Bernews, "It feels amazing to be representing Bermuda, it makes me feel super proud of what I have accomplished. It also excites me for what's to come.
"With this being the first time Bermuda will be represented in Boccia at the Paralympics, it is very motivating. It pushes me to try even harder when doing difficult shots and to train even longer."
When asked how she was preparing for the competition, Ms. Desilva-Andrade said, "To prepare for the competition I have been training five to six days a week, three hours a day. My diet can go up and down depending on what my body needs at the time.
"I also stretch very often and get a good bit of rest when I am not training."
When asked how this competition would differ from others she's been involved in, Ms. Desilva-Andrade said, "I honestly don't think it will be much of a difference because a lot of the competitors that will be there I have met and played before."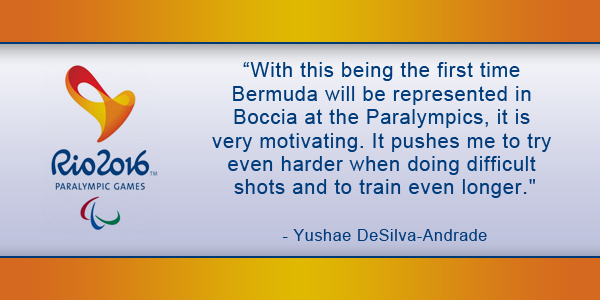 When asked if she had any other plans for her time in Rio, Ms. Desilva-Andrade said, "I plan on going and supporting Jessica Lewis when she races; I'm not too sure yet of other things I might do."
When asked if there was anyone that she'd like to thank or acknowledge, Ms. Desilva-Andrade said, "Firstly, I'd like to thank God, because without the life changing experience of getting scoliosis when I was 14-years-old, I would never have had this awesome opportunity to represent my country.
"I would like to thank my family and friends for supporting me and also helping me to get to training and for training with me. I would like to thank Windreach because if it weren't for them I would have never been introduced to Boccia.
"To my coach, I really would like to thank you for introducing me to the competition side of Boccia and for pushing me and believing in me when I thought it was too hard and nearly impossible."
The 2016 Paralympic Games will take place from September 7-18 in Rio de Janeiro, Brazil, with approximately 4,350 athletes from 165 countries set to take part.
Read More About