In a filing with the Bermuda Stock Exchange [BSX], the Bank of Butterfield announced the pricing of its US initial public offering [IPO] of 10,638,298 of its voting ordinary shares at a price to the public of $23.50 per share, and said it expects trading to commence on the NYSE tomorrow.
The filing said, "Butterfield is selling 5,957,447 Common Shares, with expected net proceeds of approximately $127 million to be used for general corporate purposes. In addition, certain selling shareholders [Selling Shareholders] in the offering are selling 4,680,851 Common Shares for approximately $110 million.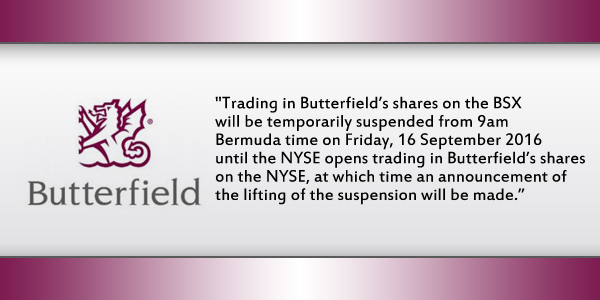 "Certain of the Selling Shareholders have granted the underwriters a 30-day option to purchase an additional 1,595,744 shares at the initial public offering price, less underwriting discounts and commissions. The shares are expected to begin trading on 16 September 2016 on the New York Stock Exchange under the ticker symbol 'NTB.'
"The offering is expected to close on or about 21 September 2016, subject to customary closing conditions. Goldman, Sachs & Co., Citigroup and Sandler O'Neill & Partners are acting as the joint book-running managers, and Keefe, Bruyette & Woods, Raymond James and Wells Fargo Securities are acting as comanagers for the offering."
In addition, the BSX said, "Butterfield expects trading to commence on the New York Stock Exchange [NYSE] tomorrow, Friday, 16 September 2016.
"In connection with the expected open of trading on the NYSE, the BSX, on which Butterfield's shares currently trade, has authorised Butterfield to effect a delayed opening of trading in Butterfield's shares on Friday, 16 September.
"The temporary suspension of trading in Butterfield's shares on the BSX has been implemented to facilitate an orderly opening of the shares on the BSX concurrently with the commencement of trading of Butterfield's shares on the NYSE.
"Accordingly, trading in Butterfield's shares on the BSX will be temporarily suspended from 9:00 a.m. Bermuda time on Friday, 16 September 2016 until the NYSE opens trading in Butterfield's shares on the NYSE, at which time an announcement of the lifting of the suspension will be made."
Read More About