As Bermuda's two paralympians Jessica Lewis and Yushae Desilva-Andrade prepare to leave for the Rio 2016 Paralympics, the Minister of Social Development and Sports Sylvan Richards wished them luck in their respective competitions.
"On behalf of the Government and people of Bermuda, I want to congratulate and thank Jessica and Yushae for putting in the dedication required to represent Bermuda at the Rio 2016 Paralympics," Minister Richards said. "We are so proud of them and can't wait for the world to see what they can do!"
Bermuda will be represented in two sports this year – athletics and Boccia. Jessica is a T53 Wheelchair Track athlete and was the island's sole delegate at the London 2012 Paralympic Games. Yushae, meanwhile, will be competing in Boccia in the BC2 Category.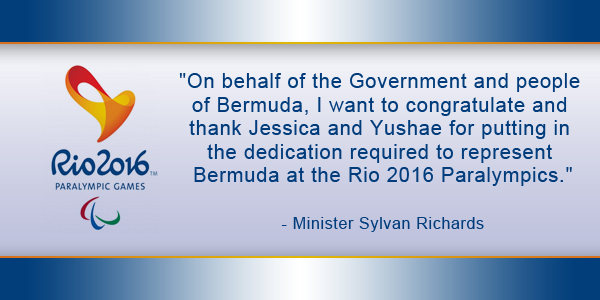 "Jessica's talent has taken her to competitions all around the world; she has featured in international magazines and is an inspiration to everyone she meets," said the Minister.
"I have very high hopes for her following her strong season in 2015 when, in August, she lowered the 100m T53 Parapan Am record on her way to gold at Toronto 2015 and two months later won bronze in the same event at the Doha 2015 World Championships."
Ann Lindroth, President of the Bermuda Paralympic Association said: "I am so proud to see both Jessica and Yushae participate in the Paralympics this year.
"I have heard many reports from their coaches about the staggering amount of training they have put in to get to where they are today and on behalf of the Bermuda Paralympic Association I want to wish them the best. 'We will be cheering for you'!"
The Bermuda Paralympic Association [BPARAS] is the National Paralympic Committee representing Bermuda on the International Paralympic Committee [IPC]. The aim of the BPARAS is to encourage all differently abled persons to participate in sports and reach their full potential in their chosen field of sport.
The Rio 2016 Paralympic Games takes place from September 7-18, 2016 and will see 4000 athletes from 176 countries compete in 23 Sports.
Read More About