Yesterday [Sept 12] National Security Minister Jeffrey Baron visited the offices of RenaissanceRe at Windward Place to discuss Bermuda's strength, resilience and solid reputation as an offshore centre.
The RenaissanceRe meeting is an annual one which brings together the reinsurance company's executives as well as its Legal, Regulatory and Compliance teams.
Invited by Mr. Stephen Weinstein, RenaissanceRe's Group General Counsel, Minister Baron told the group of 30 members that with Bermuda as its global headquarters "RenaissanceRe is part of the fabric of Bermuda life", and pointed out that the Island is a "first-class jurisdiction because of the premium organizations that have chosen to call Bermuda home".
Minister Baron said, "Bermuda has not been insulated from the effects of the global economy and its wavering fortunes. The seismic shift in how everyone is forced to do business has had an impact on us, and from the Government's perspective we have been singularly focused on weathering these storms.
"In this era of heightened competition, Bermuda has preserved its reputation for transparency and cooperation such that we continue to be a jurisdiction of choice for both the traditional operator as well as those who seek to offer new products for the marketplace."
Minister Baron and Stephen Weinstein [centre] with members of the Bermuda RenaissainceRe team.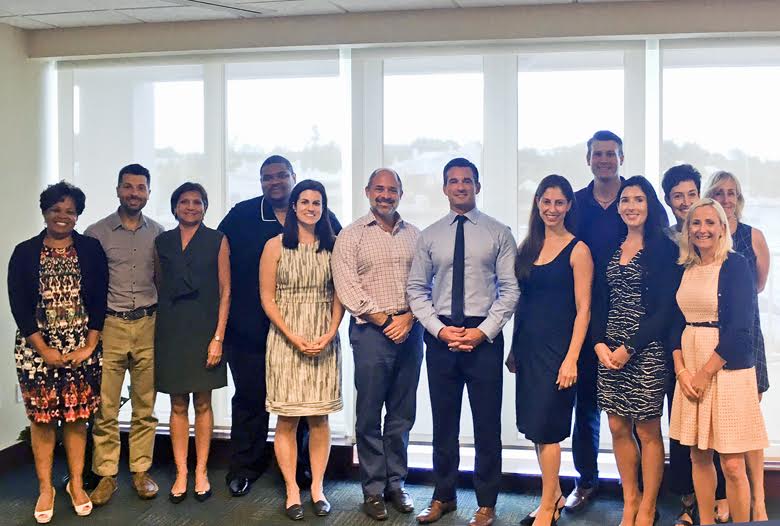 He added, "My colleague, the Minister of Finance has strongly put Bermuda's case to international observers and regulators and he has been heard. We remain at the forefront of well-regulated, transparent, secure places to do business and the growth we have seen confirms this fact.
"And recently the Premier was in London for meetings conferring with UK Ministers on the issue of Brexit. The government has been focused on keeping Bermuda's interests and those of our partners in international business here, top of mind with the UK Government.
"Additionally, the long road we travelled to Solvency II and Bermuda's well-known adherence to international standards has strengthened the likelihood that we will not be adversely impacted by Brexit and may well see some positive growth in the long term."
"Perhaps the Government's main task in the local framework is to strike the correct balance of growth and economic recovery for the electorate and our business stakeholders.
"This is not unique to us and we have continued to refine a message for the people of Bermuda that shows just how business success is their success. The signs are there. Retail sales are increasing, GDP growth is slow but steady; government spending continues to be tackled aggressively and local industries that had been contracting since 2008 have begun to show signs of steady growth.
"The return of investor confidence is a significant measurement of this government's hard fought successes. Hotel development is being renewed and this is complimented by tourism arrival figures trending in a positive direction with this year's first quarter rivaling the previous high point of 2008.
"There is a renewed buzz around Bermuda and that's in part to our hosting of the America's Cup. 2017 and the opportunities presented by hosting this incredible sporting event have turned the dial for Bermudian entrepreneurs and made an international audience turn back to Bermuda as a destination for leisure, large scale events and of course to do business.
"Every arm of government and indeed Bermudian society has tapped into the promise of the America's Cup and the event signals the bright future we believe lays ahead for our island.
"Bermuda in 2016 is leading the way in confidently emerging from the throes of an economic downturn. As a small island country we trade on our reputation, our beauty and the services our people take pride in providing.
"I am confident in Bermuda's future and that confidence is built on the fundamental premise that our partners like RenaissanceRe and so many others make a real commitment to the Island that we mirror in our commitment to you and your success."
Read More About