A marriage proposal spelled out across Bermuda's pink sands and seen from above by the bride-to-be during an aerial tour has resulted in a successful engagement, with a uniquely Bermudian memory etched in the minds of the visiting couple.
And the Bermuda Tourism Authority [BTA] is praising a group of young people from the Royal Bermuda Regiment after they created the lifelong memory for a couple from Massachusetts.
Five Royal Bermuda Regiment Junior Leaders, led by Maj. Henry Campbell and Lt. Claire Lightbourne, spent four hours at Warwick Long Bay using carved pieces of tarpaulin to spell out the phrase 'Will you marry me?' on the pink sand shoreline.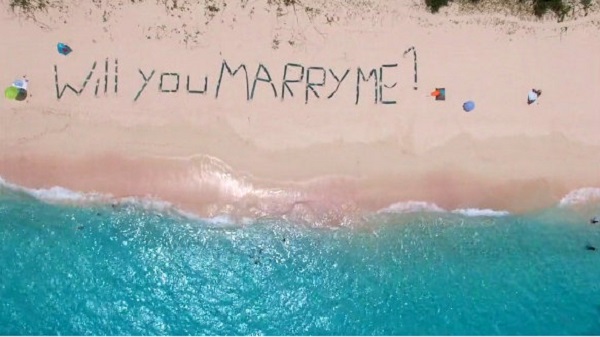 When Adam Marshall and his girlfriend Kim flew over the beach in a Blue Sky Flights aerial tour, he popped the question and presented a ring. The whole thing was caught on tape.
"When I saw that written in the sand I was just shocked," said the future Mrs Marshall once the flight touched down. "I think I may have started crying."
"We are so grateful to the Junior Leaders and all Bermuda residents who go the extra mile to create memories like this for our visitors," said BTA COO Karla Lacey who oversees a tourism appreciation programme called #LoveMyBermuda.
"These are the kinds of stories that set us apart from other destinations and we're particularly excited about this one because it was captured on video."
The BTA arranged a videographer on the ground to document the Junior Leaders' work and Blue Sky Flights provided a second camera in the cockpit to record the big moment. The end result is a video the BTA can use to market Bermuda on social media.
Participating Junior Leaders included Corporal Shishon Burgess, Lance Corporal Dayna Clarke, Private Shawn Bremar, Private Denjaun Nisbett, and Private Xan-Jae Savoury.
Blue Sky Flights began as a new visitor experience in 2015. It received an investment grant from the BTA as part of the tourism experiences investment process that year. Since then marriage proposal flights have been requested at least four times.
The BTA's Chief Product and Experiences Development Officer Pat Phillip-Fairn said: "Hearing about these marriage proposals make us doubly proud for having helped Blue Sky Flights get its business off the ground. These aerial tour experiences are clearly a valuable addition to the product mix in Bermuda."
Ms Lacey has written a letter to the Junior Leaders expressing gratitude on behalf of the BTA.
The Royal Bermuda Regiment Junior Leaders is a volunteer youth group that helps shape future leaders with lessons in discipline, team building and fitness.
It covers middle school-age children up to 18 years-old. They are led by Maj. Campbell who was instrumental in organising the memorable moment for the visiting couple.
In an interview after the flight touched down Mr Marshall said: "I got to propose to my best friend so it was definitely a good day."

Read More About