New aerial video of Bermuda shows off a new visitor experience now available on island, thanks in part to the Bermuda Tourism Authority's [BTA] clarion call for home-grown ideas, which has paved the way for  tours of the island in a single-engine Cessna 172 airplane.
"The Product and Experiences division of the BTA approved a tourism experiences application for Blue Sky Flights to help the new venture literally get off the ground, offering aerial tours of the island in a single-engine Cessna 172. Blue Sky Flights is now up and running, providing visitors the opportunity to see sensational views of the entire country from above," the BTA said.
"The BTA is very excited to see this new visitor offering added to the Bermuda tourism product," said Pat Phillip-Fairn, chief product and experiences development officer. "The new video certainly proves Bermuda is stunningly beautiful from the air and now we have an experience that opens the sky to our visitors.
"Whether it is a hydro-bike on the water or a Cessna aircraft in the air, we are thrilled about the quality of the home-grown ideas we have supported since the BTA's inception last year. These entrepreneurs and their small businesses are essential for increasing visitor spending and growing the local economy."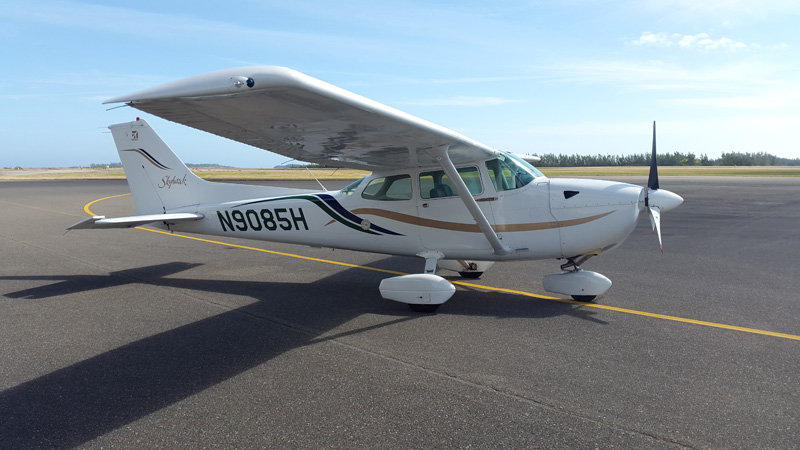 John Tomlinson, owner of Blue Sky Flights, said: "Every Blue Sky flight is fascinating and every flight uncovers a new hidden secret. In many ways we offer an aerial treasure hunt – part thrilling adventure, part breath taking beauty.
"We fly people over modern city landscapes, sprawling historic forts and dramatic crystal-clear turquoise ocean lined with coral reefs and pink sand beaches. A day in the air with Blue Sky Flights will never disappoint."
Blue Sky Flights allows up to three passengers on board [or a 350 pound weight limit]. The rate is $400 per hour and tours can be catered to the customer's preferences.
For example an aerial tour of the island's historic forts, world class golf courses or pink sand beaches can be customised. Flights built around full moons, romantic sunsets and America's Cup racing are expected to be popular as well.
Bermuda Cessna Aerial Tour
Island Tour Centre is a booking agent for Blue Sky Flights and reservations can also be made directly through Longtail Aviation.
Blue Sky Flights was one of 15 new experiences approved in the 2014 Tourism Experiences Investment Process. Forty applications were approved overall. Since the BTA began its search for new home-grown ideas, $1.7 million has been allocated to entrepreneurs who are focused on helping to improve the local tourism industry.
Read More About