While the mannequin challenge might be all the rage right now on social media, the island's young people are working to start a different kind of viral trend – one based on kindness.
#LETEMKNOW, a challenge introduced to some of the island's school students this week, was sparked by Chain Reaction Movement, a Bermudian pro-kindness charity.
Young people were encouraged to let someone close to them know how much they appreciated them by shooting a short video clip, tagging their friend and uploading it onto the social media site of their choosing with the hashtags #LETEMKNOW and #CRMOVEMENT.
Middle and high school students will have until December 10 to post their videos for a chance to win one of five Azad Watches. Worn by a host of celebrities and famous athletes, the watches are worth $1,000 each.
Announcing the competition rules on Wednesday was Poet Ali, a US-based entertainer and motivational speaker who has graced global stages in Italy, Spain, the UK, the Middle East and the Caribbean. He's performed alongside celebrities like: One Republic, Christina Milian, Colbie Caillat, Fat Joe, Wyclef Jean, Lil Bob Wow and Akon.
During a 30-minute talk, Poet Ali encouraged young people at CedarBridge Academy to do their best to a live a life with no regrets. "Sometimes we regret the things we do or the things we don't have the courage to do," he said. "One of the biggest regrets can be the way we mistreat people."
Poet Ali at CedarBridge Academy on Wednesday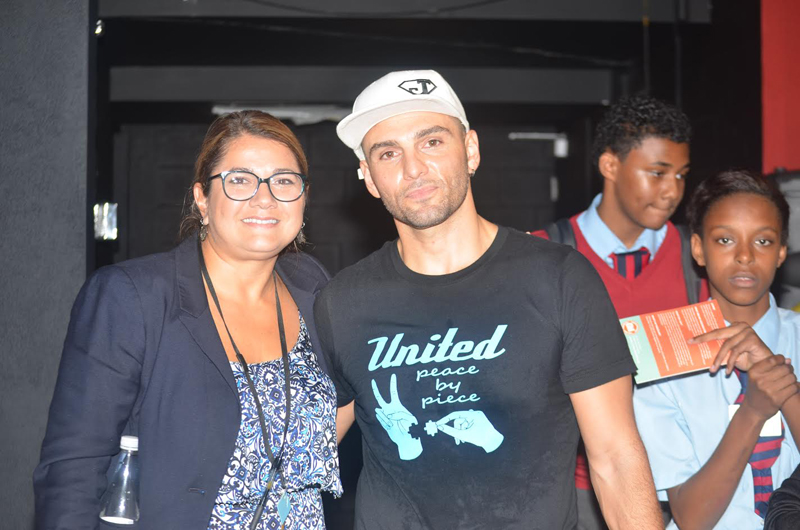 He discussed a book written by former palliative care nurse Bronnie Ware called 'The Top Five Regrets of the Dying'.
Ms Ware had the chance to speak to dozens of people while on their deathbed about things they were most upset to have missed out on in their life.
People she spoke to wished they had the courage to live a life true to themselves rather than the life others expected of them; they wished they hadn't worked so hard, had stayed in touch with their friends and had let themselves be happier.
Poet Ali focused on the other regret people had: that they didn't have the courage to express their feelings.
"That's a big thing in a lot of cultures around the world and a big thing in Bermuda, to brush our feelings under the rug and not talk about them or say it whether it's good or bad, so we hope with the #LETEMKNOW challenge we're able to start off a chain reaction or ripple effect so it becomes not just a one off to communicate positively with the people in their lives, but something that begins to feel natural and becomes a habit," he said.
"It's hard sometimes for teenagers to see beyond the scope of their years, but the longer we bottle things up and refuse to deal with them the longer the problem isn't resolved and they start to get worse. So, it's not a matter of do it or don't do it, but rather do it now instead of regretting it later."
CedarBridge Academy Principal Kalmar Richards said it was a "powerful message" and one she hopes students would learn from.
"I hope they leave with the courage to speak their feelings and I'm hoping we will see more of that as students try to communicate in a respectful and caring manner. That's an important skill to have," Mrs Richards explained.
Poet Ali with some CedarBridge Academy students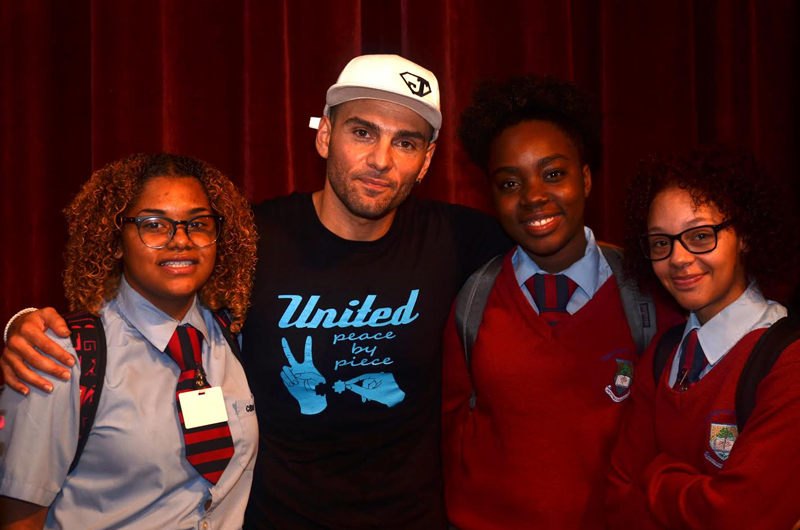 "At the end of the assembly we also did a Mannequin Challenge video and the lesson in that for me is if we can come together for this kind of movement – over 600 of us stopping and working to fulfil a common purpose – then there should be nothing we can't come together on as a school."
S4 Student Rhyesheen Suragh, 17, said the presentation reminded her "to always try to make a difference" and "any small act of kindness goes a long way".
"I think this programme is great for our school because it embraces the youth of Bermuda by giving us positive quotes to live by and teaches us empathy. We may not know what other people are going through so it's helpful to be kind to everyone."
Israel Bennet, also an S4 student, said: "Through Chain Reaction I've learnt that everyone has a struggle and you can't judge a book by its cover, so get to know the person before you say anything."
The presentation was also shared at Berkeley Institute, Dellwood Middle School and Sandys Secondary; while younger students at Northlands and East End Primary were this week introduced to the Chain Reaction programme.
For more information on the kindness challenge #LETEMKNOW, visit Facebook: Chain Reaction Bermuda or www.crmovement.org.

Read More About