Ashley Martins is the Office Manager for America's Cup Event Authority. The 22-year-old Bermudian is tasked with running the office and making sure everything runs smoothly on a daily basis in Bermuda. Here, she tells us more about her role.
Tell us a little bit of your background and what you love most about Bermuda.
I am a 22-year-old Bermudian. I attended Mount Saint Agnes Academy, before moving to Toronto to further my studies. I've worked every summer and holiday since I can remember doing administrative work in order to gain experience at local banks and exempt companies, working various roles as a receptionist, administrative assistant, personal assistant and executive assistant.
What I love most about Bermuda is the beauty, the simplicity – our island is one-of-a-kind. Being a local, I take it for granted sometimes but to hear others who visit or relocate here talking about how beautiful our island is, makes me stop, look around and really appreciate it.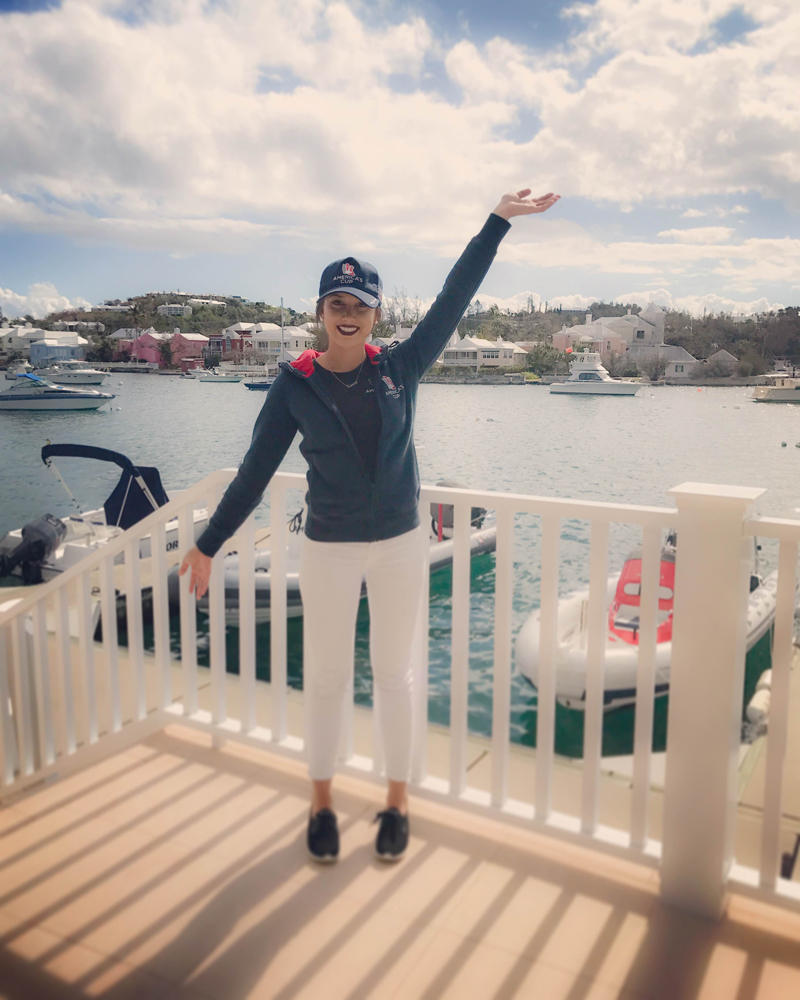 What is your role at ACEA and what does it entail?
My role at ACEA is Office Manager. My job is to manage the office and make sure everything runs smoothly on a daily basis. I do a bit of everything from stocking supplies, booking out our boats, meeting rooms, assisting with the relocation of new staff, planning staff events, filtering emails for various AC email accounts, right down to rearranging office floor plans and assisting with the work permit processing.
Working with Americas Cup Event Authority has also allowed me the opportunity to assist different departments and teams with brainstorming, which is empowering as it has given me the chance to express my creativity and be a part of developing new ideas.
What sort of opportunities have you had through this position?
I've had the opportunity to make great contacts locally as well as overseas, networking and meeting people in various industries. Also, a huge perk is getting to work with some pretty awesome people – my colleagues are a great bunch. Working with creative individuals is refreshing as they make you think outside of the box and inspire you.
How does it feel working for a global organization?
So far the experience has been amazing! It's great working for a company who appreciate their staff. To be able to work for a global organization that chose my home, where I was born, to host the 35th Americas Cup is absolutely unreal.
When I first started working with ACEA in October on a short one month contract I noticed how the work environment was "fast paced, high intensity", which is the type of surrounding I thrive best in and working for one of the world's largest sporting events makes it 10x more interesting. No day is ever the same, which keeps the job very interesting. Everyone works really well as a team at ACEA and I think that's what makes it more enjoyable.
Have you attended the LVACWS events worldwide and if so, what have your responsibilities been?
Yes, I have, I started working for the Americas Cup in October during the World Series event, I also travelled to the LVACWS event in New York. Although I don't travel for the other World Series events, I still have responsibilities for each event. I manage the booking of flights for all our staff and contractors, as well as ensuring they have accommodation, accreditation, transportation. In addition, I provide assistance to the Events Team with whatever they need to make sure we are organized from the people plan perspective.
What is the best part of your job?
The best part of my job is being able to work with inspiring individuals, people who are driven and motivated. They really do go above and beyond for the Americas Cup. Being the Office Manager for the Americas Cup is more than a job, it is and will always be an unforgettable experience that I enjoyed.

Read More About