While the UK Government "cannot ensure that same-sex marriages are recognised in all Territories" they did write to all Territories "to advise them of the change in UK law" and "to encourage them to introduce similar provisions in their territories."
This was stated in the British Parliament by Parliamentary Under-Secretary of State for Education Caroline Dinenage, who said "the UK Government will continue to work with the British Overseas Territories on LGB&T equality " and "stand ready to offer support to any Territory wishing to follow the UK's approach."
"We received a mixed response," she said. "The majority of Territories explained that they had no immediate plans to follow the UK approach but others did identify that they would consider introducing legislation."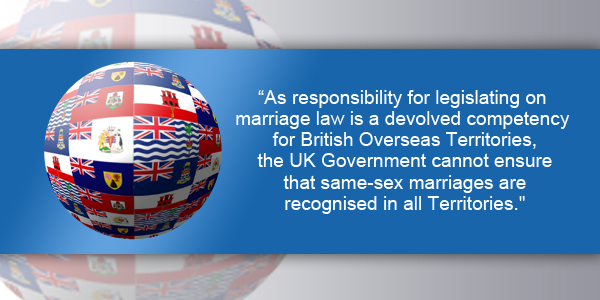 Question
Speaking in the British Parliament, Opposition Whip Vicky Foxcroft asked "what steps the Government is taking to ensure that same-sex marriages are recognised in all British Overseas Territories; and what recent [a] meetings and [b] correspondence she has had on that issue."
Answer
In reply, Caroline Dinenage, the Parliamentary Under-Secretary of State for Education, said: "The Marriage [Same Sex Couples] Act 2013 enabled overseas same sex marriages to be recognised as marriages in England and Wales since 13 March 2014.
"Non-marital overseas relationships, such as civil unions, are also recognised as civil partnerships in England and Wales under the Civil Partnership Act 2004.
"As responsibility for legislating on marriage law is a devolved competency for British Overseas Territories, the UK Government cannot ensure that same-sex marriages are recognised in all Territories.
"However, following the Marriage [Same Sex Couples] Act 2013, the UK Government wrote to all British Overseas Territory Governments to advise them of the change in UK law; to encourage them to introduce similar provisions in their territories; and to ascertain if they had any immediate plans to legislate in this area.
"We received a mixed response. The majority of Territories explained that they had no immediate plans to follow the UK approach but others did identify that they would consider introducing legislation.
"Since that correspondence, the Pitcairn Islands have legislated to introduce same sex marriage and we understand others will follow.
"More widely, the UK Government continues to raise LGBT equalities with the Overseas Territories. Earlier this month, Baroness Anelay addressed LGBT issues when she spoke to the Cayman Islands Legislative Assembly.
"The Solicitor General will also co-chair a session in November with the Rt. Hon Baroness Anelay, Minister for the Overseas Territories, on human rights at the Joint Ministerial Council.
"The UK Government will continue to work with the British Overseas Territories on LGB&T equality and wider human rights issues. We stand ready to offer support to any Territory wishing to follow the UK's approach."
Bermuda Ministers Answer Questions
Yesterday, Attorney-General Trevor Moniz and Minister of Social Development & Sports Sylvan Richards held a press conference to answer questions regarding issues in the 2016 Throne Speech, and were asked about same sex marriage.
In reply, Minister Richards said, "That was not in our Throne Speech. We are here today to discuss what's in the Throne Speech, so I'm not prepared to address that at this point in time, unless the AG has a comment to make."
Attorney-General Moniz said, "I can address that to the extent that there are ongoing court cases at the moment with respect to these matters, so obviously we will await the outcome of the court cases to see what action must be taken."
Asked about the Bill, the Attorney-General said, "The Bill that we have, I think, has fallen off the order paper, so it's no longer on the order paper and we don't want to interfere with the judicial process, so we're awaiting the outcome of the court case with respect to same sex marriage at the moment."

Read More About