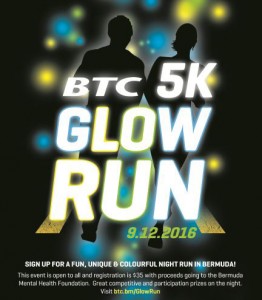 Bermuda Telephone Company [BTC] is encouraging runners of all levels to take part in the inaugural BTC 5K Glow Run which takes place this Friday 9th December.
"The run is in partnership with the BTC sponsored Beat the Couch which gets people 5k fit in ten weeks," BTC said.
"The run promises to be a fun, unique and colourful night as runners set off from St. John's Road, head west along North Shore Road before returning back onto St John's Road and finishing at the BTC St. Johns facility.
"The event is open to all and registration is $35 with proceeds going to the Bermuda Mental Health Foundation. The deadline for entry is Wednesday 7th at 6pm. Late entrants will also be accepted on the night for additional $10.
"There will be lots of great prizes on the night in the overall and age categories as well as plenty of winners from the lucky draw with a special prize for the best dressed. Prizes will range from electronics to free BTC & Digicel services."
"We've have been looking to have a run like this for some time given our commitment to the community, fitness and sponsorship of local athletes. Our continued association with Beat the Couch means now is the perfect time to put on a truly unique event for Bermuda," explained Robin Seale, CEO of Digicel & BTC.
"The glow run will bring darkness into light just like what our designated charity at the BMHF do on a daily basis and we are proud to support this great organization. On the night our staff will be taking part as well as a number of the America's Cup sailing teams, an Olympic medal winner from the Rio Olympics and a number of our sponsored athletes."
"We're encouraging everyone to put on their running shoes and take part in what will be a really fun event," added Catherine Burns of Natural Nutrition and program director of Beat the Couch.
"Beat the Couch has always provided a non-pressured environment for people to get 5k fit and we're delighted to be able to have our own run this year, thanks to BTC. We are calling runners of all levels, and ages, to join us on the night to create a really colourful spectacle as hundreds of runners make their way along North Shore and St Johns Road."
Food and refreshments will be provided at the prize giving after the race and people are encouraged to register on here by Wednesday the 7th at 6pm.

Read More About