The draw for the BTC Cup was made in the BTC store by Michael McGrath, president of the Corona League and Chris Wright of BTC.
A spokesperson said, "The draw produced some very interesting fixtures and Pool C already looks like the proverbial Group of Death.
"This season's top scorer in the league, Shakir Smith, will be hoping to add to his tally in the cup as Lock & Key come up against 2016 league champions Robin Hood and West End United. In group A three evenly matched sides in Butterfield & Vallis, Tuff Dogs and Vasco will battle it out for the top two qualifying places.
"Flanagans Onions will be the favourites to progress from Group B but Footy Kings and BAA will be hoping they can shake off their current league form with a good cup run."
Chris Wright of BTC and Corona League president Michael McGrath: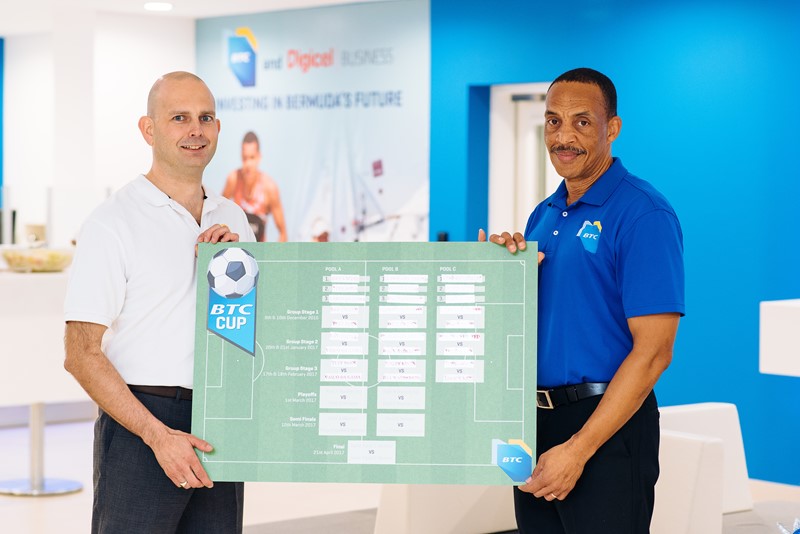 "The 2016/2017 sees a new format with the introduction of a group stage, rather than the previous straight up knock-out format, with three groups of three teams. Group games will be played on the 9th December and the 20th January.
"The two top placed teams earn a bye for the first knock-out round which will decide who meets them in the semi-finals. The knock-out stage takes place on the 17th February before the semi-finals on the 10th March. The final will take place on the 21st April with all games played at the BAA grounds.
"The opening rounds of fixtures sees Butterfield & Vallis take on Tuff Dogs and West United against Robin Hood on the Friday night and Flanagans Onions versus Footy Kings on Saturday afternoon."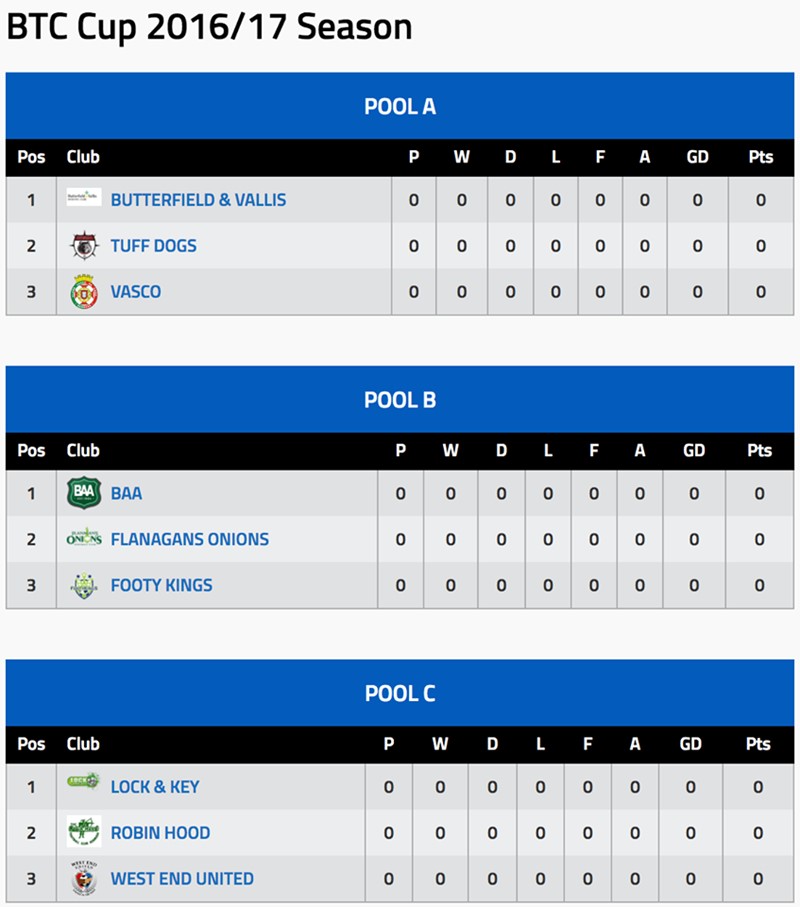 "The telecoms and internet provider is now the title sponsor of the Corona League's cup competition with the tournament now called the BTC Cup. The sponsorship of the cup adds to BTC's sports sponsorships which also includes Beat the Couch, the Bermuda Cricket Umpires Association and the u-12 Super Summer Cricket Series who they co-sponsor with Digicel."
For more information, visit the Bermuda ACL website.

Read More About