Marsh and Guy Carpenter made a $5,000 donation to Friends of Hospice, a charity that supports hospice care in Bermuda.
The Marsh and Guy Carpenter donation is being used for the professional development of the Agape House, Bermuda's in-patient hospice, staff. To this end, a palliative hospice care trainer will host a one-week training for staff that will include a "Train the Trainer" section so that the charity can lead additional training sessions internally for future staff and volunteers.
"I would like to thank Marsh and Guy Carpenter for continuing to support Friends of Hospice and the work that we do," said Cathy Belvedere, Executive Director, Friends of Hospice.
"End of life care is unique and requires a continuum of services and skilled workers. With the companies' donation, staff and volunteers will have access to top-of-the-line training that will help them to better assist the families we serve."
Bowring Marsh's Laura Norman; Cathy Belvedere, Executive Director, Friends of Hospice; and Bowring Marsh's Jahan Cedenio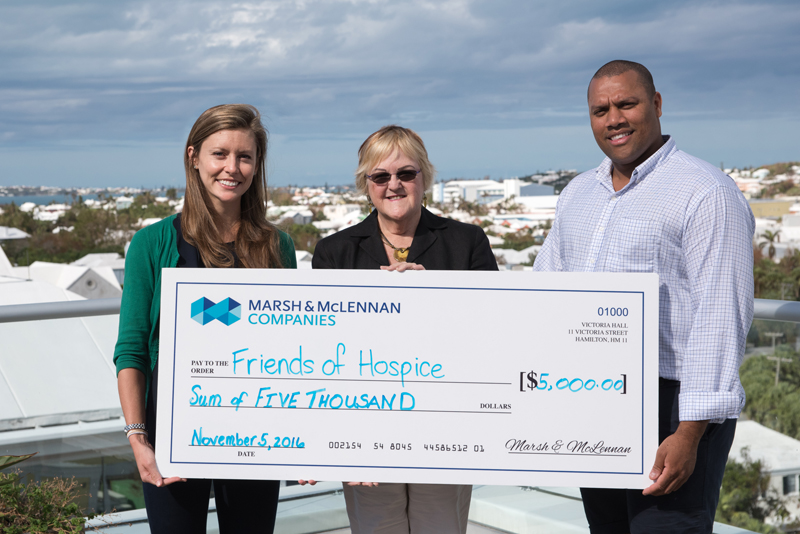 "Friends of Hospice does important work in our community ensuring that the terminally-ill live as comfortably as possible in the last days of their lives," said Jill Husbands, Country Corporate Officer of Marsh & McLennan Companies, Bermuda and Chairman of MMC's Bermuda Corporate Social Responsibility Committee. "We are proud to support their efforts."
Friends of Hospice will host the training jointly with Bermuda Hospitals Board and P.A.L.S. who are also contributing to the training sessions. For more information about Friends of Hospice or Agape House, visit here.
Read More About