People's Pharmacy has expanded to open a second location in the Acute Care Wing of the Hospital, with the company saying People's ACW will "bring a welcomed increase in choice of products and convenience for the hospital and surrounding area."
"In addition to having access to the pharmacy for new prescriptions and refills, customers will be able to purchase greetings cards and gifts, as well as a range of essential baby, beauty, health, personal care and wellness products," the company said.
"This latest opening marks a milestone achievement for People's, a second generation, family business that has remained dedicated to providing for the health, wellness and happiness of Bermuda's community since 1984.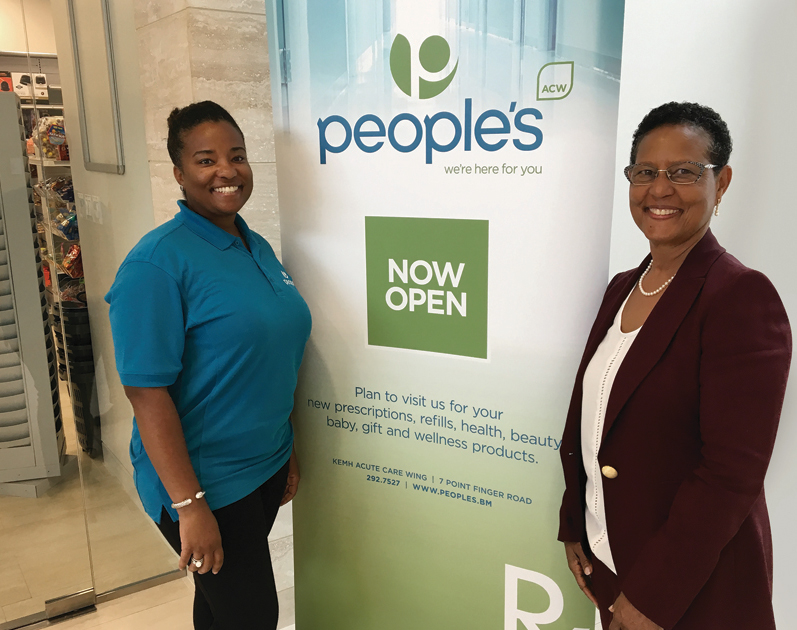 Tamara Richardson, the Vice President of People's, said: "People's Pharmacy has been a part of my life and a pillar in the local community for the past 32 years.
"It is safe to say that I have grown up here, having literally worked in every aspect of the business, including standing on a stool to use the cash register when we first opened. It was not until my adulthood, however, that I truly came to value the importance of People's Pharmacy to the community.
"I became aware of the fact that my mother and grandfather did not just create a successful place to sell goods, rather they created a legacy.
"Over the past 15 years, People's has sought to establish itself as a retail establishment that creates a shopping experience for its customers. It is important that our customers enjoy their time with us, receive good value and quality customer service.
"In the past five years, we have shifted our focus to the area of wellness and holistic health. We were very happy to have been chosen by Bermuda Hospital Board to partner with them in the opening of a full- service pharmacy, as it provided the opportunity to move closer to our vision of being the premier provider of health and wellness products and services on the island.
"We are excited to offer the People's brand to everyone at the KEMH campus – management, employees, patients, visitors and beyond – ensuring they have access to the best of People's product selection under one roof.
"The opening of People's ACW has been a true labour of love. The People's family, including the Management and Directors of the People's Group of Companies, would like to take this opportunity to thank the team at KPMG Enterprise led by Lori Rockhead, Michael Verster of Cooper Gardner, Darren Donithorne of Marshall, Diel and Myers Ltd., Sean Collier and his team at Cosmic Ltd., and the Bermuda Hospitals Board."
People's ACW is now open at the Acute Care Wing, KEMH, 7 Point Finger Road. Opening hours are Monday – Saturday 8am – 8.30pm and Sunday 10am – 6pm.

Read More About