OBA  Party Leader Michael Dunkley announced a change to the OBA's Senate team, saying that "Mrs. Georgia Marshall has stepped down as Senator and is to be succeeded by Mr. Andrew Simons."
"I have been very grateful for the opportunity to serve my country and the OBA as a Senator and hope I have made a positive contribution," Mrs. Marshall said.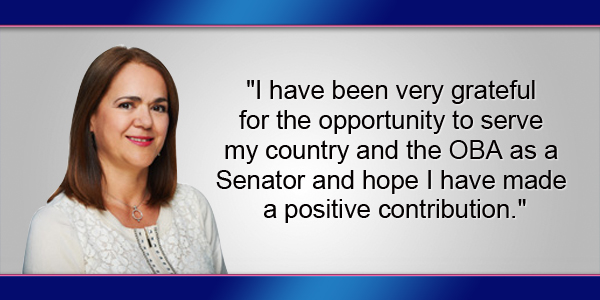 "The Premier and the OBA continue to have my full support. I believe Bermuda is going in a positive direction and all the economic indicators show that the policies of the OBA Government are working for the benefit of all Bermudians."
The Premier said: "I first want to say how much I appreciate Georgia's contribution to the public life of Bermuda and to the party. She possesses a keen intellect and compassionate spirit, which she brought to bear in the Senate and in our discussions to advance progressive reform on issues affecting everyday lives.
"Georgia served well for two years and it is my hope she continues to play a role in public life because Bermuda can only benefit from her commitment.
"As Premier and Party Leader, I believe it is important to use the Senate as a platform to introduce new perspectives and experience to the issues we face as a community.
"In that regard, I take this opportunity to announce that Mr. Andrew Simons has accepted my invitation to join the OBA Senate team."
Read More About