Today [March 13] the Bermuda Casino Gaming Commission [BCGC] announced it will host a public presentation to educate and train the faith-based community on how to best tackle problem gambling.
'Awareness of Gambling Addiction in the Faith Community', taking place on Monday, March 27, will feature two international guest experts – Dr. Deborah Haskins, Director of Counseling Programmes at Trinity Washington University, and Keith Whyte, the Executive Director of the National Council of Problem Gambling.
The event, to be held at Bermuda Underwater Exploration Institute, will begin with a presentation from 11am until 12:30pm. Those looking to become accredited through the International Gambling Counselor Certification Board, must attend both the presentation and a free afternoon training session following from 1.30pm until 4pm. All attendees are encouraged to RSVP, by e-mailing admin@bcgc.bm or phoning 400-2100 by Friday, March 17.
Dr Deborah Haskins, the Director of Counseling Programmes at Trinity Washington University, and Keith White, the Executive Director of the National Council of Problem Gambling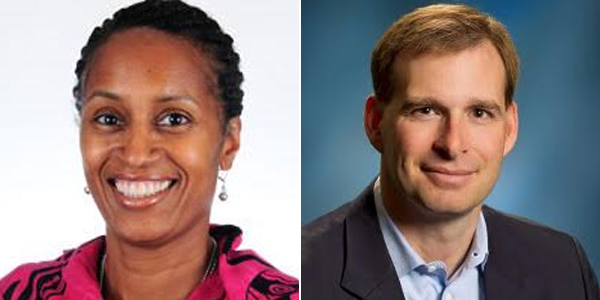 Richard Schuetz, the Executive Director of the Bermuda Casino Gaming Commission said, "Creating a gambling experience that meets the needs of the Bermuda community has been our goal from day one of this effort.
"We are committed to building a vibrant and robust programme for problem gambling and ensuring it's properly in effect before the first casino doors open on the island."
According to Mr. Whyte, international studies show between one and three percent of people who gamble will become addicted. He is working preemptively with the Bermuda Casino Gaming Commission to minimise any negative effects that gaming could have on the island; and offering resources for Bermuda's unregulated gambling environment, which is already in existence.
Mr. Whyte said, "Communities of faith are some of the most important anchors in the health of a community so the more we can do to help the faith community understand some of the roots, causes and warning signs of gambling addiction, the more we can do to help members of the congregation protect themselves.
"We want to help church leaders have those conversations so that if someone comes to them with a problem concerning addiction, they can provide a safe harbour for anyone who may be struggling with this invisible disease, who may not know where else to turn."
Dr. Haskins is a member of the faith community in Maryland, who specialises in helping cultural communities overcome stigmas and find the counselling support they need to manage addictions and mental health concerns.
She stated, "There tends to be a lot of myths that exist in the faith community around gambling and some of the messages that are shared aren't encouraging for believers, but can be shame-based like 'gambling is a sin', 'if you're in trouble you can just go to God', 'you just need to pray more' or 'you must not be strong enough in your faith if you are not able to stop gambling'.
"What I have seen in cultural communities and spiritual communities, especially in the body of faith, is people aren't always supported in ways they need to be. However, churches are able to function at their best when they are able to meet people at their need.
"The reality is you can be a person in daily life relying on your faith and you can use gambling as a form of recreation. Some faith communities participate in gambling activities like Bingo or raffles for example.
"Often times when it comes to problem gaming, people may originally get into it to escape a negative experience like a loss, trauma, anxiety, depression or some cultural barriers they don't have control over, like experiences of oppression."
The aim of the presentation and subsequent training is to help faith leaders, clergy and lay ministers increase their awareness about what gambling and problem gambling is. They will leave the March 27 event with a better understanding and broader skills on the issue so they can co-journey with a person who is in trouble.
"If someone comes to the pastoral leader and says I'm having trouble with my child in school or my marriage is falling apart they are more likely to get support for that, but if they admit they have a problem with gambling there is usually a very different response. We want people to be able to find a non-judgmental space in the faith community to start the conversation, share their experiences and get the proper help."
For more information on upcoming events, visit www.bcgc.bm. To register your spot at the presentation or free training, e-mail admin@bcgc.bm.

Read More About
Category: All