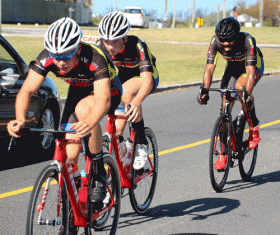 The 2017 Butterfield Bermuda Grand Prix continued in St. David's with a Road Race today [April 22].
Kaden Hopkins won a photo sprint finish ahead of Matthew Oliveira, Hopkins was clocked at 1:41:35.341, while Oliveira had a time of 1:41:35.345, Darren Glasford finished third in 1:41:40.539.
The Women's Division winner was Ashley Estwanik who rode away from the field to clock a time of 1:04:45.552, Sarah Bonnett was second in 1:05:10.343 and Nicole Mitchell finished third in a time of 1:05:11.970.
Mcquinn Burch won the Male B Division race with a time of 1:23:05.564, Dominic White was second in 1:23:12.990 and Gary Raynor finished third in a time of 1:23:13.939.
The full results follow below [PDF here]:

Read More About