BT, together with UK tech start-up Coderus, revealed a tactical app they said "will act as a virtual 'seventh crew member' to help Sir Ben Ainslie's Land Rover BAR team gain a competitive edge in their bid to win the 35th America's Cup this summer in Bermuda.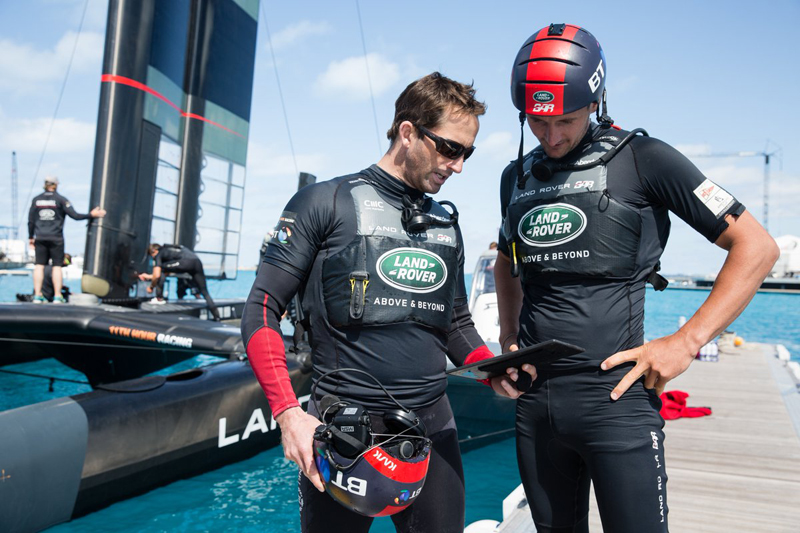 "BT and Coderus needed to develop an app for use on mobile and wearable tech which could intuitively show critical information throughout the race, with no user interactionm" BT said.
"It was also essential that the software was well crafted so its operation kept pace with events as they unfolded, as well as being optimised for robust network, hardware and battery performance, given the length of time that the crew spend on the water.
"After a series of "agile development sprints" and testing sessions over the past 12 months with Ainslie, Scott, engineers from the team and user experience architects from BT and Coderus, the new app has been designed to provide critical data to the team about the strategic layout of the course, the position of the boat, how many legs of the race are left and how far it is to the next boundary, all allowing the team to make swift tactical decisions and giving them maximum time for manoeuvring.
"The app can also tell the team exactly when to power up so that they cross the start line at the second the race begins, gaining a critical advantage from the very beginning by getting the team in front at Mark 1. The leader at this point is expected to win up to 80% of the races for the America's Cup.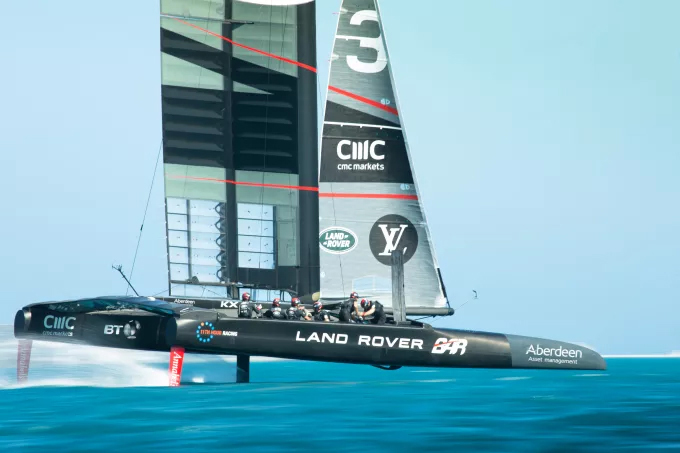 "The technology works both on a tablet screen and a smart watch, so that the crew members can be alerted to glance down and see vital information about the sailing course instantly. The team will be using high water-resistant Android tablets and watches.
"The app will be used in a competitive race for the first time on the 26th May as part of the America's Cup Finals in Bermuda. During races the app runs on its own, with no connection back to shore.
Sailing team tactician and Olympic gold medallist Giles Scott said: "We were desperate for an app which could act as a virtual seventh crew member and become central to our decision making process during the race, providing Ben and I with the data that we really need to gain a competitive advantage. We've had great support from BT and Coderus through all stages of the development, from design, build and now refinement out on the water."
Howard Watson, BT Technology, Service and Operations CEO said: "We have teams across the globe dedicated to hunting the most talented user experience and software experts. We found that the very best expertise lay with Coderus in our start-up hub at Adastral Park, and we're delighted to be supporting and working with such an innovative UK tech start-up."
"It's been fantastic for teams across the business to work together on this and showcase the very best of our innovation. We're committed to helping Land Rover BAR not only bring the America's Cup home, but also in helping them set the standard for sustainability in sport, through our technology and technical expertise in networking and engineering."
Richard Hopkirk, Engineering Manager at Land Rover BAR commented: "This has been a fantastic example of how our collaboration with our technical partners can bring out the best of both teams, and allow us to achieve far more than we could do as a Cup team alone.
"We've managed to merge our in-house sailing and tactical expertise with the software development knowledge of BT and Coderus, and the result will be on the water helping us win races come the summer."
Mark Thomas, CEO of Coderus, said: "We were excited to be identified by BT's technology scouting team for our innovative software expertise, to help create the virtual seventh crew member for Land Rover BAR's America's Cup challenge.
"This flagship project demonstrates our capability to deliver high performance solutions under extreme conditions. This has been a great team to work with, plus a huge honour to play a small part in representing Great Britain at this prestigious event."
As exclusive broadcast partner for the UK and Ireland, BT is bringing live footage of the competition to millions of people at home. BT will show the 35th America's Cup on BT Sport this summer, broadcasting live coverage through to the finals in Bermuda.

Read More About
Category: All, Sports, technology