Sport 24 — the only 24/7 live inflight and cruise line sports channel — will show live coverage of the America's Cup on its two channels for the first time.
The IMG owned and operated service will broadcast live action from one of sailing's biggest event across both Sport 24 and Sport 24 Extra, culminating with the America's Cup Match presented by Louis Vuitton on 17-18 and 24-27 June.
Sport 24's coverage will also include qualifying stages leading up to the finale, including the Louis Vuitton America's Cup Qualifiers [26 May – 3 June], the Louis Vuitton America's Cup Challenger Playoff Semi-Finals [4 – 8 June], and the Louis Vuitton America's Cup Challenger Playoff Finals [10 – 12 June] — which are being held in Bermuda.
Richard Wise, Senior Vice President, Media Rights & Distribution, IMG said: "With its rich history, global fan base and promise of thrilling action from Bermuda's Great Sound, the America's Cup is a fantastic addition to our portfolio of major live sporting properties.
"We are excited to bring the 35th milestone installment of this famous event to fans on cruise ships and airlines for the first time."
Dan Barnett, Chief Commercial Officer of the America's Cup said: "We are delighted that we have added Sport 24 to our impressive roster of broadcast partners and are sure that viewers of their channel will be glued to the action this summer.
"There will be thousands of people travelling to Bermuda on cruise ships and by plane, so this agreement is particularly relevant for the 35th America's Cup."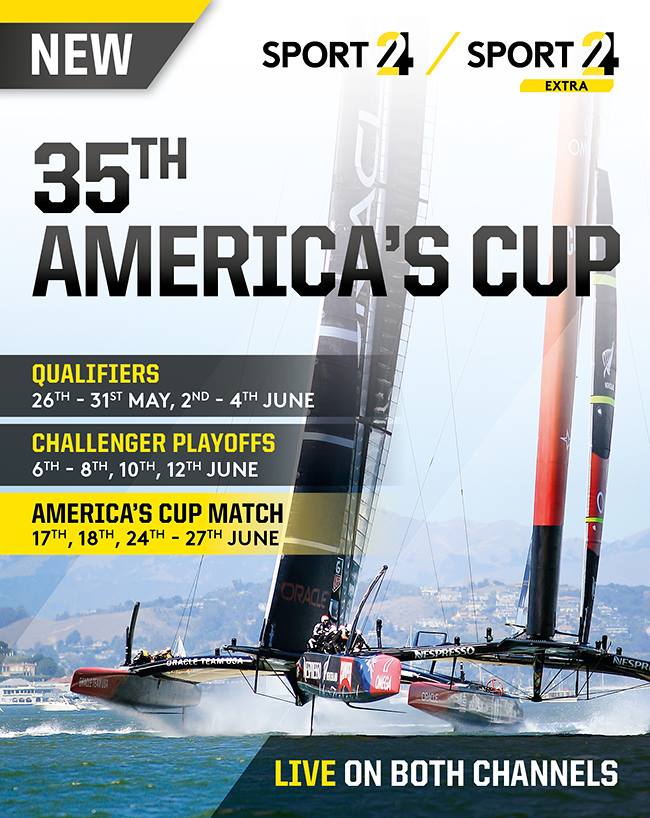 Sport 24 also shows live action from the Premier League, the Bundesliga, NHL, NFL, UEFA Champions League, NBA, MotoGP, European Qualifiers to the 2018 FIFA World Cup, ATP Tennis Masters 1000s, all four Golf Majors and each of the Tennis Grand Slams.
Launched in 2012, the channel is exclusively available on Panasonic's live television system, eXTV, across 13 airlines and nine cruise lines. In 2016, IMG launched Sport 24 Extra in order to provide passengers with a choice of live events during busy periods in the sporting calendar.

Read More About
Category: All, Sports, technology