In the second in a series of profiles of netball players who will be part of the team representing Bermuda at the Netball Europe Open being held in  Scotland from May 11th to 14th, we spotlight Danielle Raynor, a 32-year-old who plays in the Goal Shooter position.
Ms Raynor told Bernews, "I joined the BNA Senior League at age 14. My first international competition was at age 20 with the U21 team that travelled to Florida for the World Youth Championships in 2005. My love for the sport only grew more after experiencing netball on the world stage.
"I've been a member of the BNA in several capacities over the years; as a player, umpire, youth coach, and have held a few positions on the association's administration side as council member and on the executive team.
"I truly believe that netball is a tool that can be used to help promote and encourage positive individual development, healthy living; and, female athletes that lead and inspire the youth. This helps foster productive members of our community."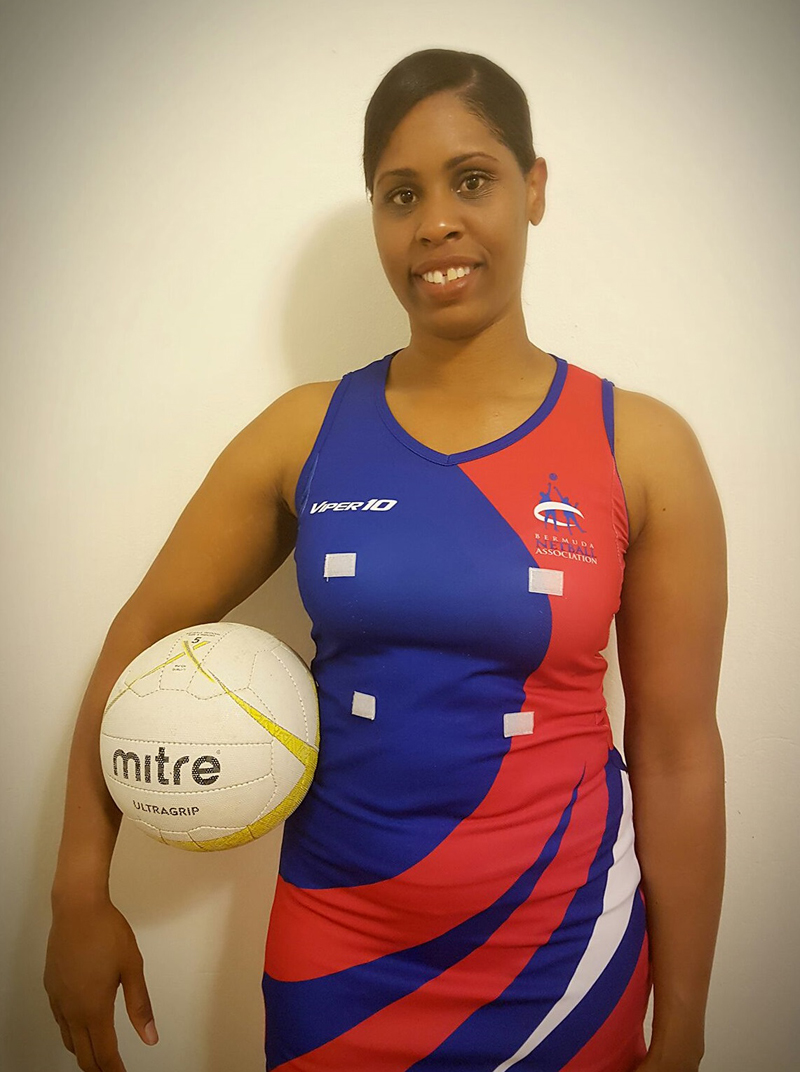 1. How does it feel to have been selected for such an elite squad?
I feel privileged and honoured to represent my country in such a prestigious event hosted by Netball Europe.
2. How will you prepare for the competition between now and May 11th?
Much of my preparation will be focusing on shooting practice and fitness.
3. Will this be your first time in Scotland? Do you plan to take time to see some of the local sights during your time there?
Yes. I hope we have the time to do so. Netball has given me the opportunity to visit a few places and meet lots of people around the world, some of whom I still stay in contact with.
4. When did you start playing netball and what prompted you to start?
I started playing at the age of 8. I was first introduced to netball in my primary school gym class. I have been playing it ever since.
5. Do you feel the sport of netball gets enough support from the local community?
No. I enjoy listening to the older ladies reminisce about how many teams used to play "back in the day", and how many sports clubs had netball teams island wide, some of which had more than one team.
There were two full senior divisions back then and many supporters came to watch the ladies showcase their talent on the courts. It seems like not as much people come out to watch local sports anymore. I hope one day we can get back to that.
6. What are your ultimate goals in life, both on and off the court?
Both on the court and off – My ultimate goal in life is be a positive example and inspiration to the people I meet, interact with, and those in the community. Whether I'm encouraging a teammate on court to keep up the hard work, training colleagues at work, or mentoring the youth, I try to be approachable, positive and willing to help.
7. If you had to, for some reason, have one non-netball player on your team, like a local politician/entertainer/public figure, who would you choose and why?
Nahki Wells – he's fast, fit, and a team player. He would make an excellent centre [C] or wing attack [WA] on my team in a co-ed competition. I'm sure he would be a beast on the court.
8. Which Bermudian athlete, coach or sporting figure do you admire most and why?
My league team [Phoenix Heat] coach and previous national netball player – Erika Russell. She has been my main coach since the age of 14. She has not only instilled in me many of the skills I display today [both netball and non-netball] but she also encourages me and my teammates to continuously aim to improve, lead by example, and to offer a helping hand when we can.
She has taught us the importance of bonding and supporting one another on and off the court, and this has made us a better team over the years. I value her contributions to my development and I encourage and display the same qualities in the BNA National Program.

Read More About