[Updated with videos] The Louis Vuitton America's Cup got underway today [May 27] with six races taking place. The first race saw Team Oracle USA defeat France, the second race saw Sweden's Team Artemis defeat Softbank Team Japan, while the third race saw new Zealand record a victory over France.
The fourth race of the day saw the British Team Land Rover BAR defeat Sweden, in the fifth race Team Oracle USA win over New Zealand, while the sixth and final race of the day saw Japan win over the British team, with the race involving a collision at the beginning. You can view our ongoing live updates of the first day of the America's Cup here, and all our coverage of the America's Cup here.
.
Update 7.50pm, AC Race Report: The build-up is over, the talking is done and the race action in the 35th America's Cup finally started on Saturday [27th May] afternoon with the first six races of the Louis Vuitton America's Cup Qualifiers.
And the action on the water more than certainly lived up to expectations, as excitement and drama aplenty unfolded on Bermuda's Great Sound, in what proved a particularly positive first day for the Defender of the 'Auld Mug', Oracle Team USA.
In the afternoon's first race, Oracle Team USA, made a solid start to the competition, enjoying a commanding victory over Groupama Team France.
After an aggressive start by Helmsman Jimmy 'Pitbull' Spithill, the American team pulled out ahead of their French rivals and set about building their lead, which, by Gate 2, had already reached 15 seconds.
With Groupama Team France suffering a slight nosedive and losing vital momentum, Oracle Team USA took full advantage, foiling impressively to extend their lead at Gate 3 to head back downwind with a 54 second advantage.
It was an advantage they refused to relinquish, extending that advantage further by Gate 4 to 1 minute and 20 seconds, before taking Gate 5 a further 14 seconds ahead
Groupama Team France had no answer to Oracle Team USA's superior speed and Jimmy Spithill's team took the victory in race one by 2 minutes and 11 seconds.
Race two proved an enthralling encounter as Artemis Racing came from behind to complete a spectacular turnaround to beat SoftBank Team Japan.
It was the Japanese team who made the better start and gave themselves a promising lead out of the start box.
With Artemis Racing looking a little shaky on their foils, Dean Barker's SoftBank Team Japan remained ahead, building up a 17 second lead by Gate 4.
However, this staging of the America's Cup was expected to be more unpredictable than ever, and so it proved in a dramatic fifth leg as as incredible change of events saw the Swedish team move ahead.
With SoftBank Team Japan leading, Artemis Racing came from behind and the boats pulled side-by-side. No penalties were given and Dean Barker was forced to move out of the way and give Nathan Outteridge's team the advantage.
The Swedish team did not let that advantage slip, keeping their composure to cross the line and clinch a 13 second victory over SoftBank Team Japan at the end of race 2.
Groupama Team France's fortunes did not improve in Race 3 as Emirates Team New Zealand made a big statement of intent with a blistering victory, finishing 2 minutes and 33 seconds ahead of the French team.
After a blistering start to proceedings, the Kiwi's pedal-power hydraulic system looked like poetry in motion as they found themselves well ahead by the start of leg 3.
Much like their first race against Oracle Team USA, Franck Cammas' team's downfall proved to be their manoeuvres, as they lost valuable seconds in their pursuit of Emirates Team New Zealand during their tacks and jibes.
In stark contrast, the Kiwis were flawless as they rounded Gate 5 and passed the final mark a full minute and 58 seconds ahead of Groupama Team France as they headed for home.
Refusing to let up, Emirates Team New Zealand extended their lead even further, finally finishing 2 minutes and 33 seconds ahead, to claim an impressive first win in the Louis Vuitton America's Cup Qualifiers.
There was also joy for Land Rover BAR, who caused somewhat of a surprise in Race 4 to claim a morale-boosting victory over the highly-fancied Artemis Racing.
Coming into the Louis Vuitton America's Cup Qualifiers, Sir Ben Ainslie's team rarely found themselves spoken of as real contenders following a series of low key results in practice racing.
However, the British team put any doubts to bed with an impressive showing, leading from the start and reaching the first mark ahead.
Artemis Racing remained in hot pursuit throughout, but unlike in race 2 against SoftBank Team Japan, they could not stage a fightback and Land Rover BAR remained composed, foiling impressively throughout their manoeuvres.
Ultimately, there were none of the mistakes that the Swedish team would have been hoping for, and Ainslie's team maintained at least a 15 second advantage through Gate 4 and 5 as they raced for home.
Although Artemis Racing reduced the deficit in the final push for the finish line, the British team kept their composure and crossed the line 11 seconds ahead and took their first and very welcome race win of the Louis Vuitton America's Cup Qualifiers.
The highlight of the day came in Race 5 in the highly anticipated battle between Oracle Team USA and Emirates Team New Zealand.
There was much excitement in the America's Cup Village before the two teams faced off and they certainly didn't disappoint as what ensued was a race full of drama and excitement in a great advert for the America's Cup.
Following a closely fought start, Emirates Team New Zealand's pedal power once again looked like it was giving the Kiwi team an advantage as they took a slender 20 second lead over their rivals at Gate 3.
However, the story of the race completely changed by Gate 5 as Oracle Team USA closed the gap and came towards the mark side-by-side with the Kiwi boat as they both looked to turn.
But, despite almost touching, no penalty was given and Oracle Team USA came out of the encounter with a seven second lead as they raced for home.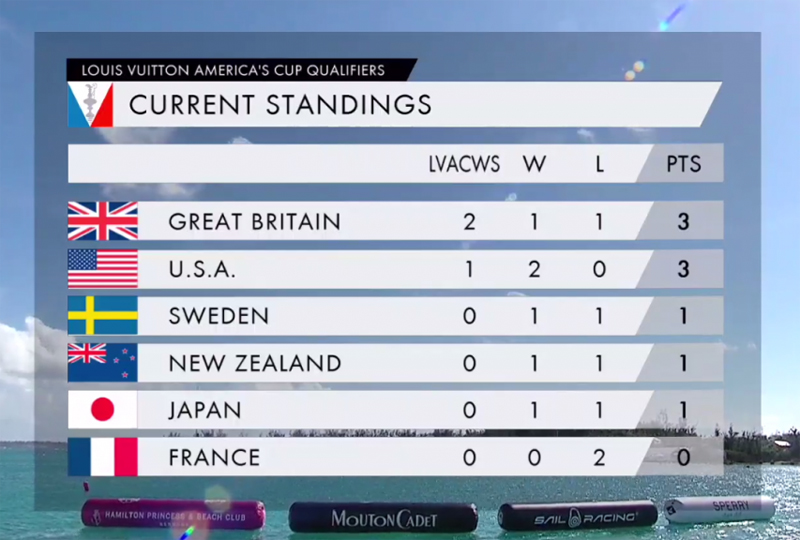 Although Emirates Team New Zealand fought back in the race for the finish line, there was to be no further late drama and the American team managed to hold firm to complete a second win from their two races on day one.
However, the drama was not finished for the day as there was plenty of talking points from the outset of the sixth and final race of the day between Land Rover BAR and SoftBank Team Japan.
With both teams looking for the advantage going into the start box, a major collision occurred between the two boats, resulting in a penalty being given to Sir Ben Ainslie and the British team.
That penalty effectively put paid to the Brits' chances of a win, proving to be a deficit Land Rover BAR were unable to overturn. Dean Barker's team maintained a steady advantage throughout the race and finally come home well clear of their rivals to finish the day with their first win.
Click to enlarge photos:
20 Most Recent Sports Photo Galleries
-


Read More About