Nathan Outteridge, the skipper of Artemis Racing, woke up Thursday morning staring down a 3-1 deficit in his Louis Vuitton America's Cup Challenger Playoff semi final match against Dean Barker's SoftBank Team Japan.
But by mid-afternoon Friday, Outteridge and his team had won four consecutive races, claiming the match 5-3, and landing a date in the Challenger Playoff Finals against Peter Burling's Emirates Team New Zealand.
Conditions on Friday were near the top end of the wind spectrum at 19-22 knots. Earlier this week, in similar strong weather conditions, Barker had beat Outteridge in both races sailed. He needed to pull off the same trick today if his team was to advance, but with a loss in the first race, SoftBank Team Japan was eliminated from the competition.
.
In the pre-start to the race, Barker pushed Artemis Racing skipper Nathan Outteridge towards the starting line early and as the Swedish challenger slowed so as not to break the start prematurely, Barker put his bows down, the boat raised up on its foils and Japan sped away to mark one with a narrow lead.
Outteridge kept it close on the first run and then on the upwind leg he made the pass. As Artemis Racing tacked at the edge of the race course, Barker was required to give room. A moment of hesitation meant SoftBank Team Japan made a late tack that left the boat in a vulnerable position and Outteridge pounced. With rights he luffed aggressively. Barker kept clear, but was pushed to a standstill, head to wind, while Artemis sped off into the lead and into the Louis Vuitton America's Cup Challenger Playoff Finals with what would be recorded as a 12-second win.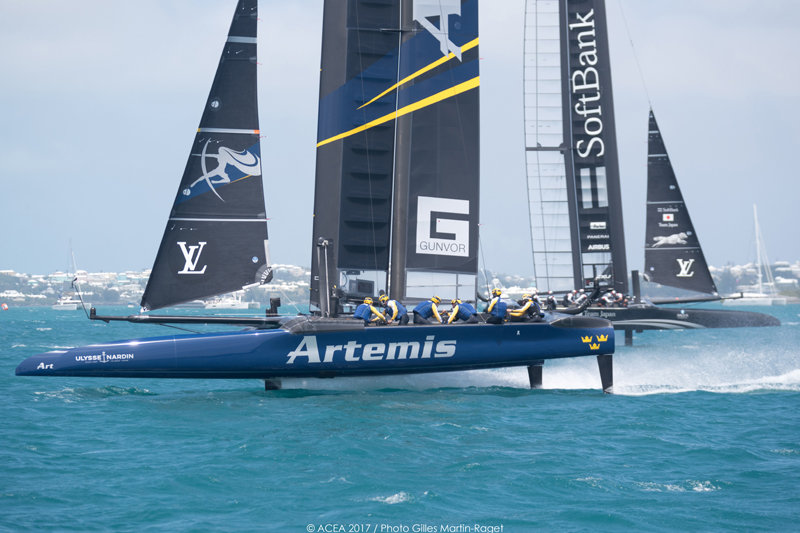 "Absolutely stoked," was the reaction from Outteridge on board immediately following the race.
"That was a tough race and to come back the boys really had to dig in. We're really happy to take it to the next round and we're going to be ready to go tomorrow."
Outteridge and Artemis Racing, after recovering from a 3-1 deficit to win the series 5-3 over Japan, will now face Peter Burling and Emirates Team New Zealand beginning at 14:08 local time in Bermuda on Saturday. The winner of the Louis Vuitton America's Cup Challenger Playoffs advances to the America's Cup Match against ORACLE TEAM USA.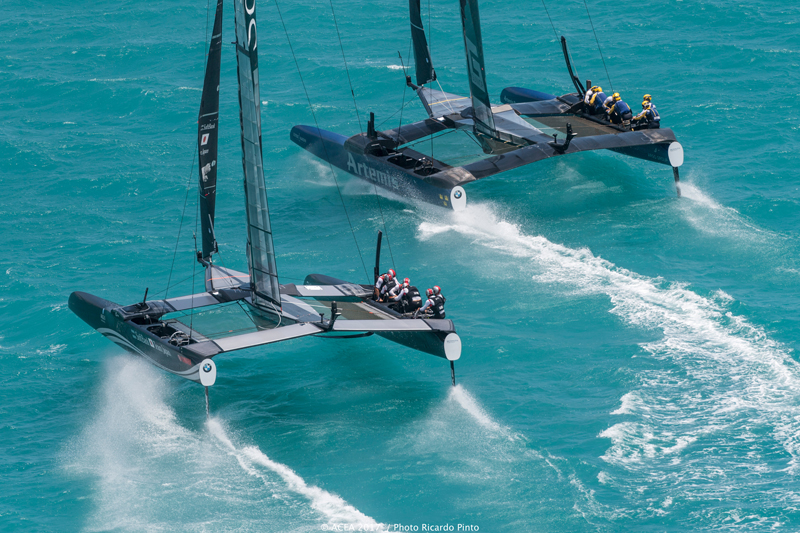 For SoftBank Team Japan this marks the end of the fourth Japanese challenge for the America's Cup. Each one [1992, 1995, 1999] has fallen at the semi final stage of the challenger series.
But Kazuhiko 'Fuku' Sofuku, the General Manager and bowman for the team, who was also a sailor with the '95 and '99 efforts, says this was the most rewarding experience.
"I hope this will have a big impact for the Japanese and for sailing in Japan," he said. "I hope we are sending a good message to the people in Japan. We've been working really hard and from the first day we have had a never give up spirit. Nothing is impossible!"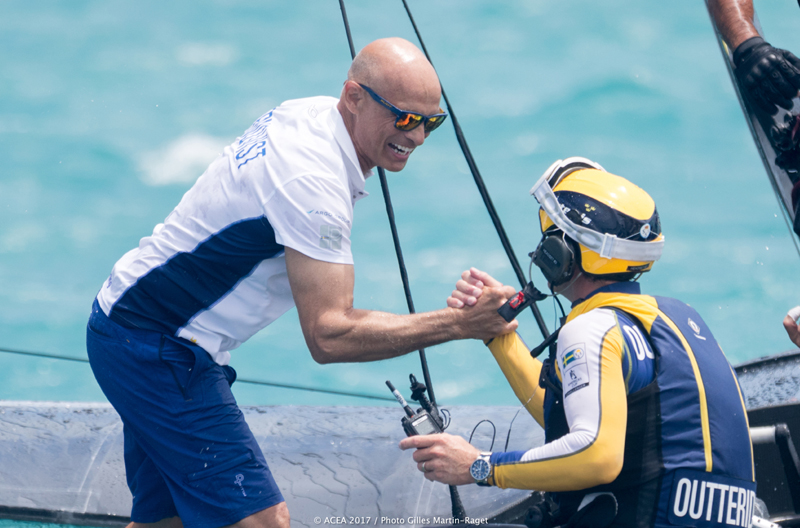 "I'm disappointed we're not competing tomorrow," said Japan skipper Dean Barker, when asked how he felt after the race.
"But I think the main thing I feel is immense pride in what we've achieved in two years. We started from nothing… When we arrived back at the dock just now, words can't describe the feeling with the families, team members and friends and all of that support. I'm very proud of the environment we've created and I hope we can continue through to the next Cup cycle.
"I'd like to thank all our supporters. It's been a bit of a rollercoaster ride but the support we've had in Japan and New Zealand has been phenomenal. It's been quite an amazing journey and experience and I wouldn't change it for anything."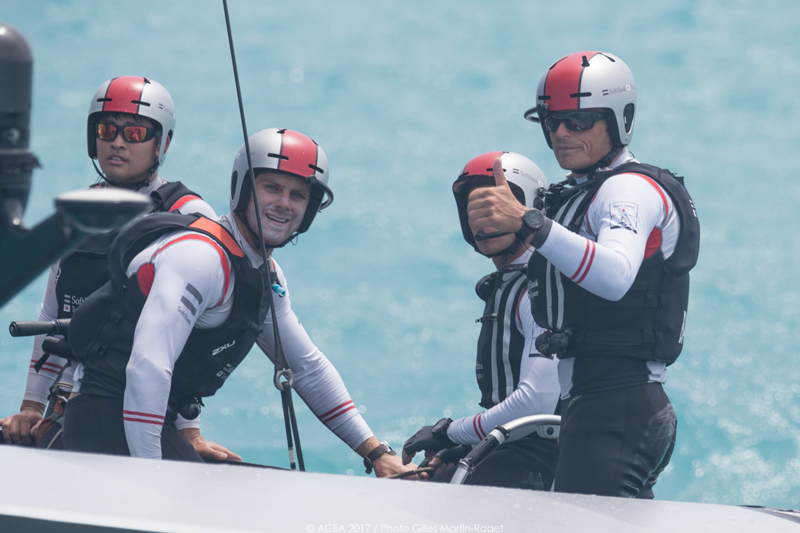 Artemis Racing now has less than 24 hours to prepare to race Emirates Team New Zealand. Outteridge and Burling are old foes; each can claim an Olympic victory over the other, as they've traded off gold and silver medals in the 49er class in the past two Games.
"I'm personally looking forward to it," said Outteridge, when the rivalry was mentioned at the press conference on Friday. "But this is about much more than Peter and myself. This is two big, well-supported teams going head to head."
And he said his team is confident after four consecutive race wins.
"The main thing is we've simplified our racing slightly. It's easy to get caught up in the battle and forget the details required to sail well. [Tactician] Iain Percy reminded us to just trust our gut and sail to our capabilities.
"On top of that we've made a nice improvement to the control system
"We need to keep the momentum going and to keep sailing error free. That will be our best chance of moving forward. Our confidence in the boat is growing every day and when you have confidence in you equipment you can push hard. The teams are pretty evenly matched. It's about how well we sail as a team."
The forecast is for wind at near 15 knots at midday and easing over the course of the afternoon. Foil selection will be critical.
"It will be a big call on what boards to use," Outteridge said. "The first thing is to make the right decision and then we'll see how we stack up. I'm confident in our foils we just have use them in the right wind range."
Three races are scheduled in the Louis Vuitton America's Cup Challenger Finals on Friday beginning at 2:08pm.
Click to enlarge photos:
20 Most Recent Sports Photo Galleries
-

Read More About