BHS held their second annual "Graduation Walk" on May 22nd to celebrate the Graduating Class of 2017. For some of the graduates, their BHS journey began in Year 1, and as all of the students enter the next phase of their BHS journey, as alumni, the School took the opportunity to recognise and celebrate them on their special day.
The graduating class of 2017 paraded past more than 300 cheering and high-fiving primary students, in their caps and gowns, to allow the younger students to congratulate them and share in the excitement of their graduation. It was also an opportunity to remind the graduates of how far they have come.
Graduating class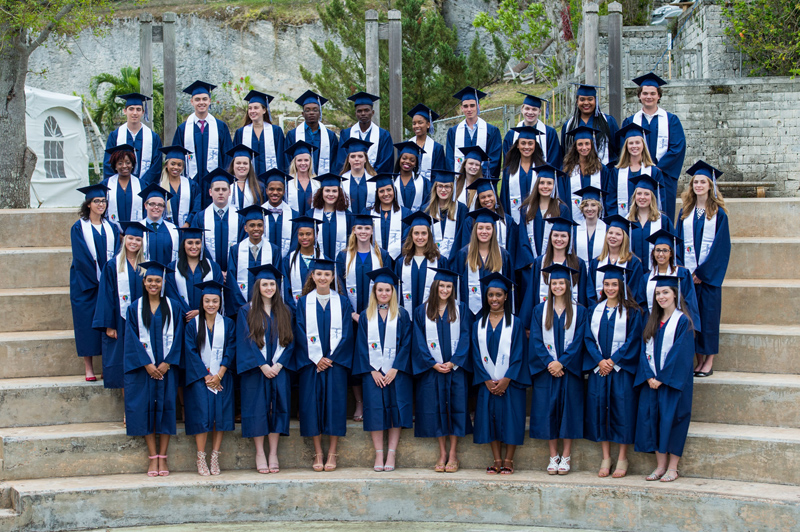 A spokesperson said, "The Graduation Ceremony took place that evening, and under the marquee, 52 students received their Graduation Diplomas with family, friends, staff, trustees and invited guests in attendance.
"Andrew Banks, successful business executive, husband of Dame Pamela Gordon-Banks and the father of three BHS alumnae, was the invited speaker and shared valuable advice with the graduates as they begin the next phase of their lives. Mr. Banks spoke about the importance of "being collaborative and working well with others" and how "the sweetest success is a shared success."
"He based the majority of his speech around a personal experience that had the power to change his thinking. A friend of his had once shared advice that he had received from his father, which was to "always respond, never react".
"He used examples of how people had changed the world by following this simple principle, and it was an inspirational message to encourage the Class of 2017 to go out and make a difference in the world today.
"He concluded his speech by telling them, "As you go forward, to fulfil your dreams, my wish for you is that you will make good choices, among those choosing to "always respond and never react".
"This year's cohort of graduates have exciting plans for the future, and they are heading off to universities in Canada, the US, UK, Europe and the West Indies. Some of the disciplines to be studied include Architecture, Actuarial Mathematics, Adult Nursing, Art, Business, Criminology, Communications and Media, Economics, Egyptology and Classical Studies, English, Film Studies, International Relations, Kinesiology, Maths, Medicine, Psychology, Sign Language and Science.
"In Canada, students are heading to Acadia University, Brescia University College, Brock University, University of British Columbia, University of Guelph, McGill University, Mount St. Vincent University, University of Ontario Institute of Technology, Ontario College of Art and Design, Queens University, Seneca College, Sheridan College, St. Frances Xavier University, University of Toronto, University of Victoria, Vancouver Film School, University of Western Ontario, and Wilfrid Laurier University.
Graduate Brianna Mendes walking past primary students in the Graduation Walk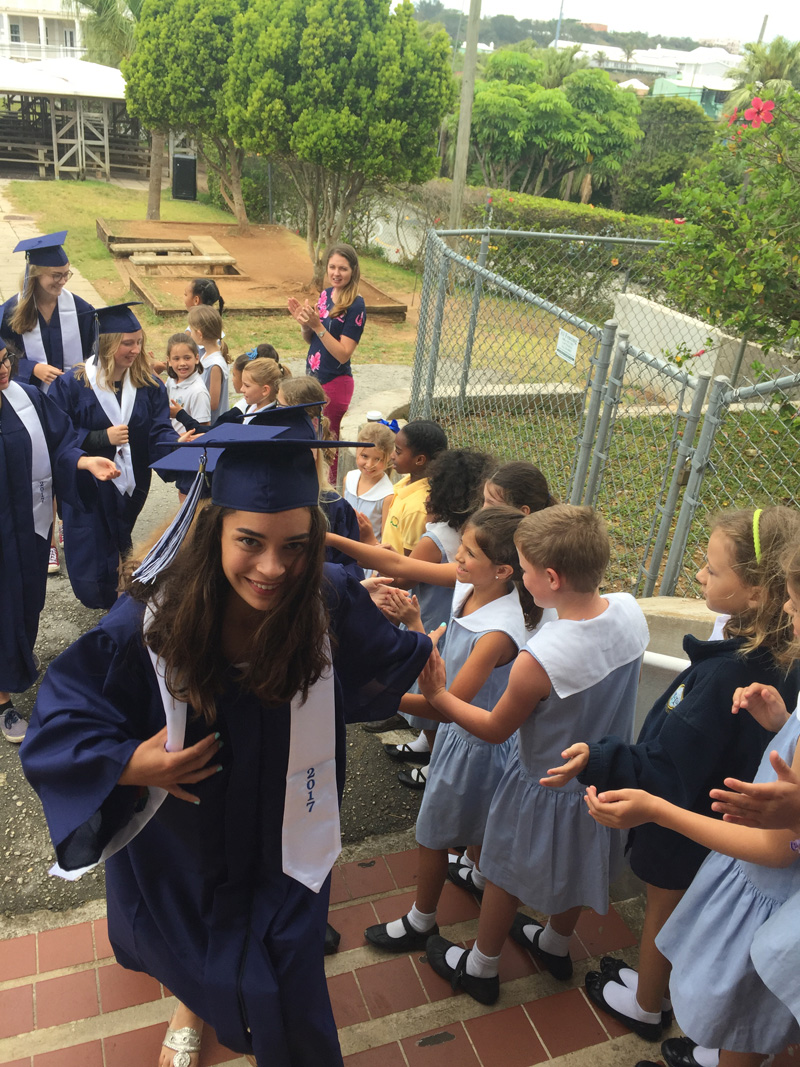 "Graduates going to the US will attend Princeton University, George Washington University, The Culinary Institute of America, and the University of Colorado.
"Several students will attend university in the UK and Europe: Royal College of Surgeons in Ireland, Paris Institute of Political Studies (Sciences Po), The Arts University College at Bournemouth, Bristol University, Brunel University, Coventry University, Durham University, University of East London, Keele University, Kent University, Kings College, Leeds College of Art and Design, University of London, The London School of Economics, University of Liverpool, University of Manchester , and Oxford Brookes University. There is one student who will be studying at the University of West Indies."
Head of School, Linda Parker, congratulated each and every student for their hard work and dedication to reaching their goals. She wished them every success on this new chapter in their lives, telling them, "I encourage you to recognise what excites you, understand what drives you and embrace your passion. Then follow your dreams."

Read More About
Category: All