Greenrock will be holding their first ever summer camp throughout July, with an aim to connect participants with Bermuda's environment and raise awareness about sustainability issues relevant to Bermuda.
It will provide campers with the opportunity to actively protect the environment, including conservation activities such as protecting our coastlines by culling invasive plants, and tracking marine plastic pollution with the Seabin at Hamilton Princess.
Greenrock currently operates three environmental education programmes throughout the school system, Eco-Schools, Young Reporters for the Environment and Water Explorers. This summer camp will incorporates aspects of both Water Explorers and Eco-Schools into a single week.
Campers will also learn fun do-it-yourself sustainability projects such as learning how to recycle paper or building a hydroponic garden.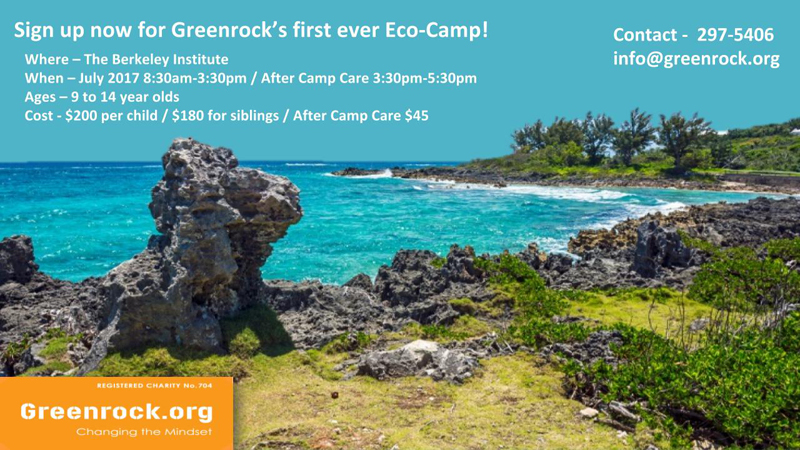 And while having a sustainability theme, it will also feature more traditional summer camp activities, such as swimming, mini-golf and other fun activities.
"By participating in our camp, children will be well equipped with the awareness and tools to be the leaders of sustainable development in Bermuda. Environmentalism and conservation work isn't just necessary – it's fun!" according to Schools Programme Manager, Davida Morris.
The camp will be based out of The Berkeley Institute, and is for students aged 9-14. It costs $200 per child per week, running from 8:30am to 3:30pm – with an added cost for after camp care from 3:30pm to 5pm [which will feature more relaxed activities such as eco-themed movies and board games, as well as small eco-experiments.
Jonathan Starling, Greenrock's Executive Director, said, "Greenrock believes that environmental education is key for connecting children with nature; it nurtures imagination and empowers students by showing them they can make a difference in Bermuda."
Ms Morris added, "Ultimately, a comprehensive environmental education knowledge base invites children to reflect on their impact on the communities in which they live, their place in the world, as well as the unique skills they each bring to these spaces. Our aim is to nurture that understanding".
Contact davida@greenrock.org or info@greenrock.org for more information.

Read More About
Category: All, Environment