Scotian Steelworks Ltd., a local partner in the redevelopment of Bermuda's airport, announced today [July 6] that they have hired two Bermudian steel fixers/welders to work on the Bermuda Airport Redevelopment Project.
"Hired by Aecon Group Inc., a partner in the Bermuda Airport Redevelopment Project, Scotian Steelworks is working on the steel pile foundations for the new airport," the company said.
"The two Bermudians, Kieran Evans and Tristan Smith, were trained as part of a training initiative by the Bermuda Government, Department of Workforce Development [DWD]. The initiative, which has been designed to train Bermudians and maintain the momentum to 'recruit Bermuda', covered the cost of the airfare, accommodation, course fees and basic safety – CPR/First Aid for a total of nine participants.
"The curriculum for the seven-week accelerated programme is based on the NCCER [National Centre for Construction Education and Research] Level 2 standard. The training took place at HB NEXT in Atlanta, Georgia this spring.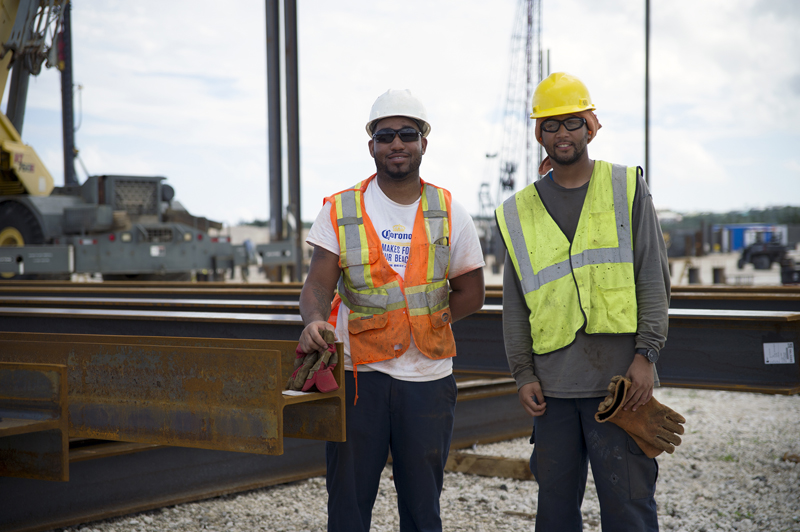 "Scotian Steelworks hired the Bermudians upon completion of the training programme."
Logan Leslie, owner, Scotian Steelworks said: "Kieran and Tristan are doing a great job so far. Having this training has definitely made them more employable. They gained important skills and knowledge, and while I might have hired them before this training, their new qualifications made them much better hires for our business. Their new expertise will be beneficial in the completion of our work on the new airport."
Minister for Home Affairs, Patricia Gordon–Pamplin said: "These two young Bermudians are able to gain experience on this significant project after receiving certification through a training course offered by the Department of Workforce Development. I am pleased that they are able to advance their careers working at the new airport construction site. It is good for them as young Bermudians, and good for our island as a whole, as we continue to improve employment opportunities for our youth."

Read More About
Category: All