The Department of Health confirmed that a "person who recently travelled to a Zika-affected country has been diagnosed with Zika" which "represents the first confirmed imported [travel-related] case of Zika virus in Bermuda."
"This person was known to the Epidemiology and Surveillance Unit [ESU] and Vector Control as a suspected case. As with all suspected cases of Zika and other diseases spread by mosquitoes, control measures are put in place at the time of initial testing," a spokesperson said.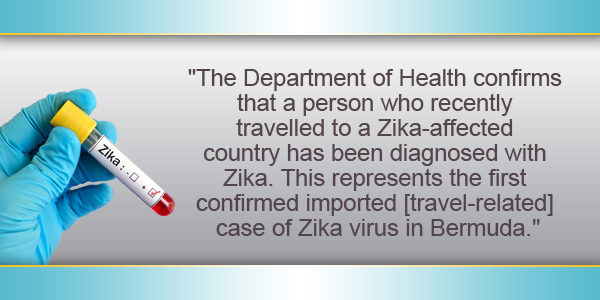 "The Department of Health does not wait until lab test results confirming Zika are received; the Department acts immediately. The Vector Control team increases its routine efforts to reduce mosquito-breeding sites within a three-mile radius of the home.
"In addition, the ESU advises the person about how to prevent any further spread by avoiding mosquito bites, and in the case of Zika, reducing the risk of sexual transmission.
"With frequent travel between Bermuda and areas with Zika virus in the Caribbean and the Americas, the Department of Health continues to work with health care providers, and local and regional public health partners to monitor possible imported cases.
"Imported cases make local spread possible because a type of mosquito that could potentially transmit the virus is found in Bermuda. The mosquitoes that could transmit Zika usually bite during the day.
"The public is advised to:
1. Use an EPA-approved insect repellent every time you go outside, and follow label instructions.
2. Drain standing water where mosquitoes can breed.
3. Wear long sleeves and pants when outside.
4. Protect your sexual partner for six months after travel in a Zika area by using condoms correctly and consistently.
5. Use air conditioning or make sure doors and windows are screened to keep mosquitoes outside.
"Additionally, it is particularly important to protect pregnant women, or those who plan to become pregnant, from contracting the Zika virus, because Zika may cause developmental problems in the baby during pregnancy.
"Pregnant women should avoid unnecessary travel to areas with known Zika virus, and if travel is necessary, take careful precautions against mosquito bites and sexual transmission.
"All travelers should monitor their health. If travelers to Zika-affected areas experience fever with joint pains, rash or conjunctivitis, they should seek medical attention and inform the health care provider of their recent travel history.
"The health care provider may order testing based on an evaluation of a patient's symptoms and likelihood of encountering the virus. There is currently no vaccine for Zika and the health care provider will advise on how to treat any symptoms.
Minister of Health and Seniors Jeanne Atherden said, "There has been no local spread of Zika virus reported in Bermuda."
"Bermuda is not isolated from international outbreaks of disease and we all have a part to play in keeping Bermuda healthy," said the Director of the Department of Health, David Kendell.
"Unlike other jurisdictions, our Vector Control team has been controlling our mosquito population for decades. That said, the public's assistance is very helpful in lowering the risk of transmission."
"The public is asked to help by preventing mosquito bites here at home. Report mosquito-breeding sites and tip standing water around homes and offices on a weekly basis. If you are being bitten, call Vector Control for assistance: 278-5397," the Ministry added.
"The Department of Health will continue to test those suspected of having Zika virus. As we are frequent travelers, imported cases will occur from time to time. The Ministry will update the public in the event of any additional confirmed cases."
The full Zika Virus Fact Sheet follows below [PDF here]:

Read More About