Two of the world best female squash players will be in Bermuda next week taking part in an exhibition evening as part of the Conyers Classic Squash Tournament 2017.
Former World number one Rachel Grinham of Australia will take on England's former World number two Jenny Duncalf in an exhibition match at the Bermuda Squash & Fitness Club on Monday August 21.
The two players recently just competed in the World Doubles Championships in the UK with Grinham taking bronze in the mixed and women's and Duncalf claiming silver in the women's event.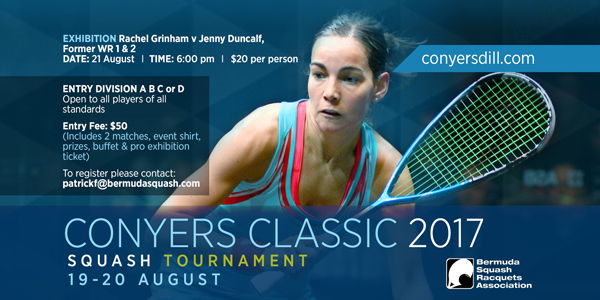 Duncalf was excited about her first visit to Bermuda, saying: "Rachel and I can't wait to get to Bermuda.
"We have heard all about this beautiful island and are thrilled to finally get the chance to visit. Both of us are just off the back off a doubles event and are keen to relax, enjoy the island and then head to China for our next big tournament"
The Conyers Classic Squash Tournament will take place August 19-20 and will feature 4 skills graded divisions with all the best players on the island confirmed to participate.
Director of Squash Patrick Foster commented; "We are all really looking forward to playing this great event in what is usually a quiet time of year for us. We have 50+ players involved, aged 10-60 years old. Noah Browne the current world number 208 heads the elite draw and to top it all off we have two of the best female players ever here to treat the crowds to a fun exhibition. It's going to be a very busy, fun weekend"
The Conyers World Class Pro Squash Exhibition will take place at 6.00pm on Monday August 21 with tickets still available at just $20pp. Anyone interested should call the Squash Club on 292-6881

Read More About