National Security Minister Wayne Caines sat down with Bernews today [Sept 18] for a live interview on our Facebook page, discussing some of the initiatives in the Throne Speech under his Ministry's remit, including creating a Police Authority, ending conscription, reducing gang violence and more.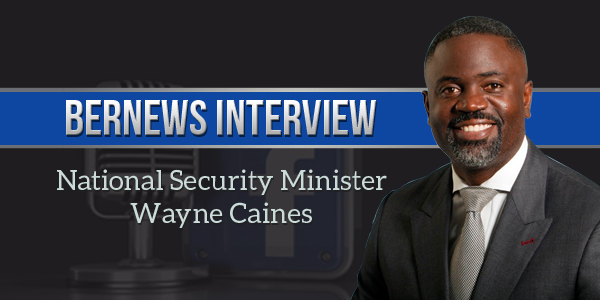 Speaking with guest interviewer Jeremy Deacon, Minister Caines also spoke on the Regiment assuming responsibility for inshore maritime patrolling from the police, saying they hope to have them on the water by next summer, and around 14 soldiers will be involved.
The Throne Speech said, "The Government will appoint a Gang Violence Reduction Coordinator with a singular focus on implementing programmes to reduce violence and anti-social behaviour," and speaking on this position, Minister Caines said they are in the final stages, the person has been identified, and they hope to make a public announcement in the next week.
"There has to be a dedicated plan within the primary and middle schools to change the way our young people think," Minister Caines said.
"We are not going to handcuff our way out of this," he added. "We have to work through it with a long term plan."
If you want to listen 'on the go', you can also access the audio only version of this interview, and all our past interviews, in the podcast section of the Bernews app.
Read More About