A team of 12 golfers from the historic Clearview Golf Course in Ohio, led by Renee Powell, will travel to Bermuda to play local golfers at a two-day tournament at Ocean View Golf Club, the Bermuda Tourism Authority announced today.
BTA Chief Product & Experience Officer Pat Phillip-Fairn said,  "Today we're happy to pay tribute to the way golf is an indelible part of Bermuda's heritage and to acknowledge how golf tourism is an important part of the Bermuda Tourism Authority's shoulder season strategy.
"In person I'm joined by Cheryl Lynne Thompson, president of Ocean View Golf Club, an institution that opened in the 1950s and since that date has a long tradition of introducing golf to Bermudians, particularly Black Bermudians who did not find themselves universally welcomed in the sport 60 years ago.
"On the phone is Dr Renee Powell, the former LPGA player and current PGA teaching pro at Clearview Golf Course in East Canton, Ohio.
"Clearview was created by Renee's father in the 1940s – the first golf course in the United States to be designed, built, owned and operated by an African-American.  The way Clearveiw insisted "golf for everyone" was a ground-breaking development for the US at the height of racial tensions during segregation.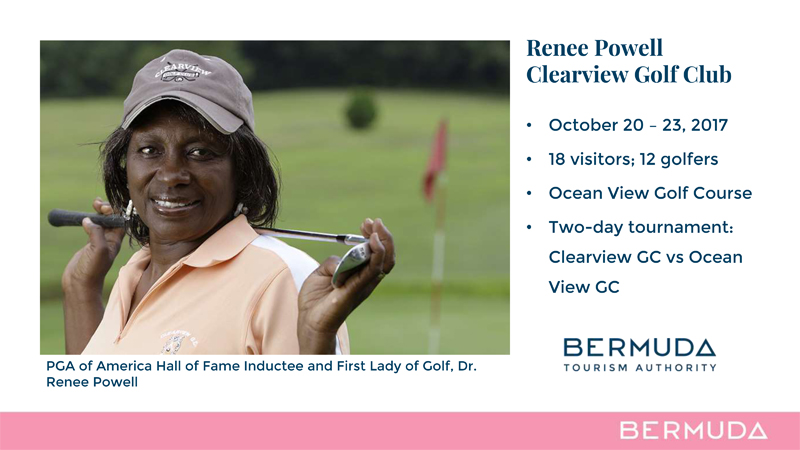 "It's not hard to see how Clearview in the United States and Ocean View right here in Bermuda share similar histories.
"This month a team of 12 golfers from Clearview, led by Renee Powell, will travel to Bermuda to play local golfers at a two-day tournament at Ocean View Golf Club.  This is the back end of a match that began in Ohio last year when Ocean View members travelled there to play members at Clearview.
"The Bermuda Tourism Authority is proud to be Ocean View's partner in this golf tourism venture for a few important reasons:
"The timing is perfect. The shoulder season is the time of year we focus on arts, culture and sport. This Clearview visit is right on time, taking place October 20th to 22nd.  And having the gravitas that comes with Dr Powell, widely described as American Golf Royalty, is a valuable association for Bermuda's golf product.
"We also love the way this experience has woven in the participation of Bermudians from start to finish.  We know when Bermudians are involved to this extent, it probably means the visitors will be back again to reunite with the people they have met here.
"Lastly, but not least importantly, Cheryl Lynn presents the kind of passionate Bermudian we enjoy working with. She loves this sport, she loves Bermuda and the team has enjoyed working with her to make this visitor event a success.
"On Friday, October 20th, before tournament play, the Bermuda Tourism Authority is pleased to host 18 visiting players and guests, along with the Ocean View players, for a welcome cocktail reception. And then on Saturday and Sunday, all of Bermuda is welcome to watch the golfers hit the course in the head-to-head match-up at Ocean View.
"I should also note, next week, Nancy Lopez Golf Adventures will be here in Bermuda with more than 40 visiting golfers.  We look forward to welcoming Nancy Lopez, another LPGA legend, October 12th to 16th.
"At the Bermuda Tourism Authority we're serious about women's golf and golf tourism in general. As we head into the 2017/18 golf tourism season we hope to see our golf courses busy with activity."

Read More About