Residents can take advantage of free health screenings as Bermuda Hospitals Board celebrates Diabetes and Chronic Lung Disease Awareness Month.
The Diabetes Respiratory Endocrine and Metabolism [DREAM] Centre provide diabetes, asthma and lung disease education and awareness.
The accredited team comprises Asthma & Chronic Obstructive Pulmonary Disease [COPD] Nurse Educator Debbie Barboza; Diabetes Nurse Educators Jane Hope, Verna Eugene and Tammoi Jarrett and Clinical Dietitians Letitia Rabain and Jessika Quigley. All programs at the DREAM Centre are accredited and covered by insurance.
The DREAM Centre team will give free health screenings for lung function, blood sugar and blood pressure at King Edward VII Memorial Hospital [KEMH], General Wing lobby on Wednesday 15 November from 11am-3pm.
DREAM Centre Clinical Manager Jane Hope, Verna Eugene, Debbie Barboza, Jessika Quigley, Tammoi Jarrett and Letitia Rabain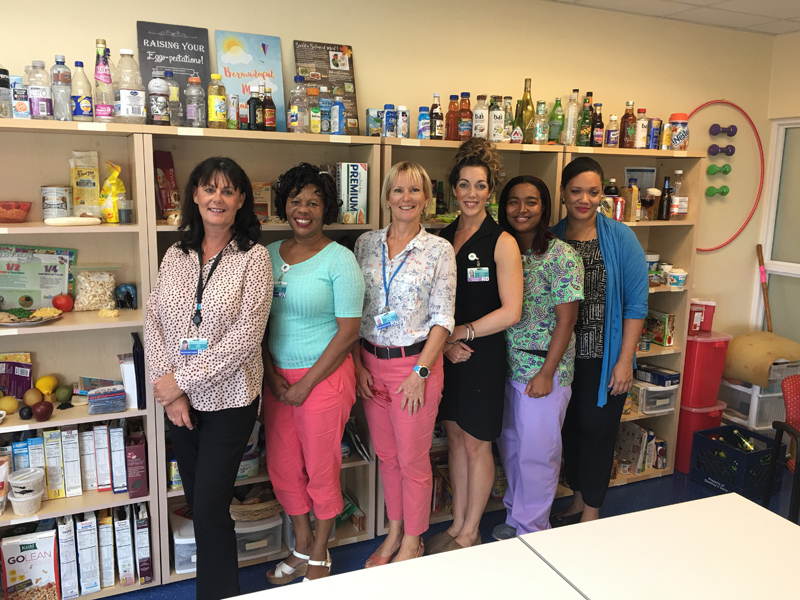 "Anyone over 40 who smokes or has a history of smoking and who finds it difficult to breathe should come in and take the free lung function test. If that is not possible contact asthma.centre@bhb.bm," said BHB Asthma Educator Debbie Barboza. "Chronic obstructive pulmonary disease [COPD] is a serious lung disease which over time makes it harder to breathe."
"Bermuda has one of the highest rates of diabetes in the world. It is the leading cause of blindness and heart disease on the island," said DREAM Centre Clinical Manager Jane Hope.
"These side effects can be avoided with prevention, early detection and proper management of diabetes" she added. "At the DREAM Centre we want to help people to control their sugar levels. Good education has been shown to be as effective at lowering blood sugar levels as many diabetes medications and regular monitoring and appropriate interventions help individuals to avoid the complications of diabetes."
BHB CEO Venetta Symonds said: "We are pleased to be able to offer these free screenings to the public. As healthcare professionals we recognise the importance of early detection and prevention in chronic conditions such as diabetes, asthma and COPD. I encourage you to come in and meet our DREAM Centre professionals. They can help you on your wellness path."

Read More About
Category: All