The 21st edition of Pecha Kucha Bermuda will be held on Thursday, November 16th at 7:00pm at the Spanish Point Boat Club in Pembroke.
PechaKucha is a presentation format, which restricts speakers to a concise and fast-paced 6 minute and 40 second talk on a topic of their choice.
It's similar to TEDx Bermuda in its aim to share ideas, inventions, or events that matter but PechaKucha only allows speakers to show 20 slides for 20 seconds per slide.
The fast and frenzy presentation style brings a level of excitement and buzz that is felt by both participants and presenters as speakers are forced to keep their passionate rants, prose, and call-to-arms short and sweet.
As always, the lineup of speakers at the 21st edition of Pecha Kucha will feature an eclectic bunch ranging from photographers to dieticians. Jessie Murdoch will be sharing her personal story of her daughter Lucy's struggle with CDKL5, a rare disorder that causes developmental delays and neurological impairment.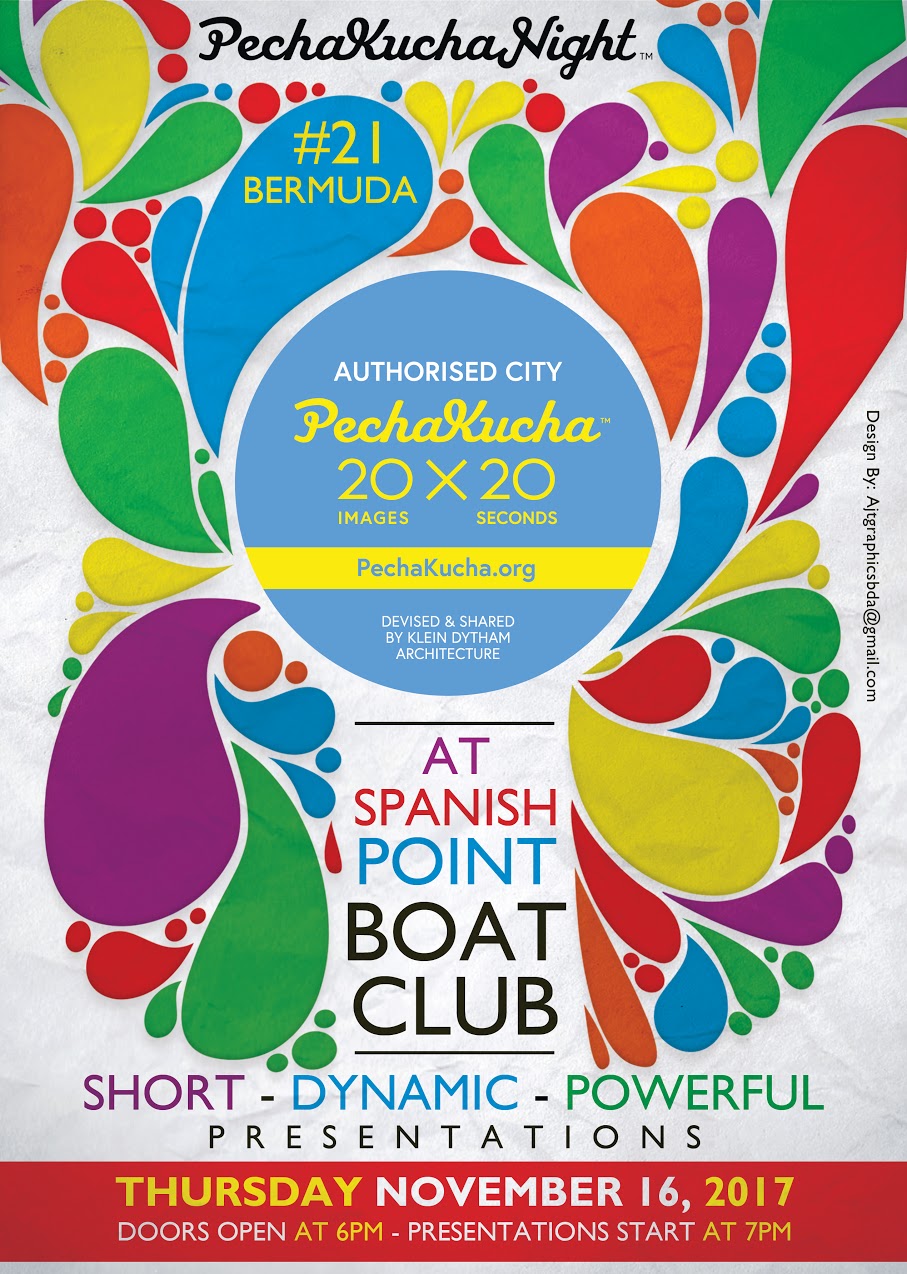 David Rogers will be talking about regulating health care in Bermuda. Arlene Andrews, a registered dietician will focus on self-care, self-compassion and body acceptance. Bryant Richards Jr. will discuss markers spaces and why Bermuda needs them now while April Swan and Martin Maurais from the BHB team will demystify why wait-times in emergency fluctuate.
PechaKucha is a volunteer organisation and the event is free and open to the public. People are encouraged to come to Spanish Point Boat Club for 6pm to enjoy wood fired pizza provided by JB Pizza. Refreshments will be supplied and for sale by Spanish Point Boat Club.
Donations are accepted to give back to the hosting club and buy drinks for the presenters. Attendees are asked to bring their own reusable cups to help reduce plastic waste.
If you've been thinking about presenting, Pecha Kucha is hosted four times a year, every three months so come see what it is all about and before the next presentation email Alba Fernandez at albaytal@hotmail.com to confirm your participation.
Read More About
Category: All, Entertainment