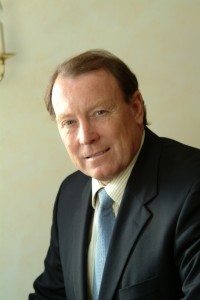 The Chairman of Colonial Group International Ltd., Dr. Grant Gibbons, has paid tribute to Chief Executive Officer and President Alan Peacock, who died suddenly on Monday, aged 69.
Dr. Gibbons said: "For more than 40 years, Alan provided strong and consistent leadership to the Colonial Group of companies. After he joined Colonial Insurance in 1974, Colonial grew from a small domestic motor insurer to one of the region's largest insurance and financial services providers.
"Alan set the highest standards and values for the Colonial Group. He significantly contributed to the overall success of Colonial, enhanced policyholder value and developed industry strength in the region. We will miss Alan immensely as a colleague, a leader and a friend."
He added: "Alan was very much an unsung hero in Bermuda. He shunned the limelight and any publicity, but he was a huge supporter of the local community, especially football. I would like to extend my deepest sympathies to Alan's family in this very difficult time."
In June this year, Colonial announced that Mr. Peacock would retire in 2018; Ms. Naz Farrow, the current Chief Operating Officer – Health, was appointed CEO Designate. With more than 20 years' experience in the insurance industry Ms. Farrow now assumes the role of Acting CEO.
Dr. Gibbons commented: "Despite these unexpected challenges, the Colonial Group, under Naz's capable direction, remains committed to providing the highest level of service to its clients across all jurisdictions."
"Mr. Peacock was in Miami when he suffered an apparent heart attack. His wife, Esther, and son, Jonathan, were with him when he died," the company said.
Colonial Group International Ltd. operates through its various subsidiaries in Bermuda, Bahamas, Barbados, the British Virgin Islands, the Cayman Islands and the Turks and Caicos Islands and is rated A- by A.M. Best.
Read More About