"Debt service now accounts for 17% of government spending and is the single largest item of expenditure" and "deficit and debt reduction should remain a high priority," the Bermuda Fiscal Responsibility Panel said, with their third annual assessment having been completed, and set to be laid before the legislature when Parliament returns in the new year.
"Established in 2015, the Panel was created to increase transparency and international credibility – an international, independent committee to review, monitor, assess and publicly report on the fiscal progress of the Government," the Ministry said.
"The Panel provides Bermuda's Parliament, the Minister of Finance and the Financial Policy Council with an annually published assessment of the island's fiscal strategy, focusing on progress in meeting the Government's medium term objectives for public spending, taxation, borrowing and debt reduction.
"Panel members met with interested parties December 4-7 during their annual visit to the Island. The Fiscal Responsibility Panel is comprised of three leading international experts in public policy, finance and financial stability.
"It is chaired by David Peretz, an independent consultant on international financial issues who has worked in the UK Treasury, the International Monetary Fund and the World Bank, with particular experience in advising on strategic and economic issues affecting small countries.
"Also on the Panel is Peter Heller, a 30 year veteran of the International Monetary Fund and sought-after professor and lecturer on public policy finance.
"They are joined by Jonathan Portes, Director of the National Institute of Economic and Social Research, whose expertise covers a wide range of economic policy issues, including labour markets, skills, migration and poverty, and a focus on international economic and financial issues."
The Fiscal Responsibility Panel: Peter Heller, David Peretz and Jonathan Portes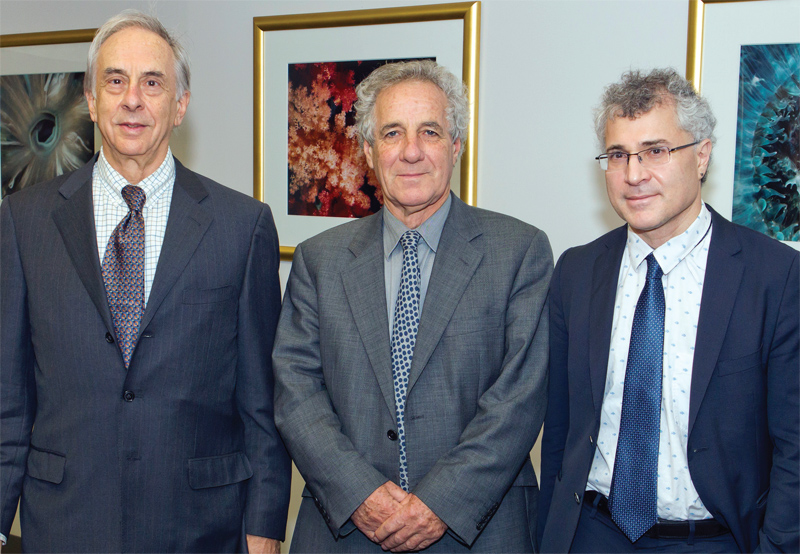 The report's executive summary said, "In our previous reports we have highlighted Bermuda's vulnerability to external events, as a small open economy competing in a global marketplace. We have pointed out a number of specific risks and uncertainties that could adversely impact the economy. In some cases, the result could be a severe financial crisis; this would affect the wellbeing of all Bermudians.
"We have reassessed these risks in this report. But while some of the risks we identified last year have diminished, and some can and are being mitigated by determined government actions, others remain or have increased, and new ones will emerge.
"The high level of government debt and other contingent public financial liabilities leaves the island poorly equipped to deal with the potentially severe financial and economic impact if any one was to materialise.
"Moreover, given likely future expenditure needs arising from an ageing population, the government can ill afford to continue spending such a high proportion of its budget on debt service, which is currently the largest single category of government expenditure.
"For all these reasons deficit and debt reduction should remain a high priority. We therefore welcome the new government's commitment to achieve budget balance by 2019 and to continue progress thereafter in reducing the volume of government debt accumulated in recent years so as to achieve the longer-term targets of reducing debt and debt service respectively to 80% and 10% of revenues.
"Progress however has been mixed. In 2016/17 the fiscal deficit came out slightly lower than projected in the 2016 budget, with spending significantly below plans. The most recent fiscal plans for 2017/18 and beyond are those set out by the previous Minister in his 2017 budget.
"Relative to the plans set out in the 2016 budget these represent a significant degree of slippage, with a slowing of deficit reduction in 2017/18 and the target date for achieving budget balance pushed back from 2018/19 to 2019/20. "
"Looking forward it is our understanding that the new government's present intention is to permit a larger deficit in 2018/19 than foreseen in the 2017 budget – albeit a deficit less than the contribution to the sinking fund thereby avoiding any increase in net debt – while sticking to the target of budget balance the following year. This further slippage for 2018/19 coming on top of the slippage in the 2017 budget is unwelcome; such slippage can easily become a bad habit.
"Last year we said that the government's aim of increasing taxes by the equivalent of 2 ½ to 3% of GDP to achieve the fiscal targets was appropriate but would not be easy and that implementation would be a challenge. This is even more true today."
The Bermuda Fiscal Responsibility Panel assessment follows below [PDF here]:
Read More About