[Written by Vejay Steede]
Day Two of Restaurant Weeks 2018, and I find myself at Marcus, inside the luxurious Hamilton Princess.
My partner and I arrived late, but we were greeted with warmth and respect, and seated immediately. The Ambiance is perfect inside Marcus; the lighting and background music is set at the exact level of non-intrusive most human beings are comfortable with, and we settle quickly, expecting a very classy experience indeed.
Once we were able to absorb the decidedly comfortable vibe inside his temple, Chef Danai came to talk to us. He was charming, confident, and respectful, welcoming us warmly and giving us the option to either choose anything from the main menu or do a taster's sample of the entire Restaurant Weeks menu. We chose the latter.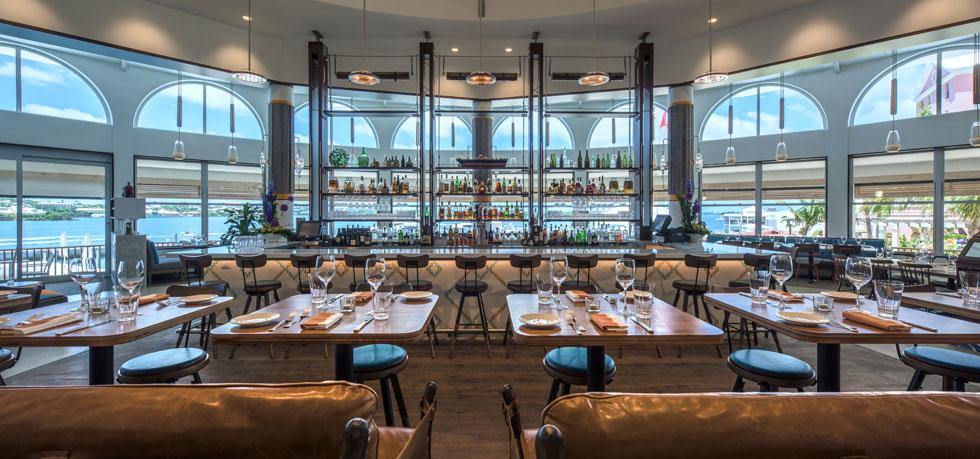 I later realized that doing a sampler menu would eliminate my ability to comment on portion size, so I'll just say the taster's portions combined were plenty for me, and I'm not a small person. With that said, I can only properly comment on the quality one can expect from this menu, and leave quantity in that grey nether region of mystery you'll have to go to Marcus to discover.
Prior to the meal coming, I asked Dan, our Server, to ask the Chef to recommend a wine pairing to accompany the meal. The Chef, and staff, decided to one up me by offering sample sized pairings for each dish. Each … dish. Well I couldn't back down there could I?!
Before we knew it, Dan was bringing us two chilled glasses of the perfect Riesling dry white to accompany the delightful Fish Chowder Bites that arrived a moment later. The chowder bites were the pick of the appetizers available on the Restaurant Weeks Menu. A fairly direct take on a traditional Bermuda fishcake, dressed up to mimic another famous local flavor, the chowder bites were crispy, flavorful, and quite appetizing indeed [you see what I did there?].
The other appetizer selections came next. One was a salad, one was a soup. Both were fine. If you're a salad person who usually likes a salad before a good meal, the Bermy Fresh Green Salad will do just fine. That applies in exactly the same way to the Sweet Island Carrot Soup.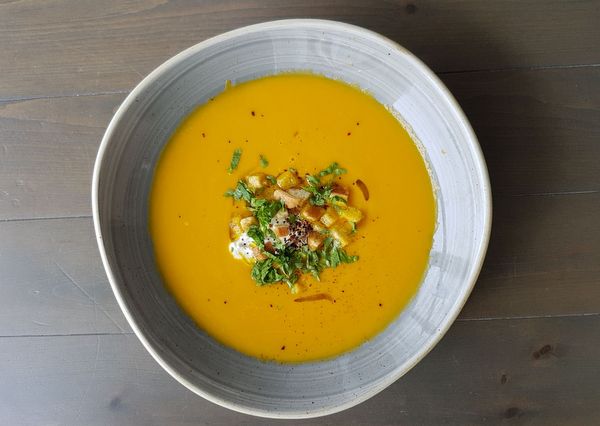 The appetizer selections were not mind-blowing, but they did what they came to do: prepare us for the main course. In the case of the Restaurant Weeks Menu at Marcus, the main course is easily the main attraction!
The Sunday Breakfast for Dinner was the first of the mains introduced to us. Described as "Excellent" by my partner [very high praise indeed!], this whimsical take on traditional Codfish and Potatoes was full of flavor and flair.
The dish reimagines our local favorite as a crisp, delicious cod croquette served with soft poached eggs, avocado, tomato sauce, and a divine plantain chutney. The only flavor I missed was bacon, which I put in my own sauce, and is not universal, and will therefore bear no relevance to this review. Entrée selection one was, in a word, excellent.
The next main dish served was the Smoked BBQ Chicken. This dish was impressive in parts, and less than thrilling in other parts. For example, the chicken was perfectly cooked – perfectly succulent, perfectly juicy – but it provided too little of the promised smoke and none of the expected char.
More smoke flavor and at least a bit of char might have broken up the sweetness of the meal, which was quite salient. The Hop and John [Red Beans and Rice, which is more of a Caribbean staple than a traditional Bermudian one – we use black-eyed peas traditionally innit?], featured an aromatic, sweet rice with a hint of coconut and a ton of flavor, and, hard, undercooked red beans. The beans were really disappointing because the rice was authentically delicious. Once the beans become tender, as I'm sure they will, this dish will be formidable. This was the only real blemish on the entire evening of tasting; and it's a technical flaw, so it will be fixed.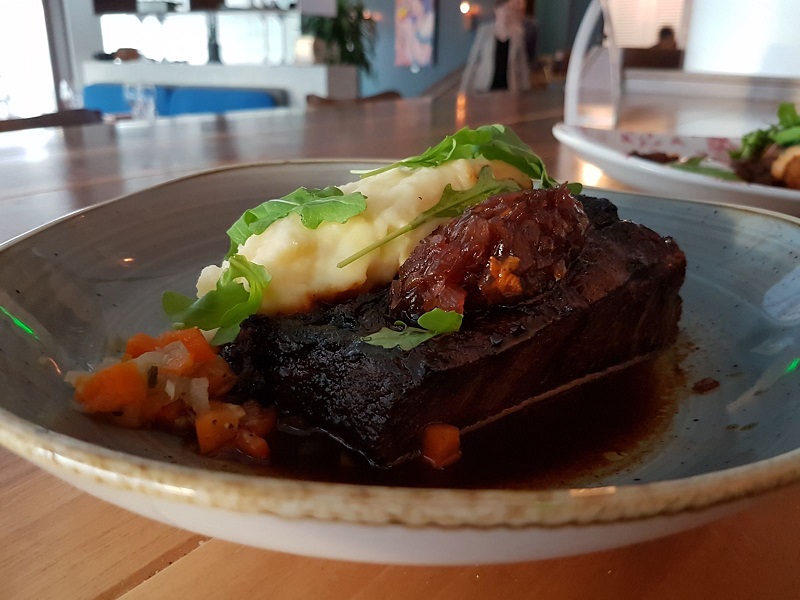 My pick for the best dish on this menu came next. To be fair, I would've ordered the Cottage Pie if I had to pick one from the start. What can I say, I'm a steak man. As a steak man, I can report that the melt-in-your-mouth braised short rib that headlines this deconstructed cottage pie dish is more than worth the money this promotion asks for alone.
The protein was the star, but the rich, creamy mashed potatoes proved a highly capable supporting actor, and the tiny diced carrots rounded out the cast quite well indeed. Decadent, opulent, and plain old fashioned tasty, this sample was the culinary highlight of the evening for me; I cleaned my plate. Spotless.
So I've not mentioned the wine pairings since I mentioned them have I? That probably has a lot to do with the wine pairings at this point to be honest. The wines were paired well, and glassed expertly. You can rest assured that the staff at Marcus will recommend the perfect pairing for any meal you may enjoy with them.
Both desserts came to us at the same time [one each, full servings]. The Rum Cake was presented beautifully, evoking a sunrise with the triangular cut cake representing the earth while the dark and stormy ice cream becomes the sun creeping up from behind the horizon and shooting morning rays, represented by five demi-glazed banana slices. That's right; this was a metaphor worthy dessert!
The Goat Cheese Panna Cotta was very good too, and I'm gonna let it finish, but Rum and Cake is one of the best combinations of all time! [Google Kanye and Taylor if you don't get that last reference – it'll be worth it].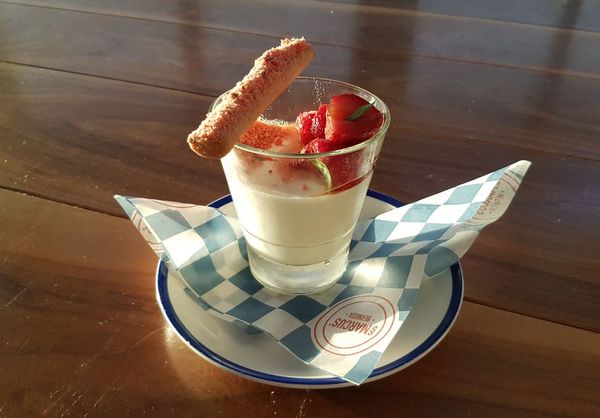 In the end I was full, happy, and excited to write about my Day Two experience at Marcus. Chef Danai was friendly, accommodating, and graceful throughout the evening, and we thank him warmly for his attention and guidance. Special thanks must also go to our Server, Dan, and Alina, the Floor Captain during our visit.
This special menu [PDF] is a proper value at $42. Three courses, a knockout entrée, and a selection of two lovely desserts in a bona fide classy joint; what more can one ask for?

This year's Restaurant Weeks is running from January 11 to February 4, with the largest number of participating restaurants ever, at 51. The three levels of pricing for this year's dinners are $32, $42 and $52, and lunch is also being offered by 14 restaurants for $22. You can view all our coverage of Restaurant Weeks here, the full list of lunch menus here, the list of dinner menus here, and all coverage of cuisine here.

Read More About
Category: All, Entertainment, News