[Written by Vejay Steede]
How does one transform a chilly, overcast midweek January evening into a truly memorable night? Well, if you're in Bermuda, then you make a reservation at Little Venice on Bermudiana Road, and let the magic begin.
We arrived just after 7.00 pm, and were greeted by Tashana, who would be our server for the evening. Tashana seated us in one of the several cozy booths that line the South wall of the restaurant. The décor is classic, evoking operatic evenings in old Italian towns with good friends, good food, and good wine; and promising to recreate that experience right here in Bermuda.
Soon after we were seated, Umberto, the longtime Maître D' of this venerated local eatery, came to greet us. Umberto offered both the Restaurant Weeks special menu and the Main menu for us to choose from, which afforded me the opportunity to comment on the special promotion, as well as the wider, a la carte, offerings available here.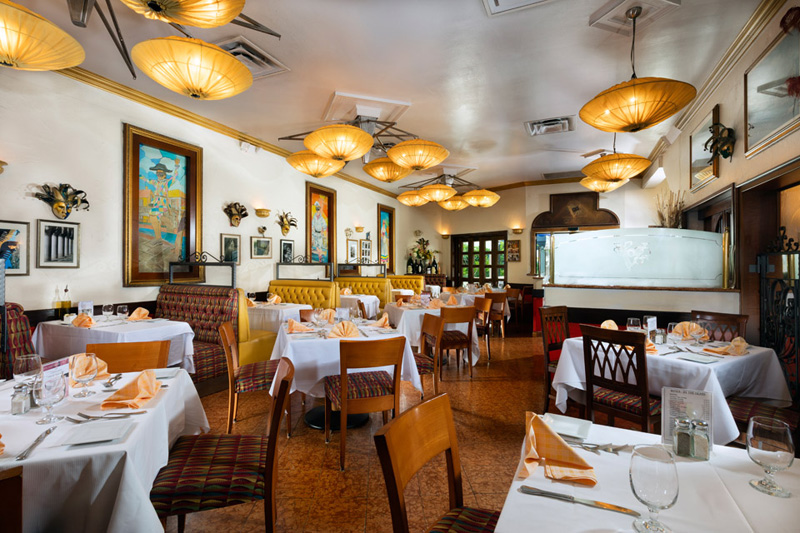 Umberto showered us with attention throughout the evening, making us feel perfectly at home, and enhancing the experience considerably. He offered thorough rationales for his recommended wine pairings, and they were, in a word, perfect.
Tashana recommended the popular Codfish and Potatoes Ravioli as a starter off the Restaurant Weeks menu, and Umberto paired it with a 2013 COS [Cerasuolo Di Vittoria Classico] Sicilian Red. The ravioli was divine, marrying the Bermudian with the Italian perfectly, and creating several bites of avocado, tomato, and codfish infused bliss. The wine complemented the dish very well, adding a fragrance to the experience that seamlessly prepared us for further indulgence.
My partner ordered the Polipo, a roasted tenderized octopus that was simply sensational. If this octopus could talk, it would have said, "Buy more of me," because it was just that good. Tender, briny, and smoky when combined with the excellent Bourbon BBQ Sauce it was served with, this is certainly a starter I'd recommend very highly.
Both starters were presented elegantly, reminding us that we were partaking in a very high class experience indeed. Elegance, in fact, was wafting on the ambiance inside Little Venice; there was class in every corner. Exposed wine racks, painted canal scenes, and Venetian masks all added class and quiet flair to the atmosphere, and we were fully immersed in the splendor of the experience.
I ordered the Sous Vide Pork Belly from the special menu for my entrée. Elegantly presented, flawlessly cooked, and expertly paired with a 2010 Barbera d'Alba Red, this is a meal I would seriously consider if I had to select a last meal. The pork was fork tender [could be cut with a fork], succulent and sweet, while even the kale was tender [no easy feat!].
Perhaps the best, at least the most surprising, part of this entrée was the modest slice of cassava pie that accompanied the pork. Little Venice's version of this local holiday staple was [with humble apologies to my dad and the hundreds of other cassava pie masters still plying their trade within these shores] probably the best cassava pie I have ever eaten. It stings a bit to say that, but it is what it is.
After the meal, Umberto brought Chef Danny Lim out to greet us, and I told him that he's put me in a tight spot having to comment on his outstanding cassava pie, knowing full well that it was not prepared by a Bermudian. I was complimenting him of course, and Umberto attempted to assuage my sore pride by saying that the recipe was provided by a Bermudian; but still. Bravo Chef Lim and team!
There was another entrée too. Umberto had a short conversation with my partner and recommended the Anatra for her. This was a slow roasted duck over meticulously cooked al dente noodles. This was a faultless dish. The duck was simply amazing, and the noodles were nothing short of remarkable. Suffice it to say that two clean plates went back to the kitchen after the entrée course that night.
The set menu dessert was a delightful bread and butter pudding with a lovely almond brittle ice cream, accented with caramel and vanilla sauce. We also ordered a tiramisu from the main menu. Both desserts were exquisite, providing a fabulous final course to a fabulous dining experience. We had been thoroughly impressed with Little Venice well before the dessert course, and there was no let down here; our smiles were large, sparkling, and authentic.
Umberto wouldn't let us leave before ending with a customary shot of Limoncello and some biscotti. It was a warm send off, and we felt like family by the end of this quite special meal. As far as the food goes, Little Venice is a top shelf restaurant, but what really puts this Venetian oasis in a Bermuda metropolis over the top is the warmness of the staff.
Tashana and Bianca were the first faces we saw, but we were introduced to Umberto, Chef Lim, and even Emilio [one of the owners] over the course of the night, and every one of them treated us like family. Isn't that what eating out is all about? Eating is a very familial thing, and when you can go out and have an experience like this with people you've never met before, well, it gives you hope for humanity. Little Venice has it right, and if you are looking for a great meal in a great environment full of great people, you can't go wrong with the $52 Restaurant Weeks menu at Little Venice!

This year's Restaurant Weeks is running from January 11 to February 4, with the largest number of participating restaurants ever, at 51. The three levels of pricing for this year's dinners are $32, $42 and $52, and lunch is also being offered by 14 restaurants for $22. You can view all our coverage of Restaurant Weeks here, the full list of lunch menus here, the list of dinner menus here, and all coverage of cuisine here.

Read More About
Category: All, Entertainment, News