[Written by Mikaela Ian Pearman]
It's finally back – Restaurant Weeks, also known as my favorite time of year!
This year, I plan to check out at least four restaurants so that these reviews will encourage more people to go out and eat for incredible deals. We all know the industry has struggled due to Covid-19 so enjoying a couple meals out [or via delivery] is likely putting more money in the pockets of workers.
Okay, so I started this year's RW tour at Crown and Anchor at the lovely Hamilton Princess. The menu had some Marcus' flair thanks to Chef Danai Hongwanishkul. It was a great start for RW so let me tell you what I enjoyed.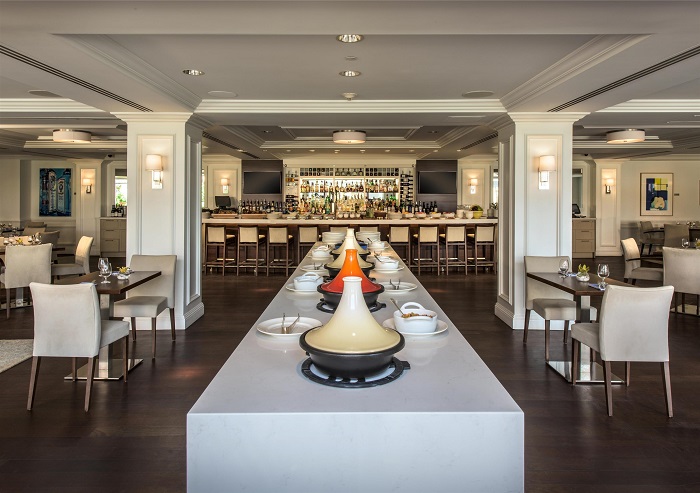 I started with a sweet potato soup with raisin bread croutons and creme fraich. The soup was creamy, savoury and super delicious. The croutons added a nice crunch and sweetness while the creme fraich added some tang to the dish.
Would I order it again? Absolutely!
Now let's get to the main. I ordered Tempura Snapper with cassava fries and mushy peas. It was basically a cool Bermudian spin on English style fish and chips.
The fish was crispy and not greasy at all. The cassava fries are where this gets sort of interesting. I thought it would be yucca fries, which you can get an a lot of Latin-style restaurants. But we were in for a surprise. Chef Danai actually cut cassava pie into strips and fried it. And it was so good – sweet but salty and delicious with the fish and the lemon tartar sauce.
For dessert we enjoyed a Poached Pear and Almond Tarte with sour cream sorbet. I will say this, this was not appealing on paper so I didn't know what to expect. When I had a bite, I was blown away. The tarte was wonderful and the sorbet added a nice bit of acidity to cut through the rich pastry.
Overall, this was a delicious dinner and I highly recommend checking out Chef Danai and his team at Crown and Anchor for restaurant weeks. Tell them I sent you!
*Crown and Anchor is in the $42 category.

Read More About
Category: All, Entertainment