Bermuda Lobster Ravioli, Grilled Petit Filet Mignon, Pan Seared Salmon, Smoked BBQ Chicken, Lamb Loin Chops, Teriyaki Pork Loin, Crispy Duck Leg Confit, Crusted English Lamb Sirloin, Signature Seafood Paella, Braised Beef Short Rib, Local Pumpkin Risotto and Vegetarian Casserole are just a few of the options available for the dinner portion of this year's Bermuda Restaurant Weeks.
Over 50 local restaurants are taking part in this year's Bermuda Restaurant Weeks — which runs from January 11 through February 4 — with three-course dinner menus set at three price tiers of $32, $42 and $52.
"We are delighted to see the continued growth of Bermuda Restaurant Weeks," said Bermuda Tourism Authority Chief Product and Experiences Development Officer Pat Phillip-Fairn previously said.
"For a market our size, three dozen restaurants is a great showing. To have 51 is outstanding. It gives visitors and residents a wide selection to choose from and confirms that Bermuda Restaurant Weeks successfully drives revenue into local restaurants at a time when the extra business is very much welcomed."
Participating Restaurants [PDF here]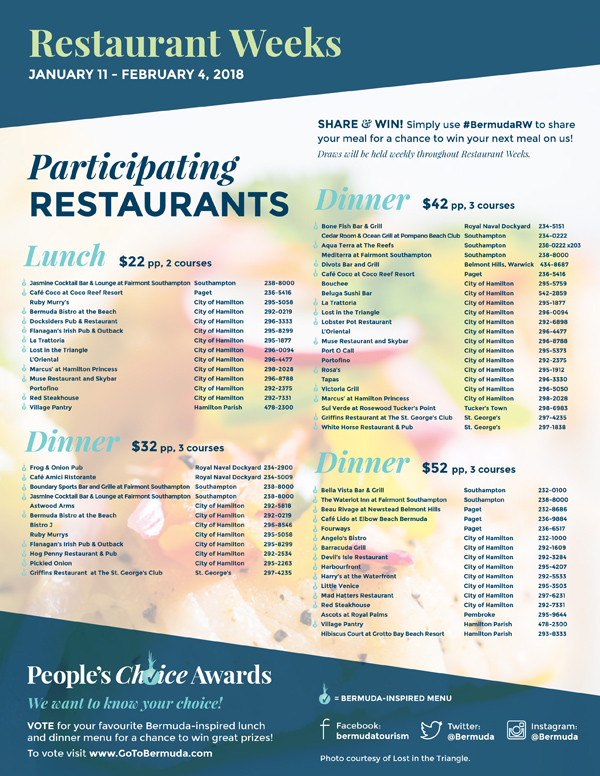 Thanks to assistance from the BTA, we have compiled close to 50 of the dinner menus, which can be seen below. We listed a brief summary of the offerings under each header, however for a more comprehensive description of the full offerings please click the PDF link. Fourteen restaurants are also offering $22 lunch specials, and you can see the lunch menus here, and all our coverage of Restaurant Weeks here.
Frog & Onion Pub [$32]
Café Amici Ristorante [$32]
Boundary Sports Bar and Grille [$32]
Jasmine Cocktail Bar & Lounge [$32]
Astwood Arms [$32]
Bermuda Bistro at the Beach [$32]
Bistro J [$32]
Ruby Murrys [$32]
Flanagan's Irish Pub and Outback [$32]
Hog Penny Restaurant & Pub [$32]
Pickled Onion [$32]
Griffins Restaurant [$32]
Bone Fish Bar & Grill [$42]
Cedar Room & Ocean Grill at Pompano Beach Club [$42]
Mediterra [$42]
Divots Bar and Grill [$42]
Cafe Coco At Coco Reef [$42]
Bouchee [$42]
Beluga Sushi Bar [$42]
La Trattoria [$42]
Lobster Pot Restaurant [$42]
L'Oriental [$42]
Muse Restaurant and Skybar [$42]
Port O' Call [$42]
Portofino [$42]
Rosa's [$42]
Tapas [$42]
Marcus' [$42]
Sul Verde [$42]
Griffins Restaurant [$42]
White Horse Restaurant & Pub [$42]
Bella Vista Bar & Grill [$52]
The Waterlot Inn [$52]
Beau Rivage [$52]
Café Lido [$52]
Fourways [$52]
Angelo's Bistro [$52]
Barracuda Grill [$52]
Devil's Isle Restaurant [$52]
Harbourfront [$52]
Harry's at the Waterfront [$52]
Little Venice [$52]
Mad Hatters Restaurant [$52]
Red Steakhouse [$52]
Ascots [$52]
Village Pantry [$52]
Hibiscus Court at Grotto Bay Beach Resort [$52]

Read More About
Category: All, Business, Entertainment, News