Governor John Rankin today [Jan 16] said that military training "gave an edge to soldiers' civilian employees."
John Rankin was speaking as he toured Warwick Camp, where the Royal Bermuda Regiment's latest recruits settle into their first week of training.
Mr Rankin said: "These men and women will learn new skills across a variety of fields and they will develop their leadership qualities.
Governor Rankin talks to new RBR recruit Private Netra Dahal as he tours Warwick Camp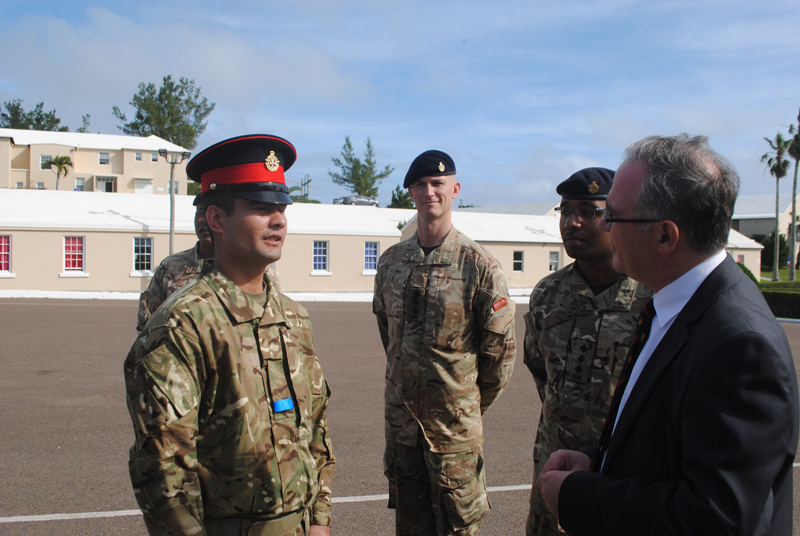 "A number of employees on the island have already communicated to me how much they welcome the fact that their staff can get that training here and deliver it back in the businesses they operate – and at no cost to them."
Mr Rankin added: "Joining the Regiment is an investment, both for the individuals themselves and for the organisations or businesses from which they came.
"Service in the Regiment will develop life skills that will stand these young people in good stead in the future."
The Governor watched new soldiers as they battled to master drill moves on the parade ground, talked to the recruits and visited the Warrant Officers' and Sergeants' Mess before lunch in the Officers' Mess with senior staff from HSBC, including CEO Mark Watkinson.
The RBR's newest soldiers meet Governor John Rankin as he tours Recruit Camp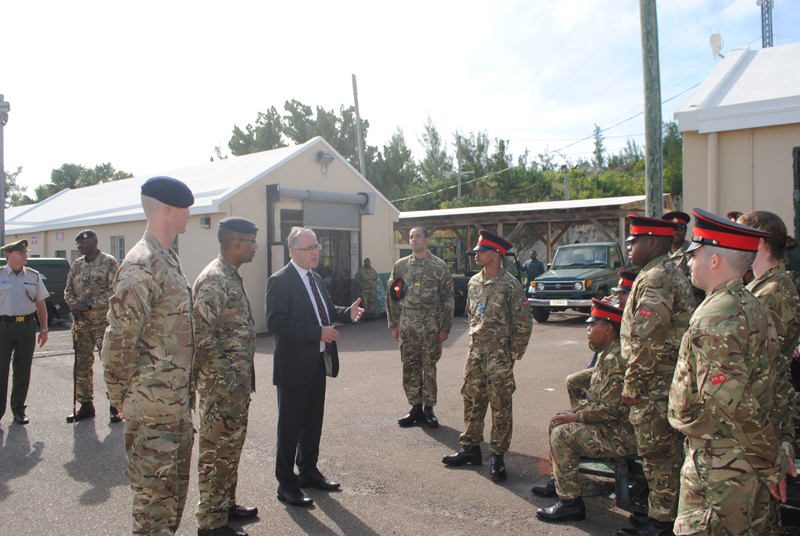 Mr Rankin said: "I was very pleased to meet the young men and women who have volunteered to join the Regiment.
"I was struck both by their commitment and by the sense of comradeship that they are beginning to develop. I look forward to attending their passing-out parade."
Mr Rankin, who was British Ambassador to Nepal before taking up his post in Bermuda, met volunteer Netra Dahal, 31, a chef from Somerset, who is originally from the Himalayan country.
Private Dahal said: "I thought I would love to be in the military, so I decided to try it. I'm doing my best and listening to what I'm told. It was nice to meet the Governor and talk about Nepal."
Governor John Rankin addresses the troops watched by Captain Kenji Bean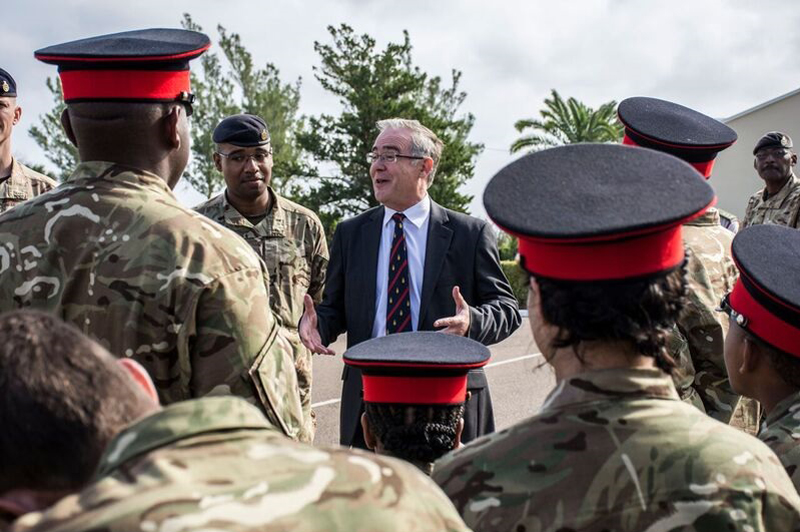 Mr Rankin added: "Last year was a remarkable year for the Regiment with the demands placed upon it, particularly the security they provided for the America's Cup – a major international event – and their deployment to Turks and Caicos after Hurricane Irma, where they gave assistance in their time of need.
"There was a first-class response to these demands and I as Governor and the island as a whole can be very proud of what they achieved."

Read More About
Category: All