The Island's newest soldiers passed out of the Royal Bermuda Regiment's Recruit Camp at the weekend, with a total of 40 recruits – all volunteers – celebrating on Saturday as they completed two weeks of training.
Private Janita Adderley, 30, was named top recruit and Lance Corporal Dijon Arruda won top section commander.
The RBR's newest soldiers at their passing out parade.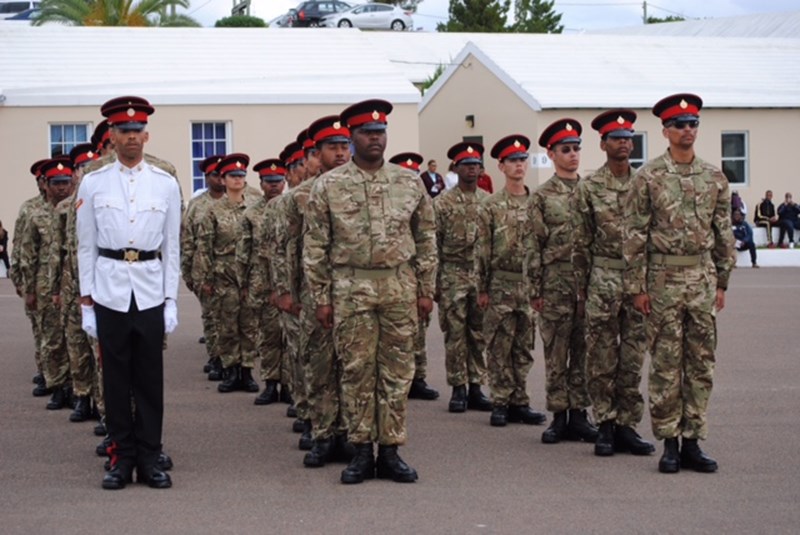 Pte Adderley, from Sandys, said, "It's an honour and I was quite surprised when my name was called."
The 30-year-old bartender at the Pickled Onion in Hamilton added she wanted to join the RBR because she "needed to do something completely different and step out of my comfort zone."
Pte Adderley said, "I've been surprised with what I've been able to do these two weeks."
But she added, "It's not always about coming first. I'm not the greatest runner. I was always the last to come in – but I always came in."
Governor John Rankin inspects the volunteers at Warwick Camp.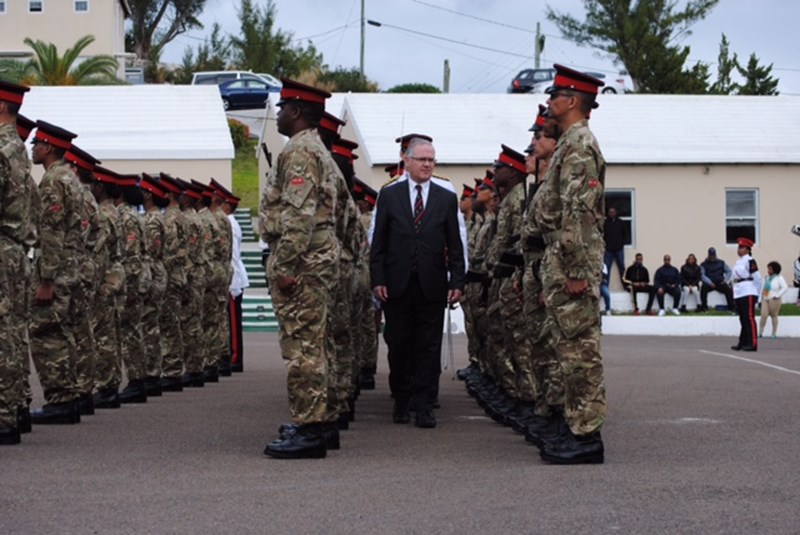 Private Adderley, who wants to join the Regiment's medics, admitted she was tested to the limit and often felt like she could not go on.
But she said, "I helped out other recruits and other team members who felt the same and tried to cheer them along. I hope that's what the people who gave me the award saw."
L/Cpl Arruda, 29, a three-year veteran of the RBR, said he was pleased to win.
The RBR's newest soldiers march on to the parade ground at Warwick Camp.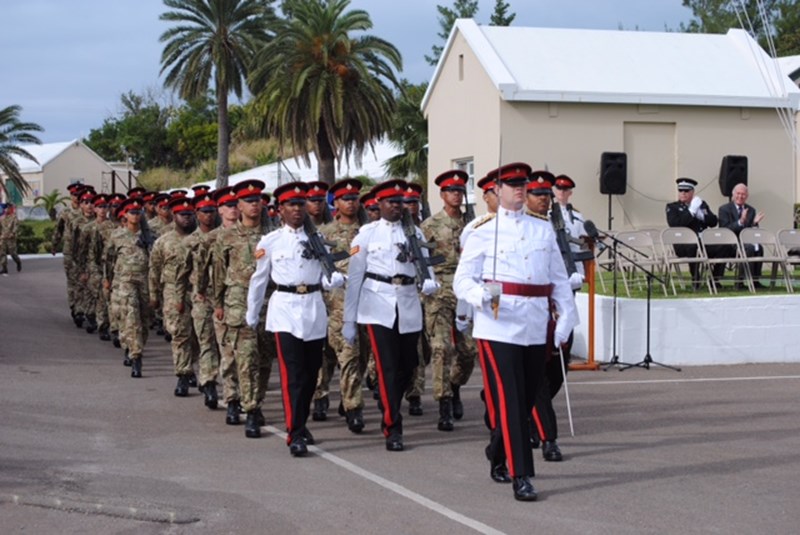 He added, "At the end of the day, It's not about winning it's about producing quality soldiers from scratch.
L/Cpl Arruda, who works in the purchasing department of the Hamilton Princess in civilian life, "It's in my nature. I care about my country a lot and I want to give Bermudians a better understanding of life. To do that, you need a lot of compassion and to build teamwork.
"That was my whole point and people would be surprised at how well they gelled."
RBR Commanding Officer Lieutenant Colonel David Curley said the camp included not only Bermudians, but recruits from Britain, Jamaica and Nepal.
He added the youngest recruit was 18, the oldest was 54 and a third were women, while the camp included university graduates and some who had not finished high school.
 The RBR Band and Corps of Drums leads the new recruits to their passing out parade.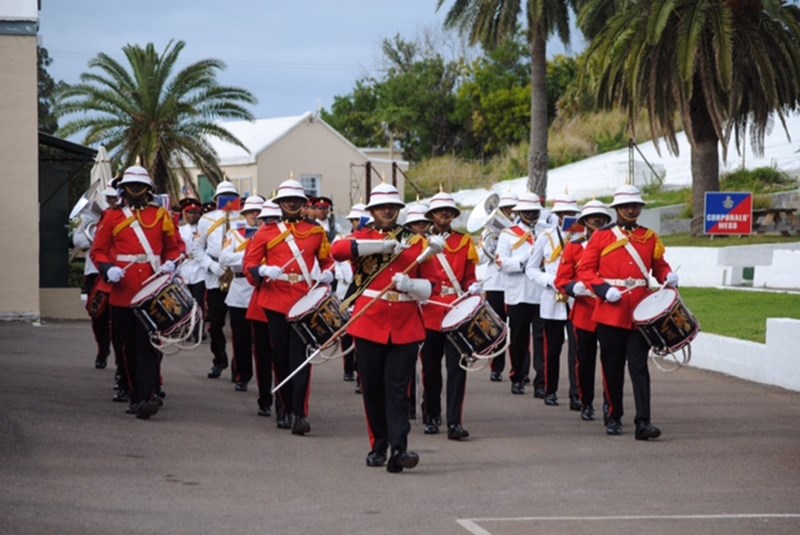 But Lt Col. Curley said the same standards were lived up to by all the new soldiers.
He added, "Of them we demand that they uphold our values of selfless commitment, courage, discipline, integrity, loyalty and respect for others.
"It is these values that unite us when times are hardest, when separated from our families during hurricanes and during deployments and exercises both locally and overseas.
"But what also unites us is a sense of belonging to an organisation, a family that shares a common purpose, that is open and transparent and that has no place for people who do not share in these values."
Lt Col Curley said that retention rates were "at an all time high" as the RBR prepared to enter a period of change.
The RBR Band and Corps of Drums leads the new recruits to their passing out parade.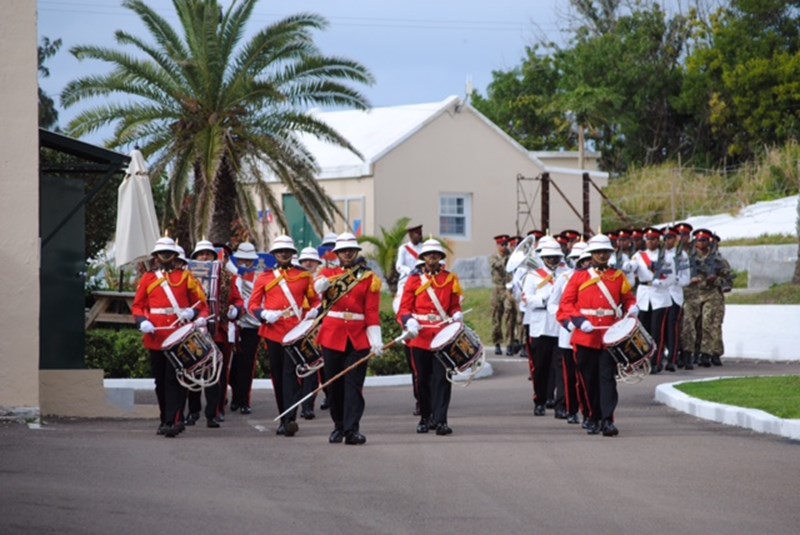 He added that a second Recruit Camp in the summer will be held for the first time and a major strategic review was underway that would see the role of the Regiment move from light infantry to a more engineering-based corps.
Governor John Rankin, Commander-in-Chief of the RBR, told the recruits, "As volunteers, you have chosen to serve Bermuda and also to develop your own character and skills that I know will stand you and this country in good stead in the future.
"You have shown you've got what it takes, both individually and as a team."
He added, "You are new members of a vital part of this island's security. You will play your role in providing support for major events on the island, helping and serving this community."
Private Janita Adderley, best recruit of this year's intake at Warwick Camp.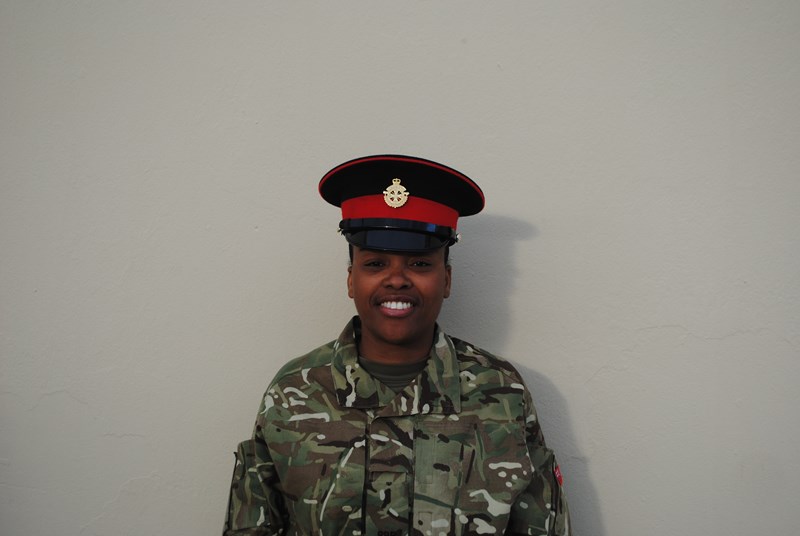 Premier David Burt, on his first visit as head of government to Recruit Camp, told the recruits that he had read that "the heart of a volunteer is not measured by size, but by the depth of commitment to make a difference to others."
He added, "You have all done very well and we celebrate you today."
Premier Burt said it was "the efforts of the whole unit that brings success" and that "these traits are essential, not only in the Regiment, but also essential in life."
Two overseas Senior Non-Commissioned Officers, one from the UK and one from Canada, assisted with the training effort during recruit camp.
Premier David Burt addresses the troops at the RBR recruit camp passing out parade.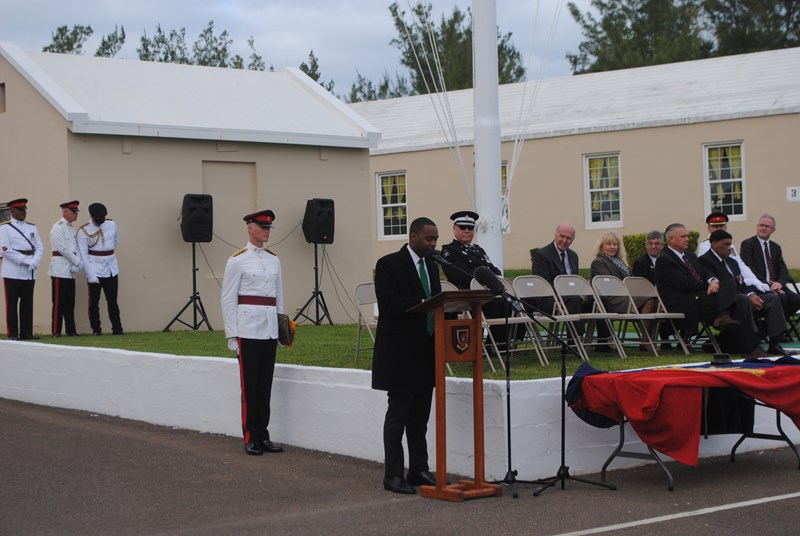 Sergeant Charles King, of the Royal Canadian Regiment, said, "It's been very good. It doesn't matter where you come from, there is a basis for being soldiers and they have improved over the two weeks. I've enjoyed it very much."
Sergeant Stan Wildney, 1st Battalion, the Royal Anglian Regiment, known as the Vikings, added, "The recruits coming in are no different from the ones we get.
"They've been good and you can see the change between when they walked in the gate and when they walked out, which is a credit to the staff here."
Read More About