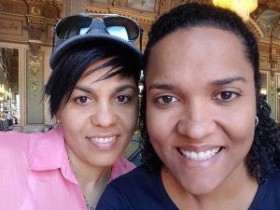 A couple plan to challenge the law prohibiting same sex marriage in the Cayman Islands, taking legal action after their application for a marriage licence was rejected by Cayman officials.
The Cayman News Service reported, "A woman from the Cayman Islands and her fiancée are taking legal action after their application for a marriage licence was rejected Monday by the General Register because they are in a same-sex relationship.
"Chantelle Day, who is Caymanian, and her partner Vickie Bodden, who is British, have been together for more than six years and now wish to formalise their relationship."
"The couple have tried persuasion and have engaged in protracted communications with the Cayman Islands Government and the Foreign and Commonwealth Office to pave the way for a legal wedding but they have had no response from the Cayman authorities and little support from the FCO.
"So, after months of in-depth research, taking extensive legal advice both in Cayman and the UK and gathering the support of their family and friends here, Day and Bodden have made the decision to take on the injustice through the courts."
The GoFundMe the pair set up says, "The Cayman Islands – a British Overseas Territory – bans same-sex unions. In any form. No marriage. No civil partnerships. I'm a British citizen, but my relationship simply doesn't exist in the eyes of the government. Even if we married elsewhere, Cayman would not recognise the union. Vickie would not be allowed to live in Cayman as my legal spouse.
"Which is why we now live abroad in London, in self-exile. We would dearly love to return to Cayman, to raise our daughter amongst friends and family that we miss greatly. But we cannot do so until the law changes. The government should say "I do" so we can too
"We've pleaded with the Cayman government to act, to say "I do" to equal marriage. But it continues to ignore its own constitution. The British government won't help either – it could mandate equal rights, like it did in 2001 when it decriminalized homosexuality in all of its overseas territories. But its silence and disregard for international human rights law is deafening.
"If they won't act, we must. Both governments are acting illegally. They won't act to ensure all British citizens are treated equally. So now the burden – both financial and emotional – falls on our shoulders to do what's right. We've pulled together an incredible legal team to take the case to court."

Read More About
Category: All