Colonial Group International Ltd. has acquired a minority interest in Beacon Insurance Company Ltd of Trinidad & Tobago.
The partnership agreement, which was signed last Monday and is subject to regulatory approval by the Central Bank of Trinidad and Tobago, is "expected to generate significant growth opportunities for both insurers," the company said.
The agreement will provide Colonial with access to additional Eastern Caribbean markets where Beacon is licensed to operate – Trinidad & Tobago, Grenada, St. Vincent, St. Lucia, Dominica, St. Kitts & Nevis and Barbados, expanding their presence to 12 jurisdictions across the Caribbean region and diversifying its risk profile.
Beacon will be able to leverage Colonial's support to strengthen their product offerings in Health and introduce new and innovative products related to Life and Pension services.
Naz Farrow [CEO, Colonial], Patricia Bryan [Director and Shareholder, Beacon], Gerald Hadeed [CEO and Shareholder, Beacon]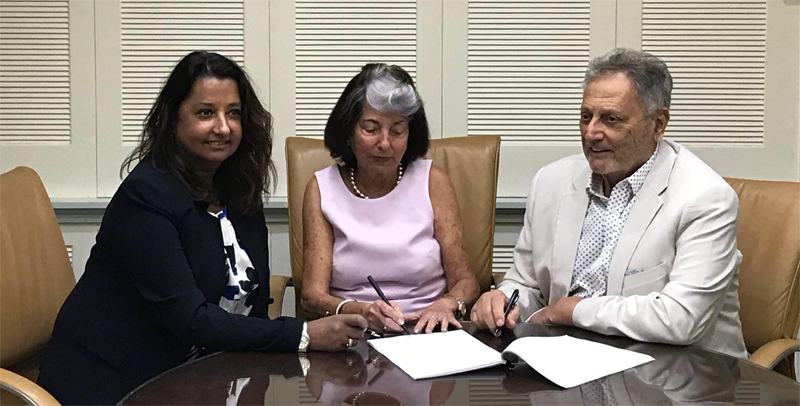 Colonial Chief Executive Officer Naz Farrow described the agreement as "perfect symmetry" for the two insurance groups.
"We are thrilled to partner with Beacon. This partnership will bring together complementary qualities that will strengthen product lines and expand and deepen our market presence – all for the benefit of our existing clients and new customers.
"Integral to this new partnership is a mutual people-first approach to service, in which the two companies take pride in promptly meeting our customer commitments.
"We are particularly keen to be working with Beacon's strong and experienced management group. They have shown across decades that you can build a successful business by putting people first, which is precisely the approach we take here at Colonial."
Beacon's Chief Executive Officer, Mr. Gerald Hadeed, remarked that the Colonial-Beacon partnership was based on similar business cultures.
"Our motto at Beacon sums up our approach to business: 'Insurance is a promise to pay and at Beacon we keep our promises.' In Colonial we see the same commitment, and their track record of being 'first on the ground, first to settle' proves it.
"We are delighted to join with them to continue serving our clients and growing our business through shared know-how, skills and resources."
Read More About