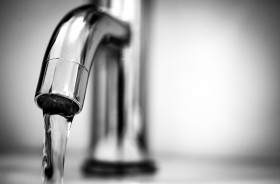 In a filing with the Bermuda Stock Exchange [BSX], Watlington Waterworks Ltd. released the Directors report to the shareholders, saying it was an "exceptional year" with water sales "the highest in five years, and sales revenue and net earnings set new record highs."
The full filing stated: "The Year 2017 was an exceptional year for the Company. Water sales, both piped water and bottled water were the highest in five years, and sales revenue and net earnings set new record highs for the Company.
"In the first half of the year there were two significant reasons for the upswing; the first was much increased tourism activity due to the America's Cup and coincident with this was an early summer drought, which led to very high demand in May and June.
"Following an outstanding first half year the Company continued to experience sustained high demand for its products and services because rainfall remained at or below average through the remainder of the year. For the year 2017, rainfall was 5 inches below average, which contrasted with the previous year when rainfall was 15 inches above average. 2017 was the first year in the past six years that rainfall was below average.
"To compare results from 2017 with 2016 is difficult because the contrasting environmental conditions created a big swing in demand for the Company's products because there was much less rainfall harvesting possible in 2017, leading to a surge in the Company's results.
"The 2017 results reaffirm the Board's confidence in the Company's ability to produce excellent results where there is a high demand for supplemental drinking water supplies by means of metered pipe water and bottled water. The Company has invested substantially in annual infrastructure strengthening to be able to meet maximum demand conditions projected to occur during a prolonged drought when no rainfall harvesting is possible.
"Apart from infrastructure strengthening management has been focused on improving performance factors so that the Company produces strong results even in years of plentiful rain. An example of this has been the steady improvement seen over consecutive years to reduce water losses which have declined from 18.1% to 10.5% over the past three years. Given the high cost to manufacture potable water this reduction represents significant operational savings which goes directly to improved net earnings.
"Because of the lower rainfall and higher tourism activity, the Company's production and distribution assets experienced a higher level of utilization than in the previous five years.
"The Board will continue to further enhance and strengthen the Company's infrastructure for future growth. The Board also remains committed to sharing the Company's success with shareholders as the benefits of its long-term planning for public water supply are realized."
Read More About