"79% [46 of the 58 posts] are currently filled" which is in "stark contrast to the press release claiming an occupancy rate of only 49%," Attorney General Kathy Simmons said.
Her comments follow after circular released by the Acting Registrar said there will be a "reduction of the scope of services provided to Bermuda by the Judicial Department" which is a "direct result of the Department's relentless staffing crisis" as "with just a 51% complement of staff" they are "no longer in a position to continue to attempt to provide full services."
A joint statement from Chief Justice Dr Ian Kawaley and Acting Registrar Alexandra Wheatley stated that "this state of affairs is crippling the Judicial Department's ability to provide efficient and effective access to justice for Bermuda's residents."
Attorney General and Minister of Legal Affairs, Kathy Simmons said, "As a follow-up to the Press Release in regards to this matter, updated figures have come to light that paint an even clearer picture of the status of the Judicial department.
"There are 13 members of Judiciary. These include a President of the Supreme Court and 2 Court of Appeal Justices, A Chief Justice [CJ] and 4 Puisne Judges of the Supreme Court, a Senior Magistrate and 4 Magistrates in the Magistrate Court. These posts are 100% occupied.
"The staffing issues raised by the CJ and Acting Registrar's Press Release, relate to the 58 posts that are in place to support the Judiciary in carrying out its responsibilities.
"The pie chart below reveals that 79% [46 of the 58 posts] are currently filled. Clearly, this is in stark contrast to the Press Release claiming an occupancy rate of only 49%. In fact there are only 12 unoccupied posts [representing 21% of the total] of which all are administrative staff.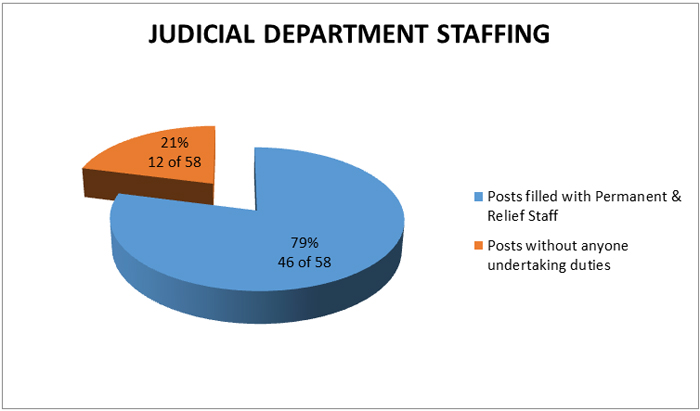 "The public should be aware that 17% or ten [10] of the 46 occupied posts are filled by acting personnel to ensure that there is sufficient support to sustain operations while the recruitment process is underway.
"The CJ's Press Statement concedes that staffing issues did not start with the current Government. In fact the record shows that much has been done to address the issue since the current administration came to office in July 2017.
"Since July 2017, the job descriptions for 37 positions were revised and were completed through the job evaluation process. Some of these had not been revised for over 20 years."
Read More About