Pink Sand, White Lily, Tank Rain, Dark Rum & Cedar Stack are some of the Bermuda themed candles being offered by Nina Froncioni of Limestone & Cedar Co, who was one of the vendors selected during the recent BEDC contest to showcase their products in New York.
Six local entrepreneurs have been given a once-in-a-lifetime opportunity to go to New York City and take part in an exclusive vendor market called The Reserve on July 1.
The opportunity was provided to them through the Bermuda Economic Development Corporation [BEDC]'s recent Vend 2 Win Competition, which saw more than 30 vendors vie for the chance to show their wares in front of influencers and trendsetters in the Big Apple.
Bernews will be profiling the winners of the competition, and in the first of six profiles, we hear from Nina Froncioni, owner of Limestone & Cedar Co.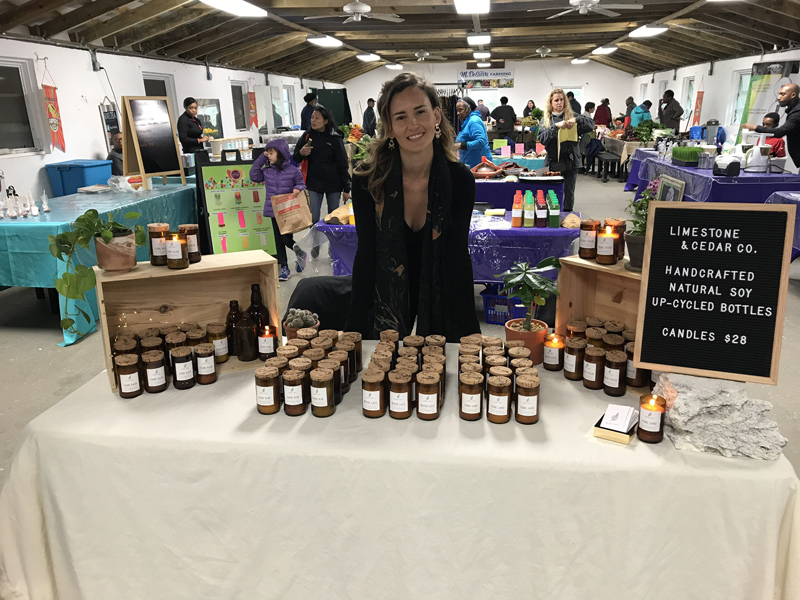 Q: What inspired you to start your vending business?
A: I was buying A lot of candles – especially for gifts around Christmas time, so I decided to try making my own! I also knew I wanted to make a positive impact on Bermuda somehow and create a product with sustainability and low environmental impact. This led to the idea of using recycled bottles as containers.
Q: How long have you been an entrepreneur and how would you describe the entrepreneurial journey so far?
A: I sold my first candle on February 3rd at the local Farmers Market. It was such a monumental moment for me to see the positive feedback from the public. Over the past few months, I have been building up some amazing contacts through face to face interactions at the local Market and other events.
Q: What have been the challenges? What have been the biggest rewards?
A: One of the challenges has been keeping up with the demand while juggling my free time. Also trying to keep our kitchen clean of candle wax is an ongoing battle! The reward has been seeing customers enjoying their candles and hearing that they have been inspired to recycle more.
Q: What kinds of products do you currently sell? What kinds of feedback do you typically get from customers?
A: I currently sell five scents of candle: Pink Sand, White Lily, Tank Rain, Dark Rum & Cedar Stack and I also rotate seasonal scents such as TreeFrog Nights and Bermudiana. I love explaining the names and our Island's heritage to tourists. I get a lot of questions about the meaning of Tank Rain!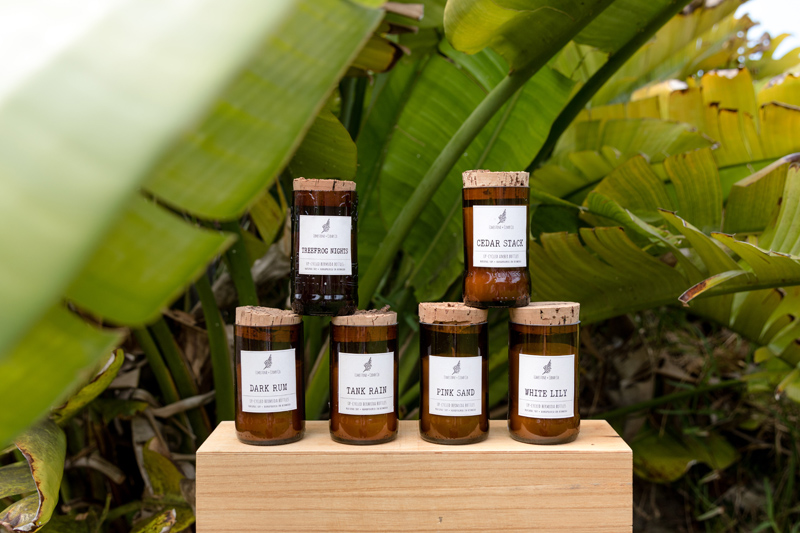 Q: Why did you decide to enter BEDC's Vend 2 Win Competition?
A: I wanted to expand my business network and represent Bermuda internationally!
Q: What was the reaction when you found out you had been selected as a grand prize winner?
A: I was over the moon and have been receiving lots of encouraging words from family and friends!
Q: What does this experience mean to you? How do you hope this will help to grow/ elevate your business to the next level?
A: It means a lot to be able to represent Bermuda internationally. I am hoping it will put Bermuda on the map for home made products and open doors for all our local vendors!
Limestone + Cedar Co. is on Instagram and also Facebook. You can also find them at the Farmers Market in Botanical Gardens from 8am-12pm on Saturdays and Harbour Nights 6pm -10pmon Wednesdays. Alternatively, you can contact them directly at limestoneandcedar@gmail.com for any orders.
Read More About
Category: All, Business, Entertainment, News