Speaking after yesterday's court ruling in favour of same sex marriage, the applicants Rod Ferguson and Maryellen Jackson called the win "amazing," while their fellow applicant OUTBermuda said, "Love wins again! Our hearts and hopes are full, thanks to this historic decision by our Supreme Court."
Same sex marriage was initially legalised in Bermuda following a Supreme Court decision in May 2017, however the Domestic Partnership Act  passed in Bermuda's legislature last year which created domestic partnerships and restricted marriage as being between a man and woman, in effect 'overturning' the court ruling, with the DPA taking effect on June 1st of this year.
Yesterday's ruling was the second court ruling in favour of same sex marriage, meaning Bermuda has legalized same sex marriage, then restricted same sex marriage, then had a court ruling to make it legal again, and the matter is not yet settled, as the Court granted a six week stay to allow time for appeal, and the Government confirmed they "will be appealing subject to any legal advice that we receive."
Court: Parliament Cannot Impose Religious Preferences On Society
The court judgment [PDF] stated, "Bermuda's Constitution is a secular one designed to require the State to give maximum protection for freedom of conscience.
"It only permits interference with such freedoms in the public interest for rational and secular grounds which are permitted by the Constitution. The present decision vindicates the principle that Parliament cannot impose the religious preferences of any one group on the society as a whole through legislation of general application."
The Court ruled the applicants are entitled to a declaration that the provisions of the DPA purporting to reverse the Court's decision last year legalizing same sex marriage are "invalid" because they "contravene the provisions of section 8(1) of the Bermuda Constitution" and interfere with the rights of those who believe in same-sex marriage.
Lawyer Mark Pettingill
Speaking after the decision was handed down, Mr Pettingill said, "We're thrilled. I can't say that there's any other way to put it. We think that that justice has prevailed, we thought all along that it would prevail, and the right thing has been done.
"I hope that the Government recognize that this is the right thing, and that this isn't perpetuated out any longer. But, the judgment, with respect to the Chief Justice, is one for the ages.
"I think it will be looked at across the Commonwealth, in case anybody else thinks that they can interfere with the human rights of individuals and with equality. It really is that level of depth to it, with regard to what it addresses.
"I just think it's fundamentally the right thing that this has occurred this way in Bermuda. That constitutionally, that the law as stands with regard to the issues on same-sex marriage, have been struck down. And it's as simple as that."
Video of the lawyers and applicants speaking after the court ruling:
Asked about the six week stay, Mr Pettingill replied, "If you ask me if I'm ticked off, sure I am, because I think that one day is a day too long when it comes to injustice. But, I understand and respect the Chief Justice's ruling on this.
"They can't keep, in my view, going down that road of spending money, and money, and money, with regard to addressing the issues that are of a few that just can't get their heads around why this is an equal right. You can't cherry pick discrimination. And, I don't think that that group of people can continue to be placated by the Government funding it, by way of appeal and on to the next thing.
"So, I'm hoping that common sense will prevail," he added.
Lawyer Rod Attride-Stirling
Mr Attride-Stirling — who represented OUTBermuda and Maryellen Jackson — said, "The impact of this decision was of significance, because various courts have ruled on same sex marriage on different basis, and the courts were required to approach this from a novel basis.
"But the fact is still the same, the principle is still the same, that human rights mean rights for humans, and there is no question that the decision has been correctly decided."
"As to the appeal," he added. "I think we'll be vindicated."
Rod Ferguson & Maryellen Jackson
Rod Ferguson said, "Obviously, the stay is disappointing because the win was amazing. I'm so excited, it's a win for equality. For Bermuda, for all us all. It's amazing," while Maryellen Jackson also added that it was "amazing to be a part of it, and everyone wins."
In a joint statement, Mr Ferguson and Ms Jackson said, "We all came to the court with one purpose. That was to overturn the unfair provisions of the Domestic Partnership Act that tried to take away the rights of same-sex couples to marry.
"Revoking same-sex marriage is not merely unjust, but regressive and unconstitutional; the Court has now agreed that our belief in same-sex marriage as an institution is deserving of legal protection and that belief was treated by the Act in a discriminatory way under Bermuda's Constitution.
"We continue to support domestic partnership rights for all Bermudians to choose, but not at the expense of denying marriage to some."
The lawyers and applicants after the court hearing: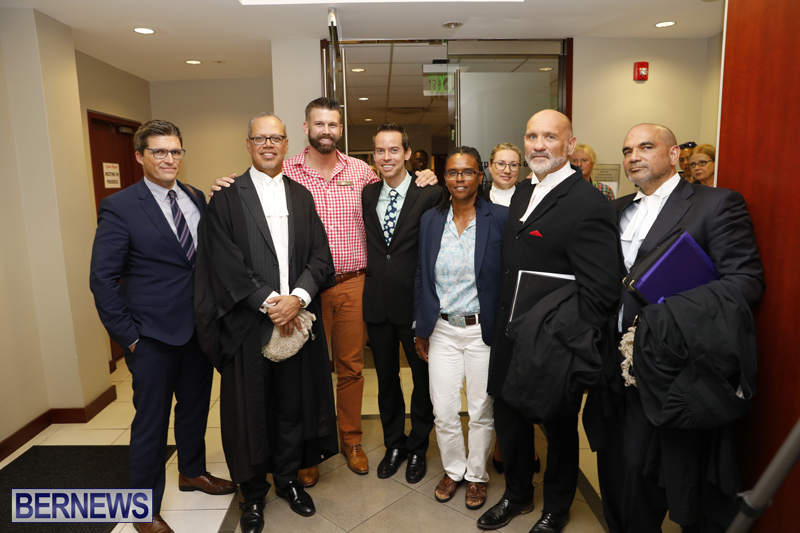 Government To Appeal
The ruling does not come into effect immediately, as the Court granted a six week stay to allow time for appeal, and the Government has confirmed they plan to appeal.
Minister of Home Affairs Walton Brown said, "The Government has been informed of the decision of the Chief Justice. The Government will be appealing subject to any legal advice that we receive. As a result we are pleased that the Chief Justice has stayed the decision until an appeal can be submitted."
As the statement used the term "will be appealing subject to any legal advice that we receive" we sought clarification, as in a yes/no response to will there be an appeal, and Government responded, "Yes they will appeal."

Read More About