The Governor paid a visit to the Royal Bermuda Regiment's first summer Recruit Camp today. John Rankin, Commander-in-Chief of the RBR, chatted with the service's newest soldiers, toured the camp and inspected new vehicles brought in to boost the capabilities of the island's defence force.
Mr Rankin said the Regiment had proved its professionalism in disaster relief at home and overseas, last year in the Turks & Caicos Islands after the UK Overseas Territory was hit by two hurricanes in quick succession. He added: "It's great we have so many volunteers for this second camp of the year – and I'm impressed by the number of women volunteers as well."
Governor John Rankin greets Sergeant Kenton Trott, platoon sergeant for the RBR's first summer Recruit Camp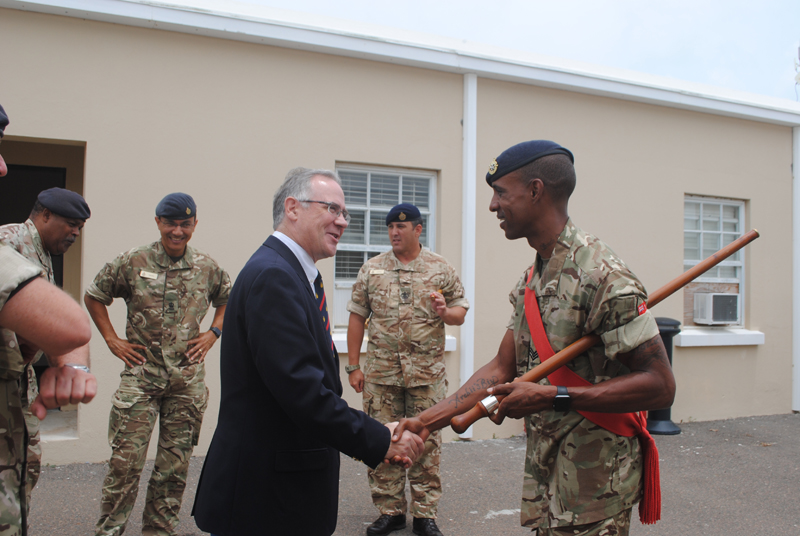 Mr Rankin said: "We've now moved to an all-volunteer regiment which continues to play a very important role in the defence and security of the island. I'm very pleased by the focus on the support to the civilian authorities, whether it be major events on the island or those who require special protection when they come here.
"The Regiment provides disaster response, first and foremost in Bermuda itself, where it is the first responder to clear the roads and make things safe for the other emergency services."
Governor John Rankin views a new Isuzu troop carrier truck, capable of transporting an entire platoon and its kit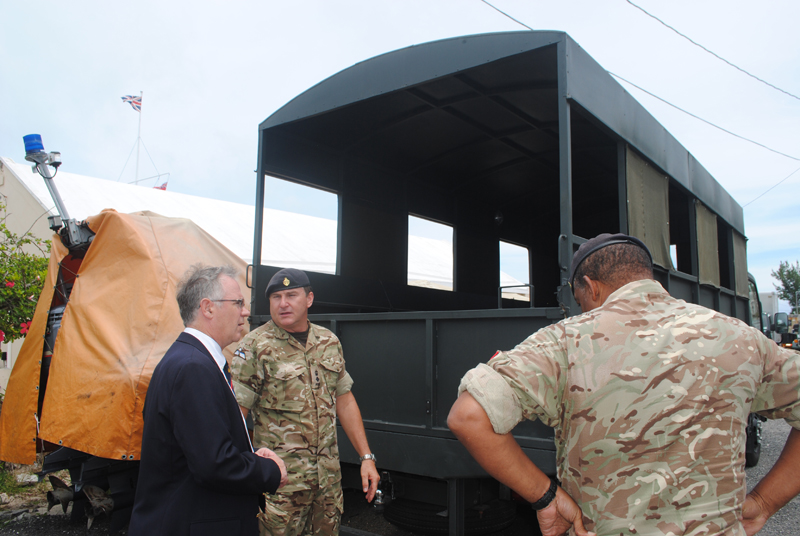 Mr Rankin added: "I support the move, in due course, to a maritime role to help provide security in the waters around the island."
He was speaking as 23 new recruits spent their fourth day of two weeks basic training at Warwick Camp. The soldiers, eight of them women, spent yesterday getting to grips with the RBR's SA-8O rifles, with a strong emphasis on safety, before they get to visit the firing range for target practice.
Governor John Rankin talks to troops in a Warwick Camp classroom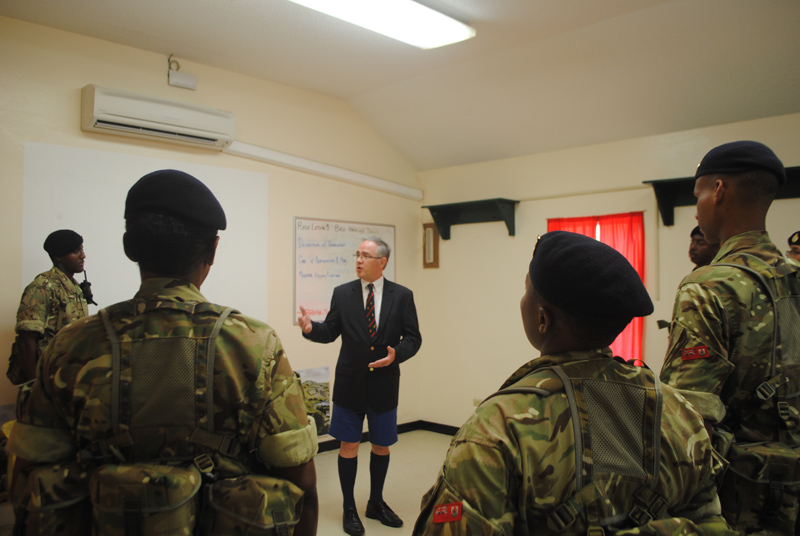 Private Chavon Outerbridge said she joined up for the discipline. She explained: "I need a lot of discipline. I felt I was lacking there and it's also something new where I'm learning new skills." The 39-year-old, who works at the Post Office's mail processing centre, admitted: "My body hurts – everything aches, things I didn't even know I had hurt."
But she said: "It feels great to get up early – I'm not a morning person, so to get up at 5.30am is crazy, but good." Pte Outerbridge added she had enjoyed drill lessons on the parade ground the most. She said: "I like the drills – it's something I never thought I would be doing and it's so sharp when we're in unison. It's beautiful."
Pte Chavon Outerbridge [centre] works on her SA-80 rifle with the rest of the summer intake of new recruits to the RBR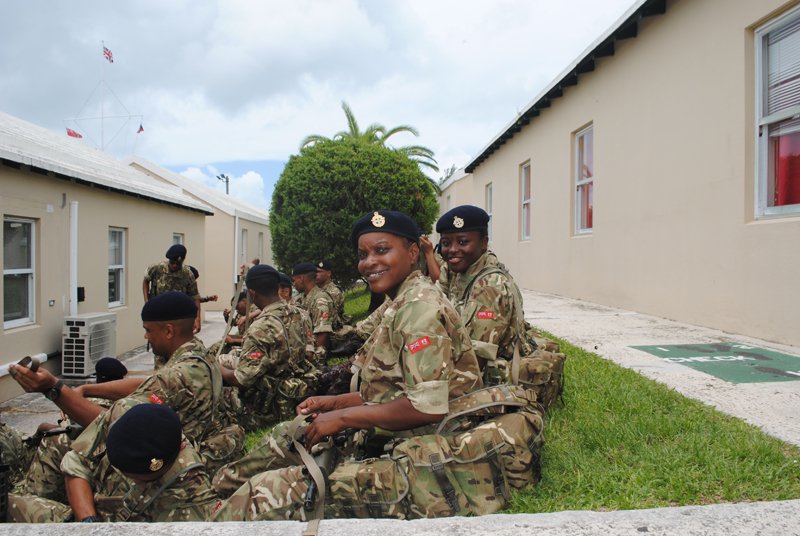 Private Vidal Papina, originally from the Philippines, added: "I love the morning physical training. I like the discipline and even the food is nice – there's nothing I don't like. "It's hard but there's a lot of laughing as well."
Pte Papina, 43, who works at Hamilton's Supermart store, said he had some previous military experience from mandatory citizen army training in high school in his homeland. But he added: "This is better – I'm enjoying it a lot more."
Regiment Commanding Officer Lt Col. David Curley meets the Governor as he arrives to inspect the latest Recruit Camp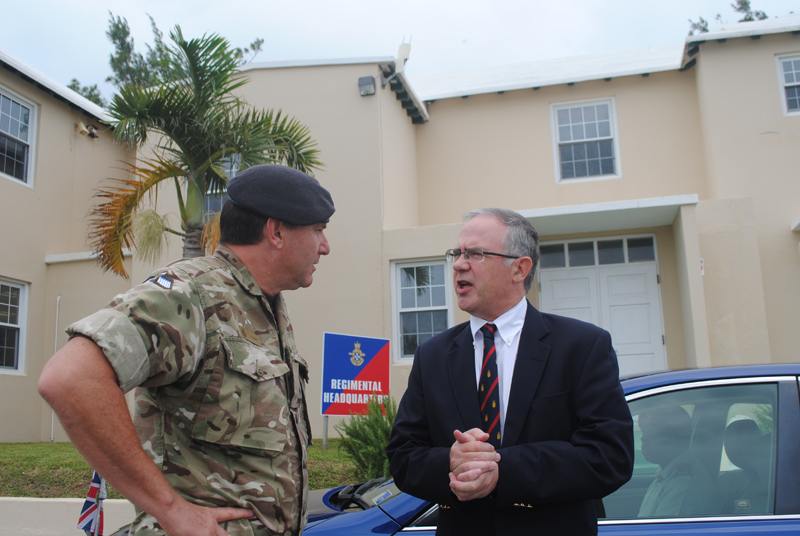 Sergeant Kenton Trott, a veteran full-time soldier and diplomatic driver for Mr Rankin, was seconded back to Warwick Camp as platoon sergeant for the new recruits.
He said: "They're doing fantastically well. They're all putting their best foot forward and putting in the effort. I'm pleased across the board. Sgt Trott added: "It's only day four and early, so the aches and pains will start to come in."
He explained that recruit training had been streamlined to make best use of the time available, with traditional aspects like full dress uniform and polishing drill boots pushed back to later in the new soldiers' careers.
Pte Vidal Papina and other recruits get to grips with their new rifles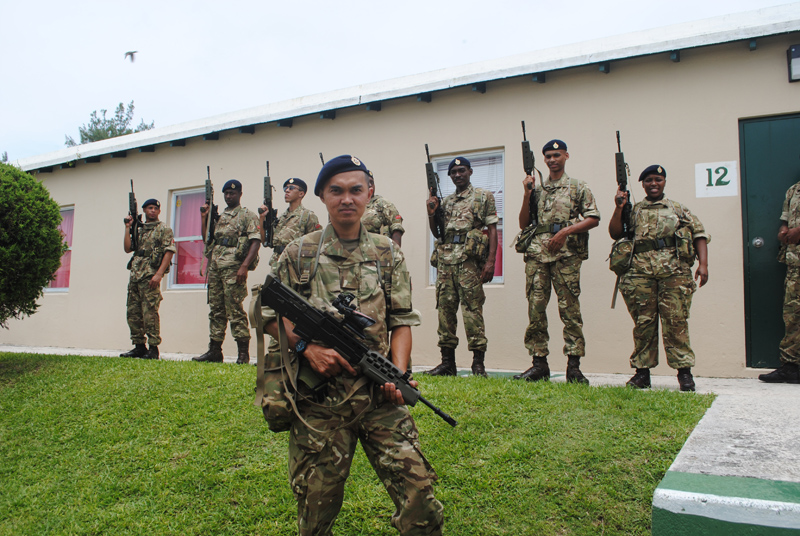 He said: "The schedule has been changed to provide more of the important things – rifle lessons, fieldcraft and lessons in our history, role and military law. "There is less wasted time so it's more conducive to learning."
Sgt Trott added that RBR service did involve separation from family – and that he was missing time with his 15-month-old daughter Inara. He said: "The Regiment does require some sacrifice. I'm in communication with home in the mornings and at night so I can get my fill of the necessary love from my little girl."
Mr Rankin added: "The training these soldiers will receive here will stand them in good stead in other parts of their lives.
"They will get training in new skills, taking responsibility and in leadership which, as well as being of benefit to the Regiment, they can also apply in their civilian lives. I have met many employers who have said the training their staff gets in the RBR is of enormous benefit in the workplace."

Read More About