Bermuda Hospitals Charitable Trust [BHCT] and Bermuda Hospitals Board [BHB] today [July 11] announced a second $350,000 donation to support scholarships and staff training at BHB, and also announced the winners of the nine BHB scholarships in 2018 funded by BHCT and a scholarship funded by GlaxoSmithKline that BHB administers.
In 2017, the BHCT made the same donation, which allowed BHB to introduce new scholarships for mental health nursing, finance and, in memory of BHB nurse, Dashunte Furbert, scholarships for students studying nursing at the Bermuda College. The remainder of the donation supported training for over 140 BHB staff.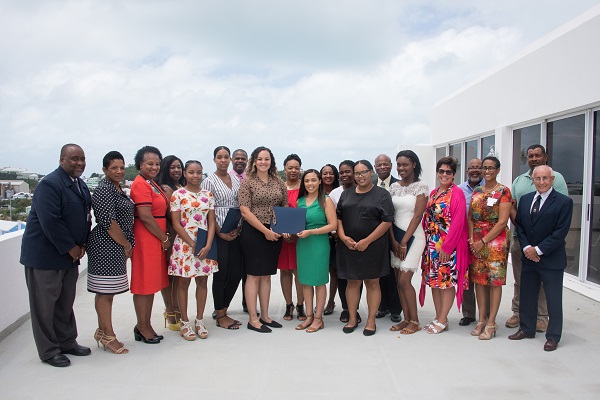 Lisa Sheppard, Executive Director, Bermuda Hospitals Charitable Trust, comments: "BHCT is very pleased to once more support training and education at BHB.
"This is an important area our donors have said they want to support. It helps support and encourage future generations of Bermudian healthcare workers through the scholarships and improve care today through educating and training current staff."
Venetta Symonds, Chief Executive Officer, BHB comments: "Thank you BHCT donors for your support of our scholarship and training programme. This generous donation allows us to maintain critical scholarships and staff training, as BHB seeks to improve and maintain its services and facilities. This is truly welcome support that makes a difference today and in the future."
2018 Scholarship Recipients:
Samantha Crockwell – Studying Health Sciences [Occupational Therapy] at the University of Worcester -$10,000 for one year
Curlena Smith [Mental Health Nursing Scholarship] – Studying Nursing [Mental Health] at the University of Northampton – $40,000 per year for two years
Jashae Allen-Lamontagne [Dashunte Furbert Scholarship] – Studying Nursing at Bermuda College – $5,000 for one year
Odile Baker – Studying Nursing at Baltimore City Community College – $10,000 for one year
Donnika Bean – Studying Nursing at Elmhurst College – $10,000 per year for two years
Dasha Caines – Studying Nursing at Oakwood University – $10,000 per year for two years
Jennifer Ross – Studying Nursing at Georgia State University – $10,000 per year for two years
Britney Robinson [GlaxoSmithKline Scholarship] – Studying Health Sciences [Pharmacology] at Nova Southeastern University – $15,000 per year for two years
Brieanna Samuels – Studying Finance [Business] at the University of West of England – $5,000 for one year
Antoinae Durrant – Studying Finance [Business] at Nottingham Trent University – $10,000 for one year

Read More About