The second annual Talent Identification Camp & Showcase [ATIS] is set to be held from Monday, October 22 to Friday, October 26 at National Sports Centre South Field.
President of Bermuda's Sports Management Group and CEO of Bermuda's Brazilian Football School Cal Blankendal said, "We are proud to announce our second Annual Talent Identification Development Camp & Showcase [ATIS]. The second annual Talent Identification Showcase is set to be held from October 22nd to 26th.
"This Talent ID Academy Camp & Showcase provides our student athletes with an on island affordable opportunity to showcase their potential to a group of highly qualified and experienced coaches. Our student athletes will have realistic opportunities to receive overseas training, trials and future academic bursaries.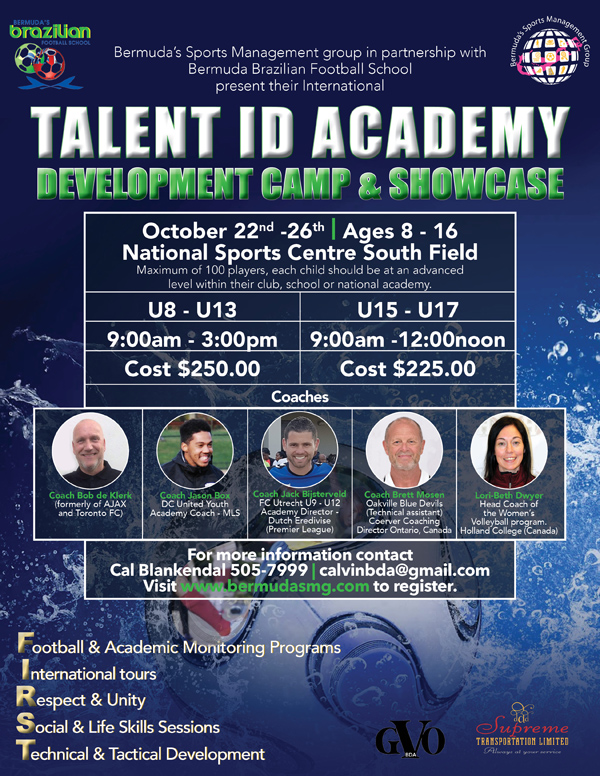 "The ATIS will feature coaches/scouts from Europe and North America who are staff coaches at academies, academic institutions, scouts or former pro players. Thus far, the incoming coaches have networks/ and/or coach in the Netherlands [Holland], Canada, USA, & England.
"We are also expanding into other sports and for the first time via BSMG & BBFS, an elite volleyball coach will be on island looking for talent.
"The ATIS will focus on talent identification, player development, academics, life-skills and international opportunities. This is an affordable/realistic on island opportunity for a large pool of players to improve and share the wealth of training philosophies/opportunities.
"The ATIS will be managed by Bermuda Sports Management Group and facilitated by Bermuda Brazilian Football School. Thank you in advance for your support and we look forward to seeing you at the Invitational Talent Identification Showcase."
To register, visit here.
The organisers noted that this event is "geared towards the intermediate and advanced player and is not suitable for beginners."

Read More About