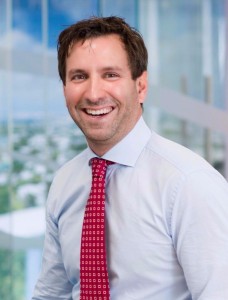 Bermudian Kevin Dallas — the CEO of the Bermuda Tourism Authority — has been named a Travel Vanguard by AFAR, cited as "one of the nine individuals are harnessing the power of travel to make a difference in the world."
"On behalf of the Bermuda Tourism Authority Board and staff, I congratulate Kevin on this wonderful global recognition," said BTA Chairman Paul Telford. "We're all proud of the positive media attention the Afar Vanguard Award is shining on our destination."
The story said, "When Bermuda's government reestablished a ban on same-sex marriage in February 2018, Kevin Dallas watched the international backlash unfold.
"Prior to the vote, Dallas, the CEO of the Bermuda Tourism Authority, had warned the legislature of the potential consequences, speaking his mind even if it might cost him his job.
"This was the first major international challenge Dallas, a native Bermudian, had faced in his role. In 2016, he had returned home with his partner to head the 21-square-mile island's newly created tourism authority—in part to promote Bermuda as a welcoming place for travelers of all orientations.
"The island was fresh off the America's Cup, experiencing record tourism, and had joined much of the rest of the world in embracing LGBT rights—at least until the vote.
"Even now, Dallas is quick to point out that compared to most of the Caribbean, Bermuda has a progressive record on gay rights. The destination is an outlier in the region, where same-sex relations are illegal in at least seven countries—a legacy of British colonial laws.
"Much of the region retains antigay attitudes: In 2015, a mob shouting slurs stoned to death a young gay man in Jamaica. By contrast, homosexual conduct has been legal in Bermuda since 1994.
"Over the space of less than 30 years, [Bermuda] has come a very long way," Dallas says.
"There's still a lot of on-the-ground support for the LGBTQ community, he adds. Among the local efforts to promote openness and inclusiveness is a directory of gay-friendly businesses published by the Rainbow Alliance of Bermuda. Participants include the Hamilton Princess Hotel, which has hosted events for OUTBermuda, the charity that challenged restoring the marriage ban.
"OUTBermuda also has the support of Carnival Cruises, which registers many of its ships on the island and filed an affidavit in support of OUTBermuda's lawsuit. In June, the Bermuda Supreme Court sided with OUTBermuda, though the government appealed the ruling soon after. Nevertheless, "it feels like we are getting somewhere," Dallas says, who has continued to speak out in support of gay rights.
"As the chief promoter of the island's tourism sector, which is critical to the economy, Dallas also continues to advocate for travel to Bermuda. The conversation, however uncomfortable, needs to continue, he says—and gay travelers can help keep the issue front and center.
"For a small place in the middle of nowhere, disengaging doesn't help at all," Dallas says. "We've always been believers in the transformative power of travel."
You can read the full story here on AFAR.

Read More About