World Diabetes Day is on November 14 and Minister of Health Kim Wilson "should proclaim this day as the launch of a national health screening programme funded with proceeds of the Sugar Tax," according to Shadow Health Minister Susan Jackson.
Ms Jackson said, "The Customs Tariff Amendment [No. 2] Act 2018, better known as the Sugar Tax, was applauded by the Minister as a means to reduce sugar consumption and 'tackle Bermuda's obesity and chronic disease epidemics.'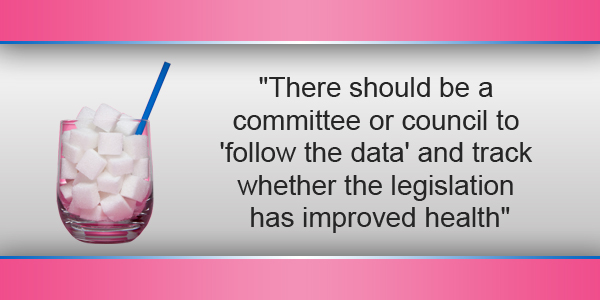 "The Minister stood in Parliament and proclaimed: "As the Government has indicated in the Budget Statement the additional revenue collected from the Sugar Tax will be earmarked for expanded, health promotion and disease prevention activities to encourage healthy lifestyles.'
"The Minister has further stated: 'I can't emphasize enough that these preventable, lifestyle-induced chronic diseases are crippling our country both physically and financially. We have to take action. Government is absolutely committed to leave no stone unturned to improve our people's health.'
"Government's Budget also stated that 'a portion of the revenues from the Sugar Tax will be earmarked for educational programmes to improve health outcomes'. The tax starts at 50 percent and will rise to 75 percent and Government has estimated that in at the full rate, $10 million will be collected.
"A total population screening, prevention and management programme as suggested by a local expert would demonstrate government's commitment, raise awareness and empower every person with a full understanding of individual health risks such as; heart disease, diabetes, hypertension, stroke, high cholesterol, osteoarthritis, sleep apnea, asthma, blindness, amputations and certain cancers.
"Additional examples of community investments for the sugar tax revenue might include; school athletic programmes and community recreational areas. Our Minister of Health is expected to advocate for the funding to ensure the sugar tax revenue is invested back into the community as promised in the Budget.
"However, it is no good setting up a programme without being able to measure it and, as I stated in the House, there should be a committee or council to 'follow the data' and track whether the legislation has improved health. If the Minister really wants to improve people's health she must enact these ideas or the Sugar Tax is just a revenue-raiser."

Read More About